Hello pretties!
I bought my Huda Beauty Trophy Wife Shameless Contour and Strobe Lip Set right on the day it launched. This happened over a month ago and you can read all the details about Huda Beauty Contour & Strobe Lip Sets Here. They are basically 5 limited edition gift sets (one exclusive to Sephora) featuring three lip products. They come packed in a covetable lip-shaped tin, making them the perfect gift for lipstick lovers. The packaging is can be love at first sight for some while others may find it not so appealing. I'm from the first category, blame me or not, but I'm a sucker for this type of packaging. I'm actually using the box now to store my mini lip strobes. 🙂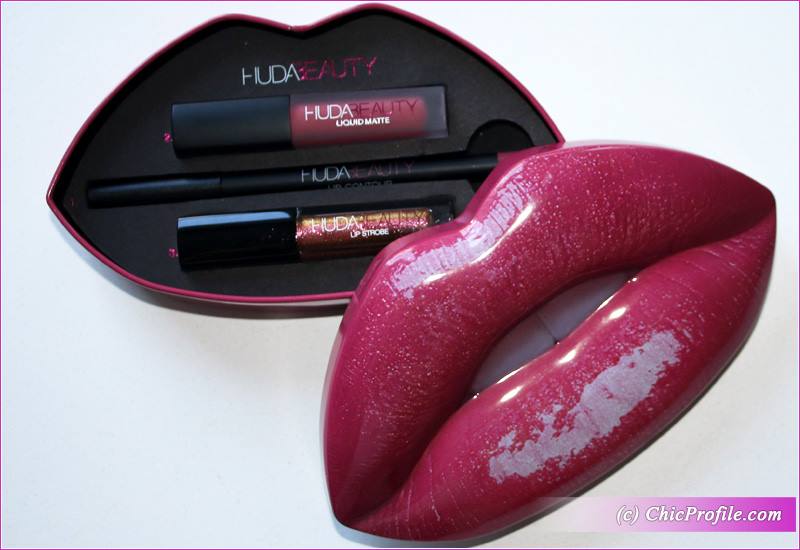 Where to buy:
U.S. – Now from Sephora, Cult Beauty
UK – Now from Selfridges, Harrods, Cult Beauty
Huda Beauty Trophy Wife Shameless Contour and Strobe Lip Set Review
Huda Beauty Trophy Wife Shameless Contour and Strobe Lip Set ($25.00 / £29.00 for 2 ml, 1.9 ml, 1.2 g) features a mini version of Trophy Wife liquid lipstick and Shameless lip strobe, plus a full size Lip Contour Pencil in Trophy Wife.
The combo Trophy Wife & Shameless is perfect for a sophisticated and feminine look. I've actually been wearing this combo over three times in the past month. It does look glamorous and when the glossy effect disappears the liquid lipstick is still on my lips.
I got this set along with Huda Beauty Faux Filter Foundation and Foundation Brush so expect reviews soon. I didn't post about them earlier because I reviewed so many Huda Beauty products over the past month that I didn't want you to think I'm trying to push this brand on you. This is not a sponsored post, none of the Huda Beauty are. I personally bought all of my Huda Beauty products and my opinions are my own. I just genuinely like most of their products, even though I'm subjective about some of the shades.
Huda Beauty Trophy Wife Liquid Lipstick & Lip Contour Pencil Review
Trophy Wife Liquid Lipstick is officially described as a plummy, rose-toned. It's a medium deep rosy-plum with cool undertones and a matte finish. This color is rich, intense and super pigmented. It delivers an opaque coverage in one coat and applies evenly on the lips. The formula is thin, liquidy but without being watery. It applies so easily across the lips and feels super comfortable. You know that I'm not a fan of matte lipstick formulas but I do love Huda Beauty's liquid lipsticks.
They don't dry out my lips, they don't emphasize my lip lines and don't sink into lip lines. It's one of the best liquid lipstick formulas I came across. The color alone wears on me for around six hours. Now because we are talking about a combo here, I can say it does last even more. Once the lip strobe color and shine wears off, the liquid lipstick is still in place.
I did eat greasy and normal food and the color does last. The lip strobe fades away after a meal (especially if it's greasy) but some of its shimmer particles remain. In the end my lips don't look dry but I do sense a slightly dryness after 7 or 8 hours. Is not that bad like I would wake up with chapped lips the next day, but I do also apply a lip balm before bedtime.
Trophy Wife Lip Contour Pencil comes in the same color obviously as the name itself suggests. I previously talked about Huda Beauty Lip Contour Pencil's formulas when I reviewed Venus shade. I mentioned before that they advertise this lip pencil as more than that but in the end is a good lip pencil. The formula is soft, applies well on the lips and glides easily. 🙂
Huda Beauty Shameless Lip Strobe Review
Shameless Lip Strobe is officially seen as a copper with duo-chrome pigments. It's a medium deep plumy coppery-brown with pink pearl, lots of sparkle and intense shimmer finish. The color is rich but I can't say it comes totally opaque on the lips.
It actually has a sheer base while the coverage comes from the shimmer and those large sparkle particles. The shine effect of this color is absolutely gorgeous. This is why I prefer using it in combination with Trophy Wife but other liquid lipsticks as well. It just ads that pop of color and intense shiny effect. The lips appear fuller, plumped and super juicy.
The formula is lightweight, creamy and feels just a little bit tacky. It doesn't feel sticky, just a bit tacky which is normal for a gloss. I found the formula to be a bit hydrating as well and I love the fact that it doesn't sink into lip lines. On me it wore well for four hours on its own that if I don't eat anything. If I have a meal the colors fades away pretty fast but that sparkle lingers on for a bit. I could sense the vanilla scented formula when I applied the product on my lips and few minutes after that.
SHOP THIS POST