Hello beauties!
Let me tell you a bit about my day. I woke up at 3:30 in the morning (that's how obsessed I am) to place my order for Huda Beauty Obsessions mini palettes when I stumble upon another newness. The new Huda Beauty Contour and Strobe Lip Sets were a well kept secret before the launch date. I just shopped for the eyeshadow palettes and went back to sleep, but by the time I woke up I regret not having added at least one kit. For me it was the packaging! Yes, that metal lip shaped packaging that is absolutely gorgeous (I can't stop thinking of it). I do own some of the shades (reviews on the blog) but I think by the end of the month I'll get one set.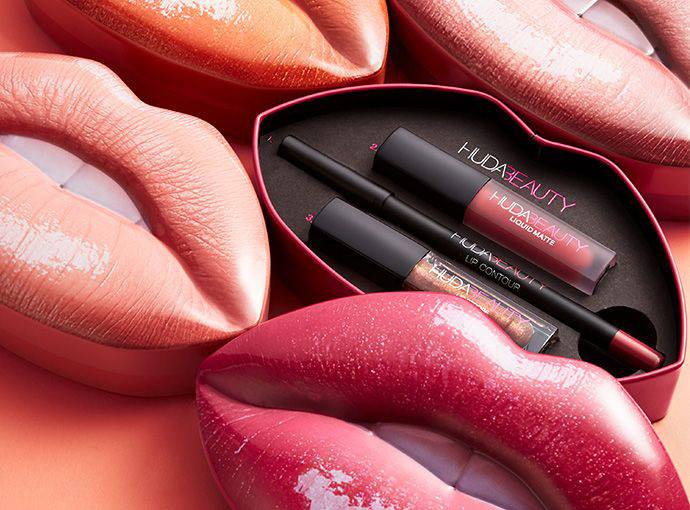 Availability
UK Launch Date – 1 November 2017 exclusively at CultBeauty (free worldwide shipping on Huda Beauty products) | 2 November at Selfridges and Harrods
U.S. Launch Date – 1 November 2017 at CultBeauty (free shipping on Huda Beauty purchases) | 2 November 2017 at Sephora
There will be five sets, one of them exclusively sold at Sephora. What were the chances that I wanted exactly the one that is not being sold at CultBeauty right now. But let's take a peek at the others.
Calling all Huda-holics: your newest obsession is here. These ultra-covetable kits contain all three of the lip products that have made this brand (rightfully) famous: mini versions of the liquid matte to end all liquid mattes and the stunning strobing gloss, plus a Lip Contour Pencil in the shade that complements both best – all encased in an utterly fabulous lip-shaped tin. With four shade options to choose from, we're racing everyone to the checkout!
Muse & Angelic
Bombshell & Ritzy
Trendsetter & Snobby
Trophy Wife & Shameless
The Silver Fox (exclusively at Sephora)
I don't know about you, but that packaging is everything to me right now. I'm not denying the quality of products but the packaging is what it stands out to me. You can definitely re-use the metallic case, keep your makeup inside and so on.
Are you getting something from this collection? 🙂
SHOP THIS POST