Hello beauties!
As you know, Huda Beauty Rose Gold Remastered Palette came as a new launch on 22 May. I bought this palette and I'll be reviewing it later this week. In the meantime you can check out the swatches bellow. Also if you are interested you can READ HERE my opinion regarding this controversial launch.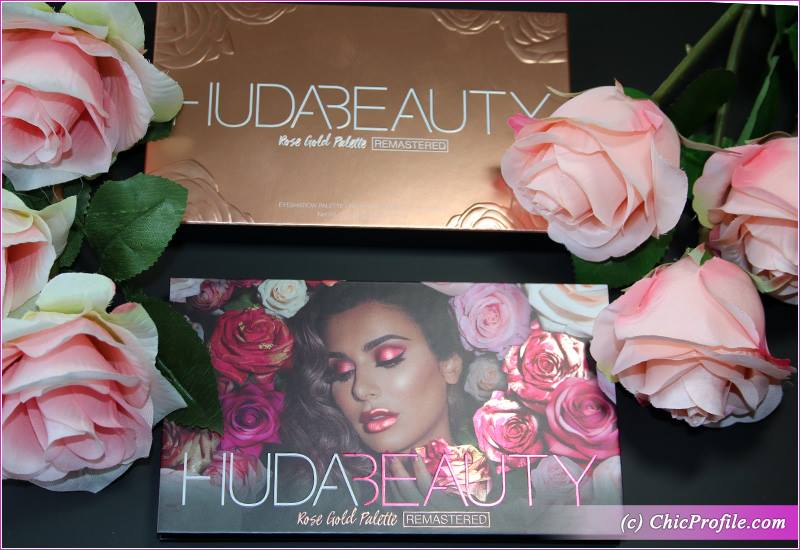 Where to buy:
U.S. – Now at Sephora
UK – Now at Cult Beauty, Selfridges, Harrods
Huda Beauty Rose Gold Remastered Palette
Huda Beauty Rose Gold Remastered Eyeshadow Palette ($65.00 / £56.00 for 0.59 oz.) is a new, reformulated and remastered version of the previous Huda Beauty Rose Gold Palette (review, swatches).
From all the 18 shades, 5 of them are brand new so I've taken quite an interested in those. Of course I was really curious to see how the reformulated shades perform. I've been playing with this palette for the past week now. Like always there are some things that I like and some things that I don't. I wouldn't say is the perfect palette and I would honestly expected an impeccable formula considering we are talking about a remastered palette here.
I still think that the best strategy would have been the launch a complete new palette, new shades and that Huda will apply in terms of packaging and formula what she learnt from previous mistakes or feedback.
One thing I noticed right from the first time I swatched the eyeshadows was the indendations from my fingertips left in the pan. Now after several uses, because these shades are so creamy, it looks like I've been playing with this palette for months. The formula of these remastered metallic shades has improved indeed comparing to the old one, but not to the point that you can apply all the shades only with your brush. Some of them do work well applied with a dampened brush, while for others you'll still have to use your fingers.
I'll give you more details about each shade performance in my upcoming review. In the meantime you can also check my Instastories to see me wearing a makeup look inspired by this palette.
If you want to see live swatches of all the shades click here on my Instagram and make sure to swipe through the last video. 🙂
SHOP THIS POST