Hello pretties!
My love for Huda Beauty felt complete when I moved to London. The first product that I purchased was obviously Huda Beauty Rose Gold Textured Shadows Palette. I was so anxious to get my hands on this palette and the liquid lipsticks, as the brand was not available back in my country. The combination of colors is right up my alley so it was love at first sight and later at first swatch. I love pink, rosy and nude colors so Huda Beauty Rose Gold Textured Shadows Palette seems the one for me.
I also love purples so I can't wait for Huda Beauty Desert Dusk Palette (info, photos) launching next month. This time I'll be able to get it right off the counter on the first day it launches.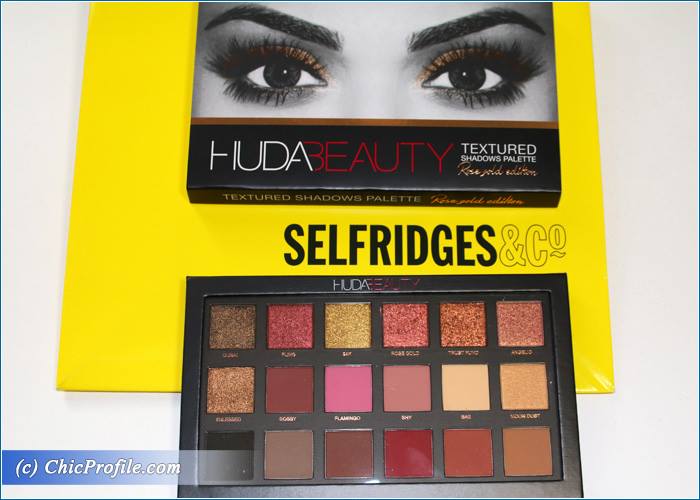 Where to buy:
U.S. – Now at Sephora
UK – Now at Harrods, Selfridges
Huda Beauty Rose Gold Textured Shadows Palette ($65.00 / £56.00 for 0.63 oz / 18 g) contains 18 eyeshadows with 3 ready-to-layer textures. There are deep matte, 3D metal and pressed pearls textures so you have a bit of everything. The glamorous ones sit in the first row and are foiled textured eyeshadows. For the maximum color payoff you need to apply these with your fingers.
They are absolutely beautiful, intense and with a rich color payoff. The just add that pop of color on your look, either applied on the inner corner of the lid or all over it. They are just impressively beautiful.
Huda Beauty Rose Gold Textured Shadows Palette REVIEW
From the 7 foiled eyeshadows not all performed so well even applied with the fingers. They all have a very dense texture and a great color payoff but some of them had a drier texture. Rose Gold and Trust Fund felt a bit more dry than the others so even when I swatched them I picked up chunky pieces. These were the ones to apply a bit difficult as they emphasize the texture of my skin so my eyes appear to have wrinkles. They didn't apply so smoothly and evenly like the others.
The rest of the foiled eyeshadows were simply amazing for me. With a dense texture but a creamy consistency, these glided effortlessly across the lid. You can also use a synthetic brush if you don't like to apply the shadows with your fingers. Just make sure is a damp brush so you can pick up the product more easily. I had around 7 hours wear with this type of formula with some fall out from some of the shades. Dubai and 24 K were the ones who had some fallout over time.
Now moving on to the matte eyeshadows. Swatching the colors and applying them are completely different experiences when it comes to this palette. While some eyeshadows swatched well on my hand and they felt so smooth and velvelty, it was a pain to work my brush into them. They felt like velvet when I dipped my finger into the pan but they delivered such a sheer, patchy and uneven color on the lid.
I was surprised to see that Black Truffle was the worst shade to work with. It had such a thin consistency that barely show any visible color when applied on the lid. I had a hard time picking up the product onto my brush. On the lid it looked uneven and very sheer, not what I would expect from a true matte black. This the only shade that I used only 2 times and then give up on it. Other problematic shades were Coco and Maneater with the same thin consistency, while the last felt dry and had a lot of fall-out. They were on me for almost 6 hours before they started to fade. Sandalwood was a nice surprise, with a soft texture and a good color payoff. It's truly one of the gems of this palette and wore on me for about seven hours.
Flamingo is one of my favorite colors because I can't turn away from a pop of pink but is an average eyeshadow. I wish too see more pigmentation and intensity, but it transferred to a semi-sheer coverage. I felt the texture powdery and the color hardly buildable. It wore on me for almost six hours.
The foiled eyeshadows are the best while the mattes were disappointing in consistency and application. You'll have to intensify your look using the 3D metal shadows applied on top of the mattes at the end of your makeup.
I don't mind cardboard packaging for palettes but even though I like the transparent, plastic lid of this one, I must say it looks a bit cheap. The palette feels very light so I'm worried it can be damaged easily if I dropped by mistake. I don't know yet if it's travel friendly and if it behaves well packed on a suitcase. I'm just going to find out next month when I'll go in vacation. I had palettes that didn't make it intact when I traveled so I wouldn't want to repeat the experience.
The palette is going to be discontinued soon! If you need to restock do it know before the new Desert Dusk Palette launches next month!
SHOP THIS POST
Enjoy more photos…