Hello lovelies!
UPDATE 15 October 2019: Even though Huda Beauty stated on her blog page (@hudabeauty.com) that these palettes will retail for £24.00 in UK, the real price is actually £27.00 which converts to almost $35.00. I've made a post about this on my Instagram as I do think the £3.00 price difference (£12.00 if you buy all 3 palettes) is a lot.
It's true that her Neon Obsessions Palettes retailed also for £27.00 but they were called a special edition. While in U.S. customers were saying the $29.00 is the max limit and if she goes over $30.00 these palettes are not worth the price anymore, here in UK she demands $35.00 from us while her full size palettes retail in U.S. for $65.00 (not to mention when they go on sale). What are you thoughts?
Watch out as new mini nude palettes are coming our way next week. I should say my collection will get bigger with the addition of Huda Beauty Nude Obsessions Palettes for Holiday 2019… but will it?!
When it comes to nude eyeshadow, there's no real trend – it's about what nude means to you. Everyone needs a good basic nude palette, but my nude isn't yours, and we wanted to finally create a collection of nude eyeshadows that would cater to every skin tone. So, we created three nude palettes – Light, Medium, and Rich – each one designed to look amazing on all skin tones, while giving everyone the opportunity to define their own nude.
U.S. / UK / International – 15 October 2019 at SEPHORA, Harrods, Selfridges , Feel Unique, Cult Beauty, Net-a-Porter , Harvey Nichols
Huda Beauty Nude Obsessions Palettes Holiday 2019
Some insights on the price change for Huda Beauty Obsessions Palettes in U.S vs UK
I love most of Huda Beauty Obsessions Palettes and I've been collecting them from the beginning but I'm not buying every release like I used to. If in the beginning when she launched her Obsessions palettes I would get every variation, nowadays I'm not so hooked on them. Btw did you realize the prices have gone up as well and that's a downsize for many of us.
When you want to buy her entire collection just like I did it's easy to notice how your shopping cart price goes up considerably. While before she was pricing them for $25.00 then she skipped to $27 and now to $29 which is pretty insane if you ask me. That is only for U.S. customers so to speak because here in UK we were paying £25.00 ($30.57) for her original Obsessions since they launched so if indeed the Nude Obsessions will be £24 this time will be a moment of joy.
When she launched the Neon Obsessions Palettes for Summer 2019, she priced those in UK for £27 actually so I went and bought only the Neon Pink Obsessions Palette (review, swatches). Now if indeed I'll see the £24 price tag will be actually a bit tempted to buy. Is Huda trying to even out the prices between U.S and UK, what do you think? 🙂
I do love a good variation or nudes, don't get me wrong here, as you know I'm still crazy in love with Huda Beauty New Nude Eyeshadow Palette (review, swatches) but if you have this one and some of her previous Obsessions palettes I wouldn't jump into buying these new ones. Just look at the similar colors!
Rich Nude Obsessions Eyeshadow Palette – $29.00 / £27.00 / €27.00
A dreamy collection of rich, creamy matte shades in dusty roses, crimson reds, rich berry, and sandy fawn with pink undertones. Burnished gold, blushed bronze, dusty rose, and deep brown metallics add dimension and drama.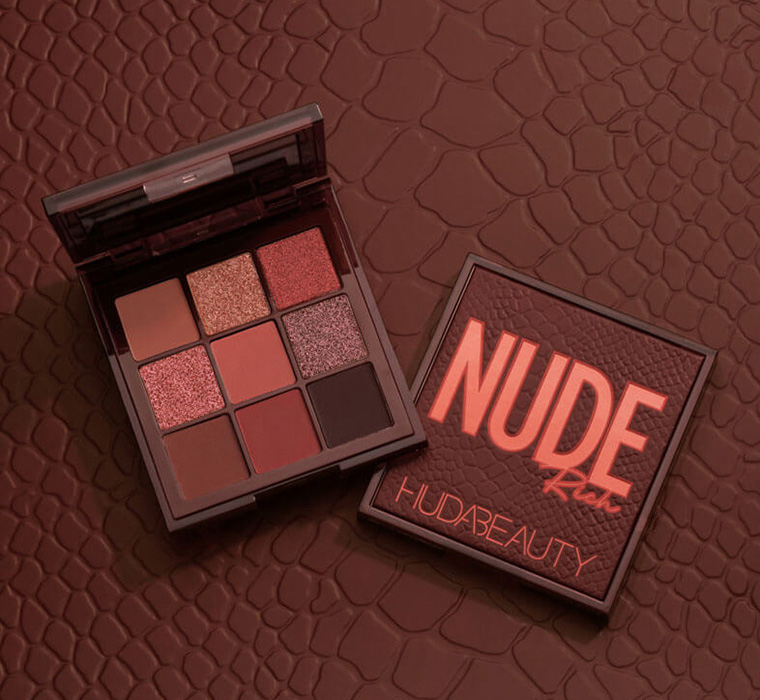 RELATED: Huda Beauty Throwbacks Collection September 2019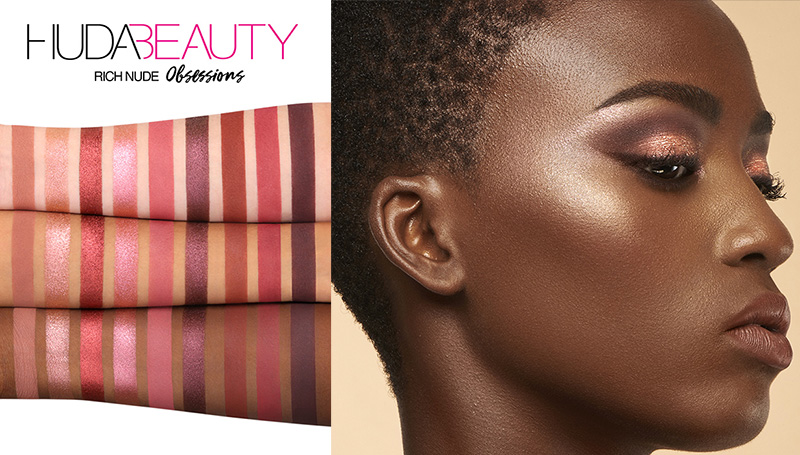 Medium Nude Obsessions Eyeshadow Palette – $29.00 / £24.00 / €27.00
This is a rich mix of spicy tones combining chestnuts, deep browns, and warm mauves. Metallic shimmers in rose gold, rustic copper, dusty pink, and terracottas pop on the skin and lid.
RELATED: Huda Beauty Neon Pink Obsessions Palette Review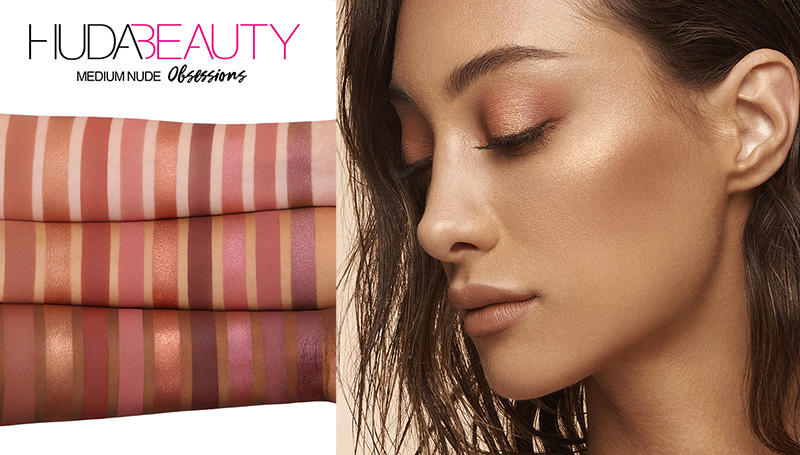 Light Nude Obsessions Eyeshadow Palette – $29.00 / £24.00 / €27.00
A beautiful balance of light and creamy praline hues with both warm and cool tones. From peachy and champagne shades that look stunning on the lid to richer brown and mauve hues that are perfect for the crease. Unexpected pops of lavender and shimmers allow you to create dimension with every look.