Hello beauties!
Huda Beauty Gemstone and Coral Obsessions Palettes are launching next week! I love to see her expanding her mini eyeshadow palette collection by two more. Swatches are already available so this really helps making a purchasing decision. As an addict of Huda Beauty makeup I own all of her palettes so I'd love to get these new ones as well. It's only that this time I'm not so sure I'll be using them. Corals are not among my top color choices and I spot a green and a blue in the Gemstone palette. You know what that means to me, I guess!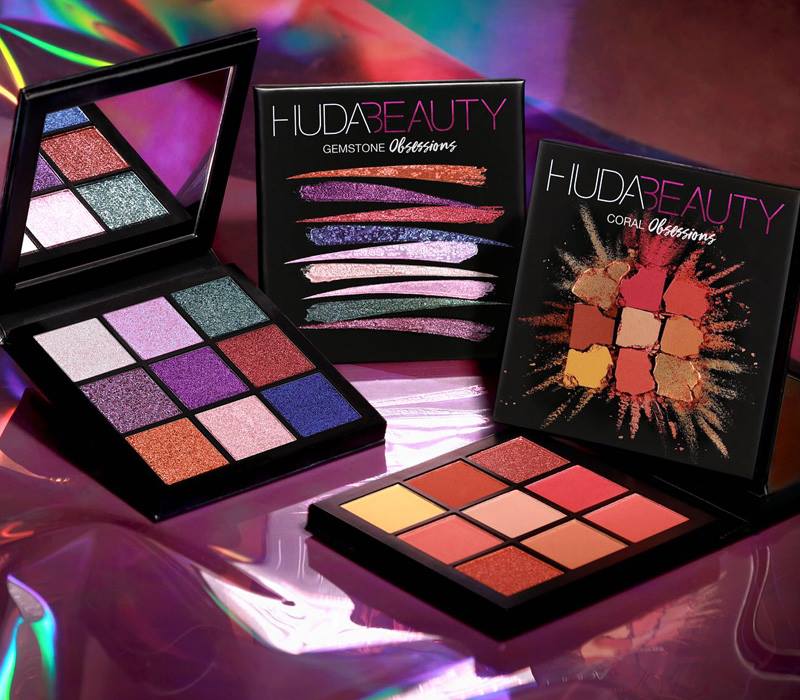 Availability
U.S. Launch Date – 1 May at Sephora, Cult Beauty
UK Launch Date – 1 May at Cult Beauty, Selfridges, Harrods
Huda Beauty Gemstone and Coral Obsessions Palettes for May 2018
For Summer 2018 season Huda Beauty introduces two more mini Obsessions Palettes. I guess there's no secret that these are not the palettes we've seen sneak peek swatches on Instagram. I'm feeling more Huda Beauty launches soon and a new eyeshadow palette in full size.
Features nine eyeshadows in red, blue, green, purple and pink combinations. All the shades have a shimmery finish so you are looking a palette more suitable for a night or intense makeup look. These shades are meant to shine bright as we've already seen in her live swatches.
The only downsize I'm seeing so far for this palette is not being able to use it on its own. We still need some transition shades that have to be matte finish so you may want to reach to another palette for that. I personally prefer a palette with mixed eyeshadow finishes. I really enjoy Huda Beauty Smoky Obsessions Palette (review) as it has matte, foiled and shimmers in there.
This one definitely looks suitable for summer looks. If you are into corals then you've found your mini heaven into Huda Beauty Coral Obsessions Palette. This palette is all about warm tones in burnt oranges with a pop of yellow. I'm still enjoying my Huda Beauty Warm Brown Obsessions Palette (review, swatches) so I'm still thinking if I'll get obsessed over corals until next week. 🙂
Are you thinking as well about getting these palettes? I bet they will be part of the permanent range so there's no hurry here. To tell you the truth I'm like 50% of getting them for myself so I can also have the complete collection of Huda Beauty Obsessions Mini Palettes. The other 50% would be to get it for review purposes to let you know if they are worth buying them.
SHOP THIS POST