Hello pretties!
I was ready to hit publish on my Huda Beauty Coral Obsessions Eyeshadow Palette review when the news of her new palette came out. If you are a fan of the brand you must know how much controversy Huda Beauty Rose Gold Remastered Palette launched created. You can read my opinion here and I encourage you to share your thoughts as well. I wanted to give a few days of space to this subject before posting my review.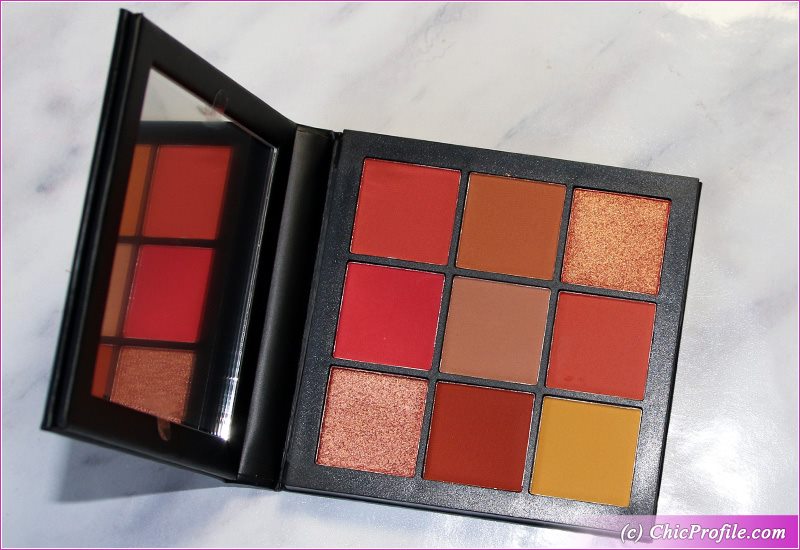 Where to buy:
U.S. – Now at Sephora
UK – Now at Selfridges, Cult Beauty, Harrods
Huda Beauty Coral Obsessions Eyeshadow Palette Review
Coral Obsessions is a new mini eyeshadow palette, launched together with Gemstone Obsessions Palette which joined the permanent ranged from 1 May. As a collector of this brand, having all the Huda Beauty palettes, I actually took some time deciding if I want to purchase the new Obsessions.
These palettes didn't really appeal to me in term of colors. I'm not such a fan of corals and seeing an entire palette based on this color range didn't really swipe me off my feet. I'll be talking about Gemstone Obsessions in my upcoming review.
Huda Beauty Coral Obsessions Eyeshadow Palette ($27.00 / £25.00 for 0.35 oz. / 10 g) features nine bright shades with warm undertones and matte or metallic finishes. The entire palette is mostly based on coral, orange and brown tones. This can easily mean that you'll love it or hate it.
Comparing to the other Huda Beauty Obsessions Eyeshadow Palettes where we had a larger variations of colors, this one is definitely created for those who love corals. I see it as the ideal palette for summer, for those who love bright and intense colors. If you are color shy, is less likely to feel any love for this palette.
I decided to buy this palette for review purposes and to go on with my Huda Beauty obsession for collecting her items. As a simple consumer, getting a coral palette would have never been my choice.
What I did like at first sight was the fact that there were more matte finishes in this palette than metallic ones. So we basically have 7 mattes and 2 metallics here. I always appreciate having more mattes in one palette as you won't have a shortage of transition shades. Just as a first impression, this was one of the NAYs I gave straight away to the Gemstone Obsessions Palette (upcoming review).
The palette overall is good and if you love these colors it could even mean jackpot for you. God I wish for a bright pink obsessions palette now. 🙂
Huda Beauty Coral Obsessions Eyeshadow Palette – Shades Review
Coral No.1 is a medium peachy coral with warm undertones and a golden, slightly coppery metallic finish. It had an opaque color coverage with a lot of intensity. The color payoff was fantastic and I classify it as one of the best shades of this palette.
It was easy to work with. The texture is very soft and smooth, a bit looser but performed very well on the lid. It's easily blendable and looks beautiful paired with the other colors of the palette. I like to apply this shade in two ways. By using my finger and tap it on the lid I get an opaque coverage. It looks beautiful for a pop of color just on the center of the lid. The other option will be to spray MAC Fix + on my brush and get into that color.
Both options will give you a great color payoff with no fallout during the application. This shade lasted on me without creasing for almost nine hours.
Coral No.2 is a bright red with warm undertones a matte finish. It had a good color payoff with a smooth texture. It applied well on bare skin but it kicked off some powder. You can see in the swatch bellow what I mean. It was easily blendable and it didn't look patchy. I wore it well for almost nine hours without leaving a stain behind.
Coral No.3 is a medium orange-coral with warm undertones and a matte finish. It had a semi opaque coverage, but easily buildable for more intensity. Applied over primer the color looked definitely better but on bare skin it was semi-opaque. The consistency is soft and a bit dusty in the pan. It was easy to work with and blend without fall-out. It lasted for almost nine hours on me without staining.
Coral No.4 is a medium-dark chocolate brown leaning a bit towards copper, with warm-orange undertones and a matte finish. It had a good pigmentation, very close to being opaque in a single layer. The consistency was smooth and soft but applied easily without any fall out. It blends easily and doesn't kick off powder in the pan. I got around eight hours and a half wear before it started to fade away. It left a sheer stain behind on my arm after I swatched it.
Coral No.5 is a light peachy-beige with warm undertones and a matte finish. It had semi-opaque coverage that could easily be build up to opaque coverage. The texture was soft and smooth but a bit more powdery than the others. It kicked off powder in the pan and I detected a bit of dryness. I use this as a transition shade quite a lot so it's by far the most used shade from this palette by me.
The application wasn't that great as it was prone to sheer out whenever I blend it. During the application I also had minor fallout. I got around to wear it for about eight hours.
Coral No.6 is a light orange-beige with warm undertones and a matte finish. It had a good pigmentation but definitely not opaque in a single layer. It was easily buildable so you can definitely intensify it as much as you want. The texture was fairly smooth but dusty in the pan at the same time. It blends easily and lasts on me for almost eight hours.
Coral No.7 is a medium warm yellow with a matte finish. It had a good pigmentation, almost opaque in a single layer. The texture felt very smooth and soft to the touch. It adheres well even on bare skin. The application was great, no fall out and blended out easily. I enjoyed this color for almost eight hours on me.
Coral No.8 is a medium coral with warm undertones and a matte finish. It has a semi-sheer color payoff that it can be easily built up and intensified. The texture was smooth, finely milled but with a touch of dryness that kick off some powder in the pan. I had no fallout during the application and it was easily blendable. It took me to nearly eight hours wear.
Coral No.9 is a luminous pinkish coral with warm undertones, gold reflections and metallic finish. It's my favorite shade of this palette if I were to pick a coral. 🙂 The color payoff was fantastic. Adheres well on bare skin without any fall out during the application. The texture was smooth, not very creamy or silky.
It applies wonderfully just by using a dampened brush or your finger. I do it both ways, depending on what coverage I'm looking for. I feel I definitely get more pigmentation and a more pop of color by applying it with my finger.
Use it on the center of your lid or all over your lid to brighten and warm up your makeup look. I had it on for almost nine hours before it started creasing a bit.
Huda Beauty Coral Obsessions Makeup Looks
If you are following me on Instagram you've already seen me playing with this palette a lot. I created several looks and did Instastories videos while I was wearing the shades from this palette. Here is one of my first looks.
Make sure to swipe left for close up photos. For this look I used both Coral and Gemstone Obsessions Palettes. The other day I created a new look which I just shared on Instagram a few minutes ago.
The little black heart in the bottom right corner means that you can see and shop this look with the LIKEtoKNOW.it app that you can download for free. Any looks that you'll be seeing on my Instagram from now on, having this black heart are available on the LIKEtoKNOW.it app. You can see the products I used to create the looks and easily shop them if you like.
SHOP THIS POST