Hello beauties!
Please excuse my absence from the blog over the past few weeks. It saddens me to say that the reason for my absence is my granny passing away. I had to flew back home for the funeral and as I also needed to take some time off afterwards.
I tried to at least post a few times on Instagram but I know is not the same as posting here on the blog. Now that being said, I'll try to post a few articles for the next two days because afterwards I have some friends coming over to visit so again I'll probably be absent for a week or so. Sometimes a break from blogging is so beneficial for me even though I know that I'm letting all the news and reviews behind. I'll have loads of new products to review when I come back. You can always DM me on Instagram or drop me a quick e-mail if you have questions about some of the new launches, until I will post my reviews.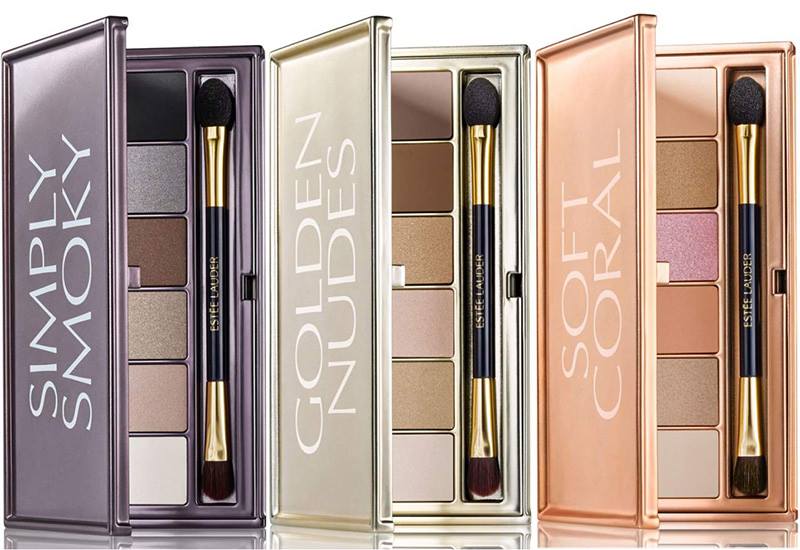 Let's get a closer look at the new Estee Lauder Eyeshadow and Lip Palettes that just launched the other day. There are three eye shadow palette and three lip palettes, each one featuring six shades.
Availability
U.S. Launch Date – Now at Nordstrom, Macy's
Estee Lauder Eyeshadow and Lip Palettes for Spring 2018
A gorgeous palette featuring six smoldering shades plus a dual-ended brush applicator.
Shades:
Dark Ego 1
Ivory Power 3
Untamed Teal 3
Ivory Power 4
Ominous
Savage Storm 5
A collection of six curated golden nude shades plus a dual-ended brush. These gorgeous hues brighten, sculpt and define your eyes, delivering a golden nude look.
Shades:
Fierce Safari 2
Defiant Nude 2
Fiery Saffron 3
Rebel Metal 2
Fierce Sable
Defiant Nude 5
These on-trend peach hues brighten, sculpt and define your eyes for a soft coral look.
Shades:
Infamous Sky 1
Captivating Cocoa 3
Nude Dare
Pink Mink 3
Rebel Metal 2
Provocative Petal
A carefully curated palette featuring six neutral shades plus a dual-ended brush. Transform your look with shades from intense to discreet nudes and rich browns, with formulas that sculpt your lips with decadent color.
Shades:
Insatiable Ivory
Nude Cult
Intense Nude
Discreet
Irresistible
Decadent
Transform your look with shades ranging from provocative plum to powerful pink to subtle rose, each with formulas that sculpt with moisturizing color.
Shades:
Insolent Plum
Reckless
Dominant
Powerful
Impulsive
Rose Tea
Transform your lip look with hues that range from full-on red to fierce coral and spicy copper.
Shades:
Red Ego
Vengeful Red
Envious
High Level
Out of Control
Fierce
I'm really curious about these new palettes. I own quite a few Estee Lauder Palettes and the quality of the eyeshadows is average comparing with the prices. I wouldn't say the eyeshadows are disappointing as I did find some great ones in each palette, but they definitely can do a better job. Over the past few years I honestly bough the Estee Lauder palettes because of the amazing offers and GwP. Either if they were included in the Holiday Blockbuster or they came with those sparkling clutches, I really like the offers but the palettes didn't tell me much.
SHOP THIS POST