Hello beauties!
Rouge Bunny Rouge Collector's Coffret is a new and limited edition release available in two variations. RBR Collector's Coffret is available as a travel-size collectible trio in Fragrant Confections or Provenance Tales. Each set includes three mini size eau de parfums. I received RBR Collector's Fragrant Confections edition right before Christmas and I couldn't have imagined a perfect timing to be wearing these fragrances. You know is quite hard to make a fragrance review as it's mostly subjective. We each love different kind of fragrances but I mostly love those scents that are unique, strong and get you noticed in a crowd. RBR Collector's Coffret offers just those types of fragrances.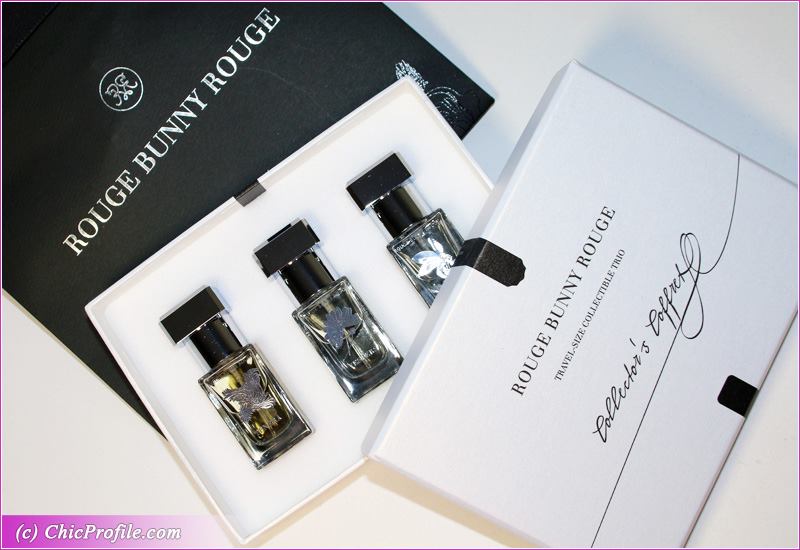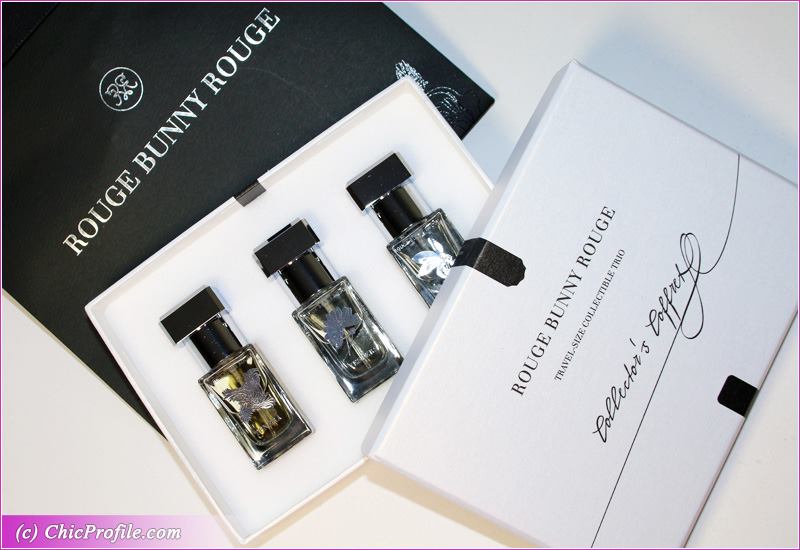 Where to buy:
U.S. – Now at Bloomingdale's , Beauty Habit
UK & International – @rougebunnyrouge.com RBR-CHICPROFILE20 code to receive 20% discount at RBR boutique, @alyaka.com, @bloomperfume.co.uk
Rouge Bunny Rouge Collector's Coffret Fragrant Confections ($135.00 /£130.00/ €115.00 for 3x 15 ml / 0.51 fl oz) contains three exciting masterpieces from the fine fragrances collection each.
Rouge Bunny Rouge Collector's Coffret Packaging
The three mini size fragrances come in lovely, elongated miniature flacons, each
embellished with the fragrance's unique symbols. The scents are Chatoyant, Vespers and Tenera.
I personally prefer to keep them in the gift box they came with. I don't know why, but it gives me a special feeling everytime I open the box and pick up a fragrance. Each of the mini bottles are made of clear glass with a bright silver mirror cap. They are easy to hold, very sturdy bottles and travel friendly. Needless to say that they will make the perfect travel companion when you go into a vacation or short trip. You just simply have a selection of three luxurious scents that won't take up to much space in your luggage. I'd have to say that each mini bottle will fit perfectly even in a small bag if you want to touch up during the day.
I personally don't keep fragrances in my bag, especially when it comes to these Rouge Bunny Rouge perfumes as the scent lingers on my skin the entire day.
Rouge Bunny Rouge Collector's Coffret Review
My favorite scent from this trio is Chatoyant. I just love it from the first sniff and when I read the composition I knew why. Orchid is that note that makes me love every fragrance. While wearing each of these mini perfumes or Rouge Bunny Rouge, I feel special, elegant and mysterious. They are not the kind of scents that you could sniff on a daily basis. They are more luxurious, special and unique.
I wore them everyday for almost a week but that was just for review purposes. Otherwise I would wear any of these fragrances on a special occasion, cocktail party, fancy event or dinner. Once you wear any of these Rouge Bunny Rouge perfumes you will get noticed in a crowd, you will get compliments and you'll turn heads. You'll definitely be asked what perfume are you wearing. 🙂
Each of these scents belong to different olfactive families from fruity oral to powdery to oriental, united by the fragrant undercurrent of vanilla and precious woody notes. Perfumers: Sonia Constant (Vespers, Tenera), Francis Deleamont (Chatoyant)
While I'm writing this review I'm wearing Rouge Bunny Rouge Vespers. I always have to gave it 10 minutes before the scent captivates me. I guess I like more its middle and base notes. Its spicy black pepper accords are too intense for me in the beginning among the top notes. Vesper is a very elegant perfume. I have to be dressed appropriate, wear a perfect makeup and put on some jewelry.
Each of these fragrances from Rouge Bunny Rouge Collector's Coffret can be the final touch of your perfect outfit and glamorous look. They are elegant, mysterious and captivating. Totally addictive I'd have to say.
Rouge Bunny Rouge Tenera is more of a sweet fragrance. Is perfect to wear it during the cold season or in the evening. It has a powerful scent and its base notes of vanilla and leather are absolutely mesmerizing. 🙂
VESPERS – Carelessly Elegant
Intense and spicy: the embrace of bergamot, cinnamon bark, violet leaves and black pepper. Crispy and cool: green apple in a whiff of soft petals. Mellow and powdery: musk, vanilla and woody notes. Olfactive family: Woody Spicy Floral
Top notes: Bergamot, Cinnamon Bark, Violet Leaves, Black Pepper
Heart: Green Apple, Lily of the Valley, Rose, Violet
Base: Cedarwood, Musk, Sandalwood, Vanilla
CHATOYANT – Opalescent Orchid
Fine-spun lemon in bergamot bubbles, flashes of citrus and coconut tones. Iridescent and warm like summer wind infused with jasmine, lily and rose. Silky Orchid, the temperamental feline of the botanical world, melts into a milky, musky base of precious woods and vanilla. Olfactive family: Oriental Woody Amber
Top notes: Bergamot, Lemon
Heart: Orchid, Jasmine, Rose, Lily of the Valley
Base: Sandalwood, Cedarwood, Musk, Vanilla
TENERA – Purring Suede Vanilla
Exploring the lushest, darkest facets of the rich natural vanilla by painting a picture of a night spent sharing stories by an open fire. There are those mildly spicy, almost breezy blooms of thyme, exotic guaiac and rose wood, sacred elemi, notes of full-bodied rum and soft leather. The heady sweetness of patchouli balanced with the powdery comfort of heliotrope. Finally, the caramel-sweet, thick, creamy base
of vanilla pod, benzoin and amber. Olfactive family: Woody Oriental
Top notes: Black Pepper, Elemi, Thyme Flower, Rose Wood
Heart: Rum, Guaiac Wood, Patchouli, Heliotrope
Base: Vanilla Pod, Benzoin, Amber, Leather
The Provenance Tales collection is expressed in the opaqueness of shiny black glass with contrasting matt black stoppers. The sturdy cases are made to look like
gift boxes. Our designers drew their inspiration from the luxurious ink jars and beautifully packaged writing instruments, popular in Victorian times. Perfume connoisseurs will love the trios for the sense of discovery and olfactory exploration they offer.
The olfactive variety of the Collector's Coffret Provenance Tales spans chypre,
woody oriental and floral oriental. Each has a musky, animal side in a completely unique interpretation from solemn to stirring. Perfumers: Nathalie Lorson (Silhouette), Jacques Huclier (Silvan), Shyamala Maisondieu (Incognito).
SILVAN – A Place of Serenity
An unapologetic, grown-up masterpiece chypre. Cool, elegant notes of juniper and grapefruit as refreshing as an icy, sparkling Gin Tonic. What follows is the serene calm of sunlight flickering from the treetops in a majestic spruce forest – evoked by the harmony of guaiac wood, incense, black pepper and patchouli. Olfactive family: Woody Musky Chypre
Top notes: Grapefruit, Juniper Berry, Pepper
Heart: Incense, Guaiac Wood
Base: Cedarwood, Musk, Patchouli
SILHOUETTE – Sensual Spicy Leather
A spicy power start that gets even better with enchantingly gentle rose petals and the earthy richness of vetiver. Rare woody notes, leather, ambergris and musk create an explicitly carnal base that lingers to the wearer's skin like a spell of seduction. Olfactive family: Woody Spicy
Top notes: Coriander, Pimento, Nutmeg, Rose Petals
Heart: Cedarwood Atlas, Sandalwood, Vetiver, Cade Wood
Base: Musk, Ambergris, Leather, Guaiac Wood
INCOGNITO – The Ode to The Art of Perfume
Overwhelmingly beautiful with rare, fruity flowers and magnetic animal notes. Under the veil of spellbinding elegance – peppery, powdery, with notes of suede – waits a head-turning splendour of luscious, ripe and sweet notes. Olfactive family: Fruity Musky Leather
Top notes: Pink Peppercorn CO2 Orpur, Pimento Berry Oil, Plum
Heart: Ylang-Ylang Mohéli, Osmanthus Absolute, Orris Butter
Base: Patchouli Indonesia, Suede, Musk, Heliotrope