Hello pretties!
I thought of giving you a quick peek of Estee Lauder Holiday 2017 Blockbuster with some swatches, photos and first impressions. I will review the palettes and lip products later on separately but until then you can get a general idea if this set is worth it. For me personally it has already become a tradition to shop Estee Lauder Holiday Blockbuster every year. I think is a good value for money as you get a lot of full size makeup and skincare products. Not to mention the deluxe sample sizes, regular samples and a gorgeous and spacious makeup bag.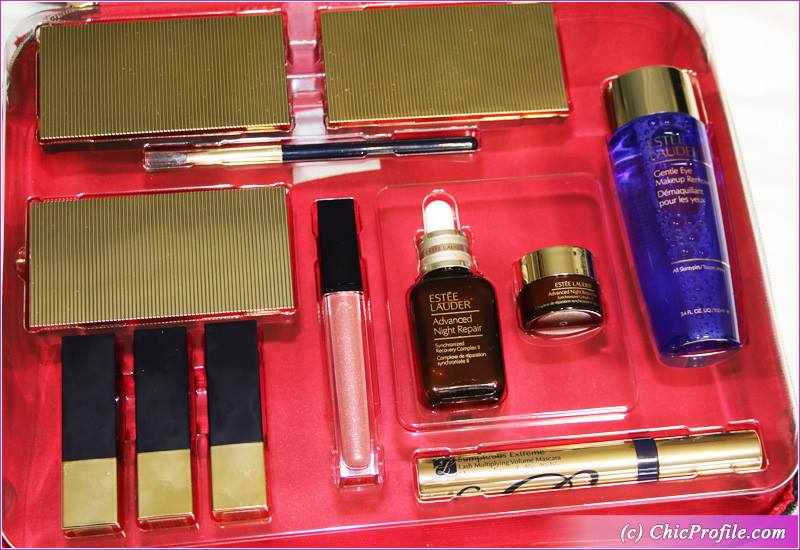 Where to buy:
U.S. – Now at Dillard's
UK – Now at Estee Lauder, Debenhams,
Estee Lauder Holiday 2017 Blockbuster Review, Swatches, Photos
This year I honestly bought the set for the Advanced Night Repair Synchronized Recovery Complex II, Sumptuous Extreme Lash Multiplying Volume Mascara in Extreme Black. They come in full size as well as the other products. This mascara has been my favorite for years now and I often use it for a night time look. Whenever I want full, fat lashes I know I can count on this mascara.
The serum is already a best-seller and famous among skincare addicts and my skin absolutely loves it. I do enjoy the Gentle Makeup Eye Remover as well, but I haven't finished my previous bottle. This year the train case looks very classy and elegant and I would really use it in my travels.
Estee Lauder Holiday 2017 Blockbuster is worth $455 / £298 but you can get it for only $65.00 / £65.00 with any 50 ml Estee Lauder fragrance purchase. I got Estee Lauder Sensuous Noir Eau de Parfum and I will feature it on the blog in the future. Is the kind of fragrance that seems very mysterious and seductive. I would wear it for a romantic date, a festive event as it's definitely night or evening time appropriate.
Now moving on to the makeup items from this year's blockbuster. You get everything in a full size, but I won't say that I'm dazzled by the colors.
Estee Lauder Holiday 2017 Blockbuster Makeup Items
The Pure Color Envy Lipsticks are already known for their moisturizing and creamy formula. They have a good pigmentation and the shades are pretty wearable for anyone, but not really the ones I'd wear pretty often. You know me, I'd prefer a pink or a plum among those shades.
The Pure Color Envy Eyeshadow Palettes for Day and Night time feature 7 shades each. They do offer different finishes from matte to pearl and metallic. Again the color combination is not one that would scream my name. There's a lot of gold, brown and nude colors with a touch of green and plum. We all know that Estee Lauder eyeshadows are not the ones to go crazy for but they are wearable. I will review the palettes separately and tell you more about the quality.
This year there's also a Bronzer and Highlighter Palette which definitely won't work for all skin tones. The highlighter is not very intense or pigmented so it would work fine for a light skin tone. You will get a bit of a glow, but not too intense or sparkly. About the bronzer shade I do have my doubts that everyone would be able to use it.
The Pure Color Envy Sculpting Lip Gloss comes in the shade Reckless Bloom in a full size. Again the color is a more classy one, suitable for most skin tones but nothing special. It adds a nice pop of color with a juicy, sparkling finish. Is the kind of color that you can wear it on a daily basis and not necessarily for a special or festive occasion.
I do believe the set is worth buying it. Even though you might not like or use all the products, it's still easy to find some favorite. The products come in full sizes so again you plenty of quantity to use and enjoy. If you think some of the shades don't complement your skin tone you can give them away to friends or family members for which then can be more suitable. Nonetheless you have a variety of skincare and makeup items to choose from, plus the samples that you get as well.
SHOP THIS POST