Hello pretties!
I have more details about Dior Diorskin Forever Undercover Foundation 24H Full Coverage and I want to share them with you. I previously posted a sneak peek article announcing this product back in September, along with the new Lip Glow shades. I'm currently hooked on Dior Diorskin Forever Perfect Mousse (review, swatches) that I've been using for 3 months now. I can easily name it my favorite foundation of the year and it ranks in my top 3 all time favorite foundations. Truth be told I'm not really into full coverage foundations because I don't need that much coverage and I also like a more natural looking complexion.
UPDATE:
An extreme-wear, ultra-fluid water-based foundation that blends full coverage with a lightweight formula to deliver a natural matte second skin that goes from day to night.
According to Peter Philips, the creative and image director for Dior Makeup, Forever Undercover contains a high concentration of pigments, which ensure perfect blemish correction with a finish that is fresh and matte enough so you don't need to follow with a powder. It provides an imperceptible finish for 24 hours.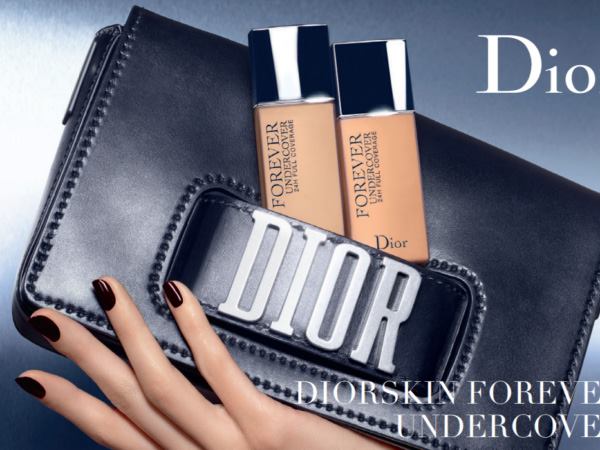 Availability
U.S. Launch Date – 20 December 2017 at Nordstrom
International Launch Date – January 2018
UK Launch Date – Spring 2018 at Selfridges, Harrods
Dior Diorskin Forever Undercover Foundation 24H Full Coverage
Well, I was intrigued when I heard Diorskin Forever Undercover Foundation offers more than just a 24H full coverage. How is the formula and what other benefits it hides.
First of all I must say it comes in 26 shades from lightest to darkest so it's a pretty good spectrum of shades. Comparing to my beloved Perfect Mousse which offers only 10 shades (I'm lucky to have found my matching shade) the new Forever Undercover is meant for everyone.
I talked about the packaging before, telling you the foundation comes in a plastic bottle and not glass as you might expect. This means its loosing that luxury effect? Well, it might be for some, but I'm more concerned about what it can do.
The formula is water-based with a very fluid texture, that means high level of coverage. I don't need a full coverage on my complexion but can this one give me a soft, airbrushed finish? We are promised a weightless feeling with a fresh effect thanks to the perfect balance between water, silicon and volatile oils.
You know what I like the most about Dior Diorskin Forever Perfect Mousse? The fact that beside the natural, healthy look that I get, I don't have to use any powder at all. Yes, I'm a combination skin type and I always use loose power, but not with this baby. Now, I'm more intrigued because the Undercover Foundation promises the same thing. 🙂
I never once met a liquid foundation that will last on me without being set with a veil of loose powder. Dior, I gladly accept your challenge and can't wait to try out the new full coverage foundation.
The high concentration of pigments will camouflage your blemishes, hide skin imperfections, evens out skin tone. Even though we are talking about full coverage here and matte finish that lasts, we are promised a flawless and natural effect.
I would hate to have that cakey, too much makeup look on any time of the day.
Another thing that makes me anxious to get my hands on this new baby is the duo of powders. One powder will give a soft focus, concealing imperfections while the other absorbs sebum excess and increases hold. I'm down for that! My complexion gets shiny within 2 hours with most foundations and starts to "shine bright" after 4 hours. How about not using powder at all? If they did that for the perfect mousse and it worked for me I'm sure they can do it again.
If you don't believe me, you can go back to my review and check out my before & after photos to see the effect. I promised I didn't use any powder, compact or loose. It also saves me time, not having to keep the powder in my purse anymore for touch ups during the day. 🙂
I'll be posting more about this foundation when it will be released and share my review with you as soon as I test it. 🙂 What do you ladies think about it so far?
SHOP THIS POST