Hello beauties!
When I first posted a sneak peek of Dior Summer 2018 Cool Wave Collection as I said I'll take a break. Not, like I was going in vacation, but more like I'd skip this collection except Diorskin Mineral Nude Healthy Glow Bronzers. They are available in six shades, but I don't know for sure if they will be released everywhere. Right now I've spotted only four shades at Bloomingdale's but you can see here the others. Now when I saw the entire collection, I might not get the eyeshadow palettes as I said, but I'm looking more towards the lip products. 🙂 I guess I'll now for sure when I'll be there at the counter swatching these beauties.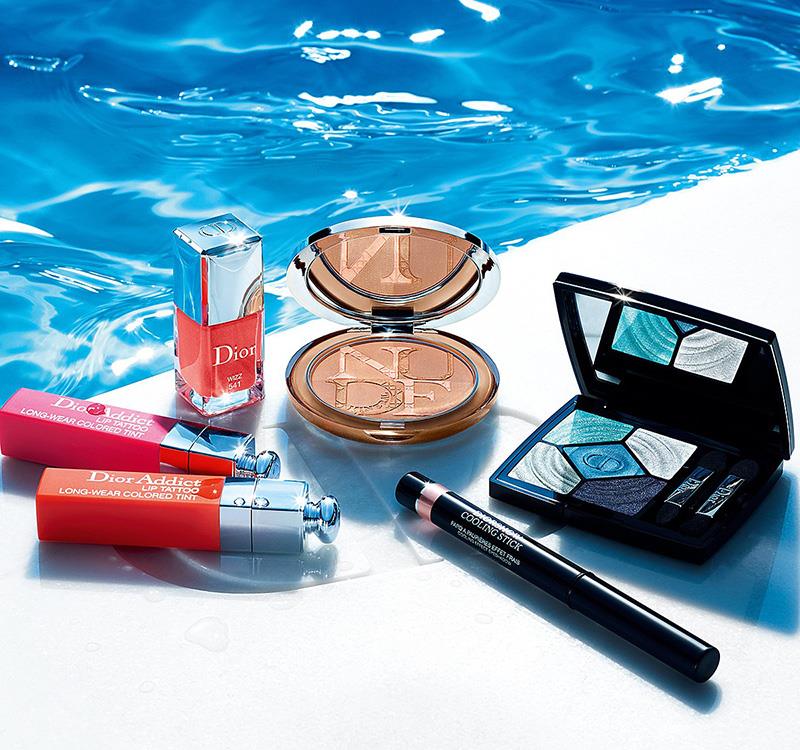 For this collection, the iconic Dior eye makeup palette meets a wave of refreshment with two harmonies: one in blue lagoon shades and the other in warm Indian summer tones. Both reveal a pattern inspired by the waves that ripple from a drop of water hitting the surface.
A variety of textures reunited in a single case to style the eyes with a layering technique. The Dior laboratories have channeled their expertise to achieve extraordinary color fidelity: The result on the eyes is identical to the shade and intensity seen in the case. The pigments are compacted into powders using binders to create a creamy sensation on the fingertips. On the skin, the powder remains imperceptible, while the color blends into an incredibly fine layer for spectacularly long wear.
Availability
U.S. Launch Date – Now at Bloomingdale's
UK Launch Date – April / May 2018 at Selfridges, Harrods
Dior Summer 2018 Cool Wave Collection
367 Cool Down – exudes freshness in shades of turquoise blue, midnight blue, pastel blue and denim blue.
597 Heat Up – reveals a sunny assortment of brown, coral and luminous nude.
Diorskin Mineral Nude Bronze powder, infused with golden minerals, captures the light and enhances the effects of sun on the skin. It warms the complexion for a unique, natural and luminous effect. You appear naturally tanned. The new Diorskin Mineral Nude Bronze is unveiled in a new thinner and lighter compact.
001 Soft Sunrise
002 Soft Sunlight
004 Warm Sunrise
006 Warm Sundown
Diorshow Pump'n Volume Waterproof Mascara
A new fresh-effect eyeshadow stick in bright shades to enhance the eyes in a single step. Dior has created Diorshow Cooling Stick, an eyeshadow stick bursting with water for an immediate cooling sensation and a wet-effect solid color result.
001 Bronze Wave – heady bronze
002 Gold Splash – precious dore
003 Fresh Pink – girlish pink
Its expert formula, enriched with collagen, contains a blend of hyaluronic and marine-based fillers that instantly leave lips smooth, moisturized and plump-looking day after day. The swimming pool blue shade adorns the lips in intense shine with icy blue undertones.
The hydra-gel core is composed of three expert oils among the shiniest used in cosmetics. The Sensorial oil delivers unprecedented fluidity and glide for a new generation of voluptuousness. The Comfort oil improves moisturization of the lips, while the Shield oil ensures color will adhere and last.
411 Nude Chill
664 Pink Drop
040 White Splash
438 Orange Wave
Dior Addict Lip Tattoo reveals a new Color Juice collection in four vibrant shades as fresh and addictive as fruit juice. The proven formula remains unchanged: A comfortable lip stain with a no-transfer finish and extreme staying power* (10 hours) that fuses to the lips just seconds after application for a temporary tattoo finish and bare-lip sensation.
551 Watermelon
571 Cranberry
341 Litchi
641 Orange
431 Pow
541 Wizz
894 Bloop
404 Splash
SHOP THIS POST