Hello sweeties!
Dior Fresh Pink (003) Diorshow Cooling Stick is just one of my purchases from Dior Cool Wave Summer 2018 Collection. You can see HERE swatches and a preview of the products I bought. There weren't many pink shades to choose from this collection so I went with this product because it's versatile. I was told it's safe to use on the lips as well as on the cheeks as a highlighter. Being such a sweet girlish pink shade it definitely works for me as a multi-purpose product.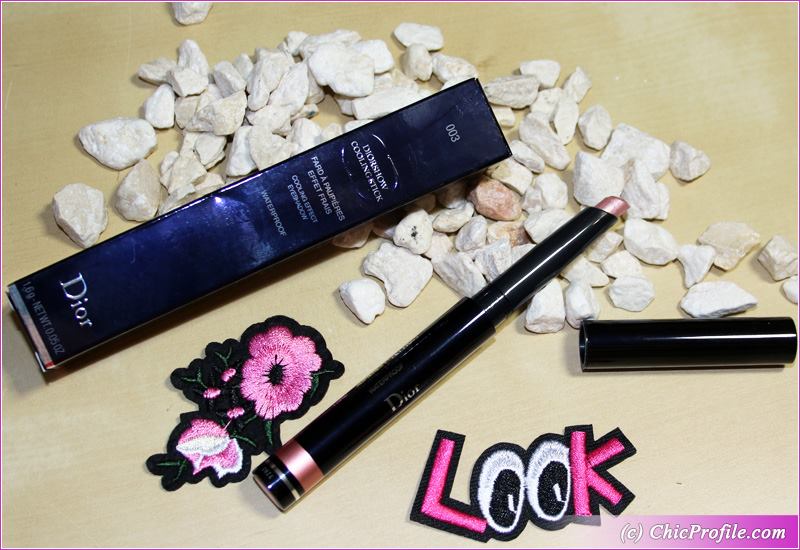 Where to buy:
U.S. – Now at Nordstrom (15% OFF Now $21 instead of $25), Neiman Marcus
UK – Now at Selfridges, Debenhams (Now £20.70 instead of £23.00), Harrods, Escentual (best price £20.70)
France – Now at Sephora.fr
Dior Fresh Pink (003) Diorshow Cooling Stick Review
It's no wonder that is sitting in one of my mini bags as we speak I'm writing this. The reason being that I like to have a multi-purpose product with me when I'm wearing a small bag. This way I can use it as an eyeshadow, lip color or just to add a bit of glow to my cheeks. I like to keep my bag / purse very light. 🙂
Dior Fresh Pink (003) Diorshow Cooling Effect Eyeshadow ($25.00 / £23.00 / €29.95 for 1.6 g / 0.05 oz) is light girlish pink a brown-reddish base, cool undertones and a metallic finish. It has a good color payoff but with a medium coverage. It has a gorgeous metallic sheen and a refreshing cooling sensation.
I think I may reach for this product more often during those hot summer days. I do really enjoy the cooling sensation it gives me upon application. It applies well, without tugging, gliding easily and evenly across the skin. Once you apply it, will stay put and the color won't budge.
I was trying to blend it with my finger but the formula is not that blendable. You just put it on and stays there. Therefore it also works as a base. Mostly I wore it on its own, but I tested it as a base as well. Creamy eyeshadows formulas are not my favorite but this one performs really good for its type.
I have oily lids so I'm not trusting these types of eyeshadow. Dior Fresh Pink Diorshow Cooling Stick proved me wrong. It adheres well on bare skin and doesn't crease so easily. I had it on for five hours and it still looked good. For me that's impressive (again oily lids, no primer). The consistency is creamy but feels very lightweight at the same time. It's easily buildable and will bring more of that beautiful metallic finish if you add a second layer.
I wore it on my lips as well. Glides on smoothly, doesn't sink into lip lines and looks more frosty than metallic. I'm seeing this as a lip color mostly for fair to light skin tones honestly. Or what you can do is apply a bit of Fresh Pink on the middle of your lips to capture that light and give your lips luminosity.
On the cheeks looks great as well as a highlighter. I really like how well it blends and the gentle pink metallic effect. I can blend it easily with my fingers and even build up the intensity, but for a light skin tone like me, one swipe is enough.
It performs good overall and I'm really impressed that it doesn't crease so easily. I will use it more as a multi-purpose product, so not only on my eyes. It does complement my skin tone and the cooling effect is just amazing. 🙂
I would say that at the end of the day it's just a creamy eyeshadow, so it wouldn't last me long if I'm going to use it on my lips and cheeks as well. I'm just going to enjoy it as long as it last.
SHOP THIS POST