Hello lovelies!
Make Up For Ever Fuchsia Pink Artist Acrylip is one of the 10 shades of this versatile, liquid lipstick. Obviously such a bright and intense fuchsia was the right choice for me. I did bought this shade recently at the Professional Beauty London event and I was happy to get it a bit cheaper (£11.00) as well. Honestly I'd have bought more shades but my card was almost empty when I spotted this lips at MUFE counter. I also got the new Ultra HD Soft Light Highlighter (live swatches) that you saw me wearing it yesterday. Yes, a detailed review of this one will be coming up next.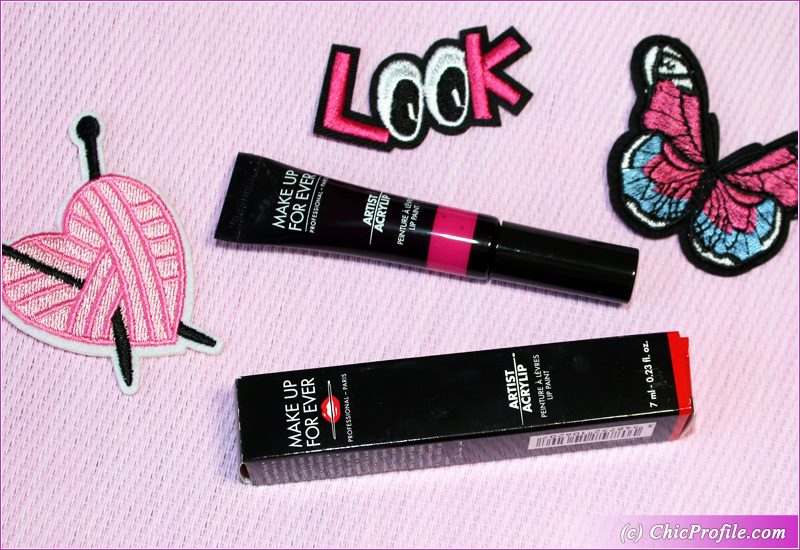 Where to buy it:
U.S. – Now at Sephora
UK – Now at Debenhams, Feel Unique
France – Now at Sephora.fr
Make Up For Ever Fuchsia Pink Artist Acrylip Review
Make Up For Ever Fuchsia Pink (201) Artist Acrylip ($18.00 / £17.50 / €22.00 for 7 ml /0.23 oz.) is a very bright, medium fuchsia pink with cool, blue undertones and a light glossy shine. It has a great color payoff, buildable to full opacity. Make Up For Ever states that you can customize the color intensity from sheer to full coverage. For this color I think the coverage was almost fully opaque to begin with.
The texture is very smooth, light and gives a comfortable feel on the lips. It isn't sticky or tacky at all and doesn't sink into lip lines. The liquid lipstick glides on with the ease of a gloss. It gives a bit of a glossy shine which dries down in a few hours to a satin finish. I won't even say that it has the intensity of gloss right from the beginning but it does put on a bit of shine.
Make Up For Ever Fuchsia Pink is definitely not for those who are color shy. It's my favorite color and you've often seen me on Instagram wearing bright shades like this one. It instantly brightens up the face and in my case keeps that smile going for the entire day. 🙂
The formula is non-drying but I wouldn't say moisturizing either. It just felt comfortable throughout the wear without drying my lips. Maybe for some colors for MUFE Artist Acrylip you can get a sheer coverage and build up the intensity. This hot fuchsia pink is not one of them, as it is bright from the first layer.
On me it lasted for about seven hours (with eating and drinking) and it left a strong pink stain behind. You know I'm kinda happy about lipsticks that leave a lip stain as it does go on longer.
The packaging on the other hand is not what I would call my favorite. It comes in a black, squeezable tube with a cushion applicator. It's true that allows for an easy application and gives you control of how little product you want to apply. On the other hand, I never liked cushiony applicators when it comes to lip products. Is not that I had a problem with this one during the application but is not my thing. I'd prefer a classic doe-footed applicator when it comes to a liquid lipstick or at least a brush.
I'll definitely keep wearing this shade on my lips though, regarding its packaging. I just love how pigmented, rich and intense it looks on me. The color is gorgeous and it would complement a variety of skin colors. I know it looks great or darker skin tones as well, but even the lightest ones can pull it off. 🙂
You can see me wearing it right here, but there's more photos on Instagram where I have this shade on my lips.
SHOP THIS POST