Hello beauties!
Yesterday my heart was really pounding when a friend called me to let me know he's back from London and he brought me my most desired items, the new Viktor & Rolf Bonbon Couture 2016 edition and two shades of Giorgio Armani Lip Magnets (info, photos).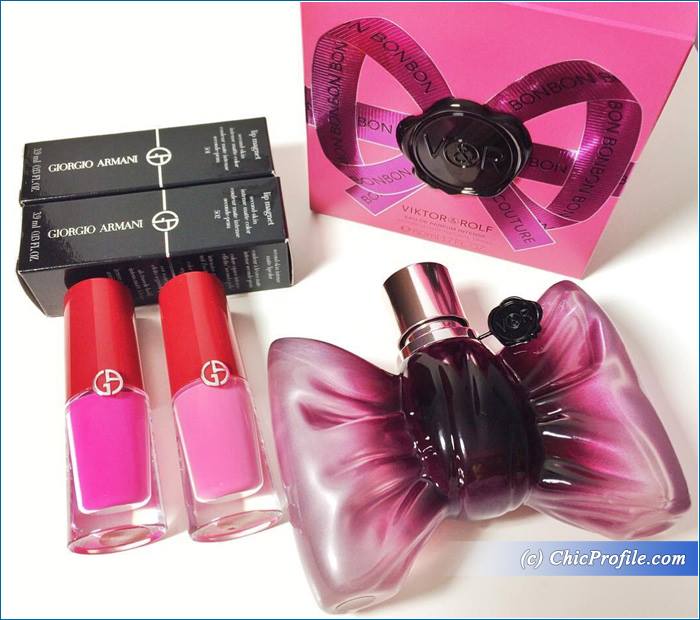 Where to buy:
UK – Now at Selfridges
U.S. – Now at Nordstrom, Neiman Marcus
Romania – November 2016 at Douglas in Baneasa Shopping City
I so vividly remember that this time last year I was preparing for my London vacation where I'd get to splurge on a shopping spree for holiday 2015 collections and gift sets. Since this year the history wouldn't repeat itself I was happy to ask a friend to bring me some items from my wishlist. I hope I'll manage to get some more until December as not all the holiday 2016 collection have launched in London, but I knew I had to have the new 2016 edition of Viktor & Rolf Bonbon Eau de Parfum Intense (£79.00 for 50 ml / 1.7 fl oz).
A sweet scent like this one is possible for me to wear only during fall and winter as it would definitely be too much for me during a hot summer. I admit that at first when I smelt Viktor & Rolf Bonbon EDP (review, photos) I wasn't impressed by the smell right away and thought it was too sweet at the time, but still got the perfume for the amazing pink bow bottle. I gave it a chance later on and actually got to wear it frequently during winter days so when I blogged about the new version, Bonbon Couture Eau de Parfum Intense, I knew I had to make it part of my collection.
The new bottle keeps the same design and shape, only that the middle of the wrapped candy-shaped glass bottles is a darker shade of pink with a lighter, matte bow. It's available as 30, 50 and 90 ml EDP.
The "Haute Couture" reinterpretation of Viktor & Rolf's sweet Bonbon perfume from 2014, Bonbon Couture is said to be a more intensive, luxurious and stronger than the original. The fragrance opens with a juicy combination of mandarin, neroli oil and peach before transcending into a heart of orange blossom and Sambac jasmine, sweetened by a potent caramel note. The base is defined by a woody accord of sandalwood and patchouli, with vanilla and blonde tobacco.
Now moving on to the lip colors, Giorgio Armani Lip Magnet (£27.00 / €36.00) liquid lipsticks come in a variety of 18 shades with a matte finish. I absolutely love Giorgio Armani lip products, their super light formula that makes you forget you're wearing anything on your lips until you look in the mirror and see yourself actually having your lips painted by a gorgeous color.
Well, you know I'm not really into this matte lip trend of the season, not that I'm not wearing matte lipsticks or lip colors because I do and you've seen me reviewing so many shades, but I know I'm more of a cream or glossy finish. Well, since I already had a super pleasant experience with several Giorgio Armani lip products and I want to embrace this matte lips trend I though the new Lip Magnets were the ones to try.
I actually took these photos with my phone this morning as I didn't have the patience to take out my photo camera for a proper photo session (but I will take quality photos when I'll be reviewing these, next week) since I was so excited to blog a little about my two new Armani Lip Magnet shades.
I've got two shades in 501. Eccentrico and 502. Mania, obviously pink being my first option when I pick out a new lip product, but I will get me some nudes once this collection will launch here in Romania as well.
WAAAAAIT!!! I think I'm going to quickly write another post and show you how these swatch as well and how amazing the applicator is. Be right back, just going to grab my phone and do some more shots! 🙂
Enjoy more photos…