Hello beauties!
So let's resume the last post where I started with a preview of Giorgio Armani Lip Magnet in these two gorgeous pink shades. I'm back with photos from my Iphone as promised so you can see more of these babies. Here are the shades in No.501 Eccentrico and No.502 Mania but for sure many more will be joining my collection in the upcoming weeks!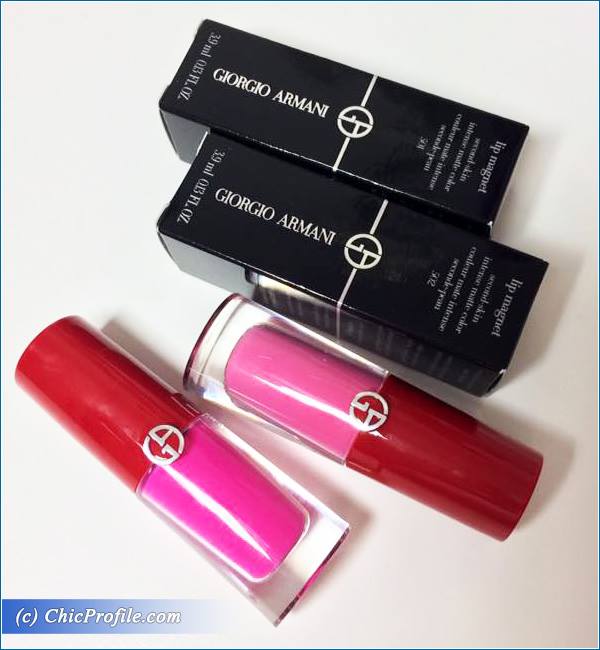 Where to buy:
UK – Now at Selfridges
U.S. – Now at Nordstrom, Neiman Marcus
Romania – beginning November 2016 at Douglas Baneasa
Giorgio Armani Lip Magnet (£27.00 / €36.00) is available in 18 shades.
I'm trying to make this quick, because I don't want to reveal to much now since I'll be reviewing these individually next week, but they are freaking amazing. The texture is light and creamy and feels like I'm not wearing anything on my lips. Last night, when I actually tried on the first color I absolutely forgot that I was wearing anything 30 minutes later, as the formula felt so comfortable, not a feeling of dryness throughout the wear. So I started my day, wearing the second color and then again the same light feeling and an amazing concentration of pink color on my lips. These have the finest texture of anything I tried so far, they feel like a "second-skin". I'm totally sold to these, as they don't feel sticky, oily or tacky, they don't run or dry the lips so they are perfect for me.
I actually can have matte lips now, choosing any color I want with the light and comfortable sensation of bare lips. 🙂 I'm honestly super excited about these and I can't wait until they hit counters here at Douglas Baneasa late October or beginning November 2016 so I can get me more shades.
Did I mentioned how awesome the new applicator is and how I don't need a lip pencil anymore to get that crisp line and precise application? Well…I'm gonna reveal more in those upcoming reviews. 🙂
Enjoy more photos…