Hello beauties!
I honestly couldn't wait to show you the two new retro matte lipsticks shades that I got from MAC Spring Summer 2017 Kabuki Magic Collection (info, photos). The announcement for this collection was made back in early summer and we knew that 50 makeup items for face, eyes and lips were coming our way in the beginning of 2017. Responsible with creating the new lip product shades for MAC SS 2017 Kabuki Magic Collection is Kabuki himself and even though the color story hasn't been revealed yet, there are swatches of several shades running on Instagram. I've teased you earlier today with live swatches of MAC Kabuki Magic retro matte lipsticks so I thought of quickly taking a few photos with my phone and do a little preview before I get to try these more seriously for upcoming reviews.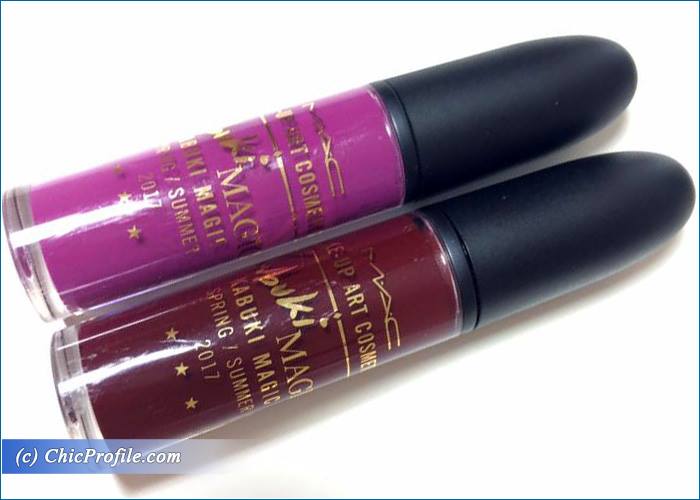 Availability
U.S. Launch Date – January 2017 at select MAC Locations
Europe Launch Date – January 2017
Way back in spring I told about a shade extension of MAC Retro Matte Liquid lipsticks launching in January 2017 as well so at this point I'm myself a little bit confused if we are talking about a separate collection or are these new shades the one presented in MAC SS2017 Kabuki Magic Collection.
If you were interested in this collection and especially on these new retro matte liquid lipstick shades I bet you've already seen swatches of Fallen Angel, This Modern Age and Sweet Thing on Instagram. I actually tried to match these names with the new retro matte liquids and it seems that they are completely different shades.
Anyway moving on to these two new Kabuki Magic Retro Matte Liquid lipsticks that I got here for you today, just as a quick preview I'm gonna let you know that these are insanely pigmented. I mean I easily swatch them on my hand and they burst with an intense color. They dry out to a matte finish but I haven't yet applied them on my lips. I did like their creamy consistency and how they swatched and even the fact they left a stain behind when I used a cotton pad to remove the colors.
I personally like this medium-dark, dirty rose magenta because pink is my kind of shade, but I wouldn't deny my lips that blackened grape burgundy color for an evening look. I've seen how the previous three shades swatched but I personally like these two right here much better. I honestly wouldn't really see myself wearing This Modern Age Retro Matte Liquid lipstick shade in light gray, if wouldn't look well on my light skin, but I've seen it on darker tones and it's totally wearable.
I'm guessing these will be retailing for around $20.00 or just a little bit more for the special packaging, but I'm gonna update when official information comes into my mail.
Enjoy more photos…