Hello beauties!
When someone asks me which is my most re-purchased product since I moved to London, The Ordinary Salicylic Acid 2% Solution is my straightaway answer. Well, at least when it comes to skincare, because no joke… I've re-purchased this about 4 times and I even received it as a gift once from a friend.
The Ordinary Salicylic Acid 2% Solution was in my shopping cart among with other awesome products right on my first visit at Deciem store here in London, over two years ago. If I'd still had my Instagram account (why it was disabled) I would have been able to link to that photo I posted back then right from the store with all my skincare purchases. 🙂 This is one of the perks that London offered me from day 1… to be able to enjoy brands that were not available back in my country. 🙂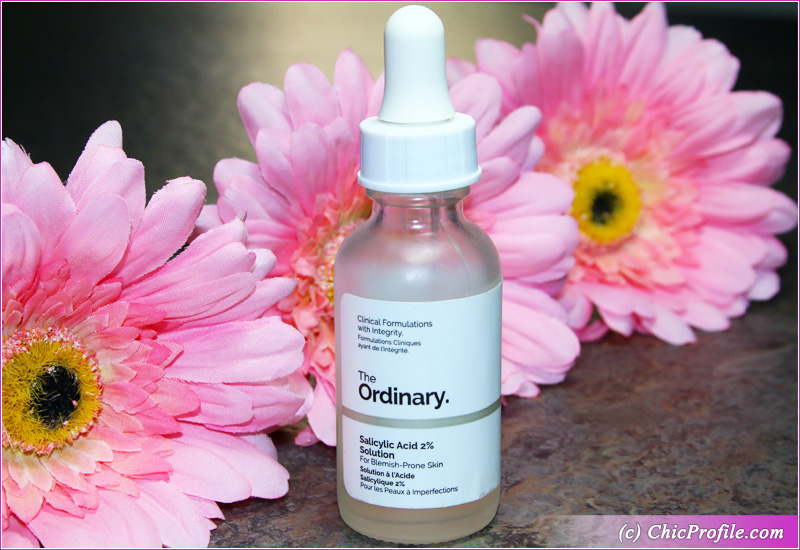 U.S. / UK / International – Now at Cult Beauty, Escentual, Beauty Bay, Deciem, Feel Unique
The Ordinary Salicylic Acid 2% Solution Review
The Ordinary Salicylic Acid 2% Solution ($6.00 /£4.20 for 30 ml) is a blemish-fighting treatment that helps clear pore congestion. It said not suitable for sensitive, broken or peeling skin but guess what. I have sensitive skin and I've learned how to make it work.
It would be ideal for blemish-prone skin type and since I have a combo skin type as well, I fit right into this category. This targeted treatment is infused with 2% beta hydroxyl acid to exfoliate inside the walls of your pores, for a visibly clearer complexion.
Basically if you have Oily or Combo skin this is your new best friend. But what do you do if you are sensitive skin as well just like me? I will tell you in just a second how I've bee applying it for years but first let's read into its other benefits.
Salicylic acid is part of Beta Hydroxy Acid family / Benefits
Whenever you check the packaging of a product and you see BHA letters, it means there's salicylic acid in there.
This has a triple role:
Exfoliates by dissolving the "glue" that holds skin cells together on the surface of the skin. The result is a smoother and brighter skin.
Unclogs by penetrating into the pores and removing all the dirt that's giving you blackheads and pimples.
Soothing: this is my favorite part which benefits sensitive skin thanks to its anti-inflammatory properties that reduce redness and irritation.
Why Do You Need Salicylic Acid in your Skincare Routine?
Maybe your skincare routine already has too many steps and way too many products. Adding a new product can be too much sometimes. An ideal skincare routine doesn't really need that many products to be honest and I learnt that the hard way. I used to apply 5-6 products in the morning and sometimes just as much in the evening but now I've simplified all to 3 or max 4 products that really work.
The Ordinary Salicylic Acid 2% Solution really works and you'll see the difference on your skin. If you are dealing with blackheads, whiteheads or pimples, salicylic acid is a must for your skincare routine. Two years ago I had no idea how much of a difference this product will make on my skin.
Salicylic acid removes clogs and prevents new ones from forming so my complexion looks so much cleaner, younger (a bonus when you are in your 30's) and luminous.
Ingredients
Aqua (Water), Hamamelis Virginiana Leaf Water, Cocamidopropyl Dimethylamine, Salicylic Acid, Dimethyl Isosorbide, Trisodium Ethylenediamine Disuccinate, Citric Acid, Polysorbate 20, Hydroxyethylcellulose, Ethoxydiglycol, Potassium Sorbate, Sodium Benzoate, 1,2-hexanediol, Caprylyl Glycol.
The price is super affordable for everyone so you don't need to say in order to get this product. The packing looks super neat, hygienic and is super easy to use. It comes in a glass bottle with a pipe that helps you pick up just the right amount of product for each use.
You can see how much of I have left from my The Ordinary Salicylic Acid 2% Solution and trust me that I'll go more than one month with it. It takes me months before I finish a bottle and is super efficient.
HOW TO USE IT – Even if you are SENSITIVE SKIN
The official recommendation is to apply a small dot morning and evening directly on spots or concerned areas. You can also apply it (a small amount) all over your face to maintain a visible clarity. You should definitely avoid the eye contour or any contact with your eyes.
Use it as the first product in your skincare routine just after you washed and cleansed your face. Do no rinse it off even if you see that it foams a little and continue with your skincare routine. It has a water gel-like texture so just give it a minute before you apply another product on your skin.
Now it comes the tricky part, as sensitive skins may feel that applying The Ordinary Salicylic Acid 2% Solution two times a day is just too much. Indeed it can be and I wouldn't even recommend it.
I personally have been applying salicylic acid only one time a day and never AM and PM. If I'm in the hot season when the temperatures can go crazy (let's not dramatize for London) or on any other super sunny day then I avoid applying the salicylic acid in the morning and I just do it in the evening. The reason? This product contains a beta hydroxy acid (BHA) that may increase your skin's sensitivity to the sun and particularly the possibility of sunburn. You need to use a sunscreen if you still choose to apply the treatment but I'd definitely wait until the evening.
Likewise when I'm going for my summer vacation at the beach, I still pack The Ordinary Salicylic Acid 2% Solution with me but I use it in the evening.
Otherwise, I do like to use AM and let it sit for a minute on my skin before continuing with my Vitamin C serum. I have periods of time when if my face looks super clear and there's no pimple on sight, I skip using the salicylic acid for a day or two at the most.
This is a super budget friend product for anyone and especially for those who are on a budget. I'm not saying is the only one who does a good job but if you prefer a more multi-tasking product and you don't mind paying more then there's another great product out there that I'll be reviewing soon. It's Paula's Choice SKIN PERFECTING 2% BHA Liquid Exfoliant ($25.00 for 118 ml / 4 fl oz). By subscribing to Dermstore you get 15% OFF for this product and you can purchase it at $25.00 instead of the normal price of $29.50.
Next week I'm just thinking of purchasing Paula's Choice Clear Regular Strength 2% BHA Exfoliant just because my current anti-reddness serum is coming to an end and this new one is more of a multi-use product. 🙂