Hello pretties!
SUQQU Interstellar Holiday 2018 Collection which will be available exclusively in the UK will be launching in two days. The new UK Exclusive Christmas Collection 2018 takes inspirations from the Moon, the Earth and the Cosmos. SUQQU fans already know that limited edition collections are being sold out in the same day, so make sure you have your wallet ready if you see anything you like.
Don't forget that Selfridges updates its website early in the morning around 5 AM so you'll have to wake up pretty early if you want to buy online. Otherwise just, make sure to come in the store on the same day, because SUQQU UK exclusive collections do sell out extremely fast. I'm not joking! 🙂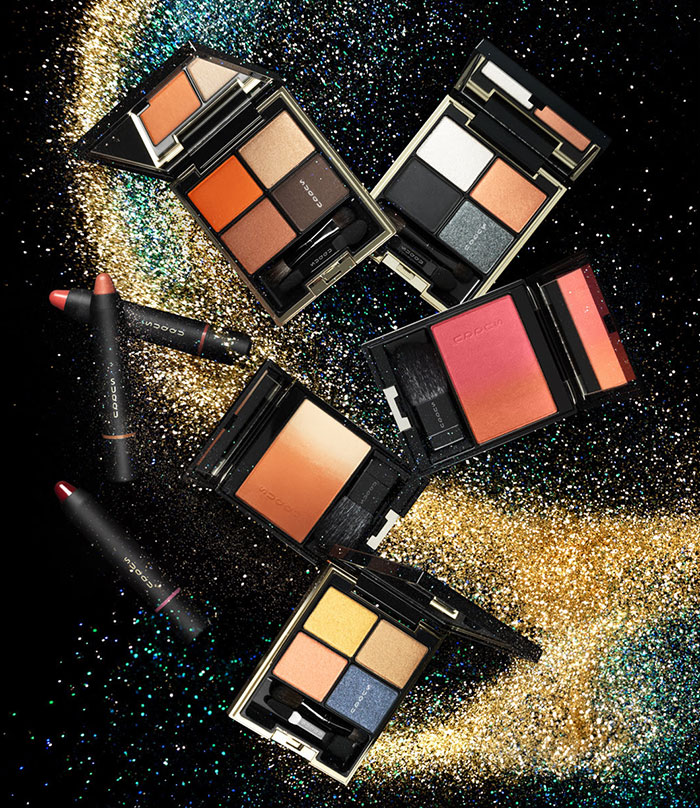 Availability
UK Launch Date – 4 October 2018 at Selfridges | 18 October 2018 at Harrods, Fenwich Bond Street
SUQQU Interstellar Holiday 2018 UK Exclusive Collection
Capturing the silent majesty of the Moon, a gossamer nebula of cosmic dust and our warm mother Earth. This Christmas, SUQQU presents a space-themed makeup collection, offering edgy, inspiring colours and textures for infinite variation of looks.
SUQQU Designing Color Eyes – £46.00
No.121 Gekkouka
No.122 Hanaryuusei
No.123 Hikariori
SUQQU Pure Color Blush – £32.00
No.111 Yuuboshi
No.112 Akeboshi
SUQQU Matte Lip Crayon – New
No.101 Seisai
No.102 Sorabeni
No.103 Kouzu
Also launching in the same day exclusively at Selfridges are two Matte & Gloss Lips Kits. They come in a lovely golden box with a black ribbon and are UK exclusive.
Coral Matte & Gloss Lips Kit – New – £72.00 (UK Exclusive at Selfridges)
Includes:
No.101 Seisai Matt Lip Crayon
No.102 Sorabeni Matt Lip Crayon
No.05 Flawless Lip Gloss
Red Matte & Gloss Lips Kit – New – £72.00 (UK Exclusive at Selfridges)
Includes:
No.102 Sorabeni Matt Lip Crayon
No.103 Kouzu Matt Lip Crayon
No.08 Flawless Lip Gloss
Enjoy more photos…