Hello pretties!
I bought SUQQU Akatsukizora Designing Color Eyes eyeshadow palette right at the beginning of December. I've used this new eyeshadow palette several times ever since. Even though I posted the swatches back then on Instagram, I'm back with a full review. Don't forget to check out the new SUQQU Spring 2018 Makeup Collection. Hopefully I'll be reviewing some of the products by the end of the month. I have my eyes on a few lip glosses and nail polishes.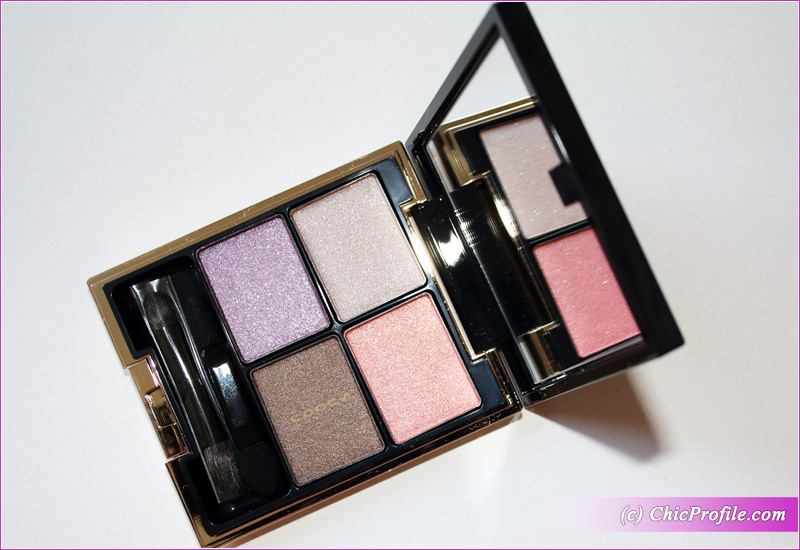 You explore the beauty of striking yet refined smokey eyes created by contrasting light and dark tones. Enjoy the chemistry and unique harmony of these four highly-pigmented shades.
Where to buy:
UK – Now at Selfridges, Harrods
SUQQU Akatsukizora Designing Color Eyes Review
SUQQU Akatsukizora (108) Designing Color Eyes (£46.00 for 5.6 g / 0.19 oz) is comprised of vivid purple, bright coral, khaki brown and glimmering gold. The last shade can be used for definition and highlighting as well.
SUQQU Akatsukizora Designing Color Eyes eyeshadow palette is a limited edition release for Spring 2018. This palette was release along with a new shade of Moisture Rich lipstick in No.103 Kouyou. I posted a sneak peek on Instagram about this release back in November.
The palette comes in a black, elegant and luscious top with a gold, mirror-like bottom. The compact is very slim, stylish and has a mirror inside along with two double-ended applicators. If the brand would give up these applicators would be really great. I'm not ever using them anyway and maybe the price would go down just a bit. Nowadays everyone prefers to use a brush and I don't know how many of you really make use of those sponge applicators.
I like all the colors but I wouldn't say it's the perfect combination. I wouldn't have put the khaki shade in there and just choose a brown, a plum or a dark burgundy instead. Now if we are going to talk about the formula, consistency and texture that's another story. These eyeshadows feel so unbelieveble soft and creamy to the touch. Almost a buttery consistency without any feeling of dryness. They apply well, adhere beautifully even on bare skin without any fall out. It's a pleasure to wear these shades, play with them, mix and blend them together. You can build up the pigmentation if you want more opacity but I prefer them in one layer with a soft focus.
Keep in mind that I swatched the palette on bare skin without any eyeshadow primer or base applied previously. So the photo bellow reveals the true intensity of these shades on bare skin in one layer.
SUQQU Akatsukizora Designing Color Eyes Shades Description
Suqqu Akatsukizora No.1 is a medium dirty-white-beige with rosy-gold undertones, fine shimmer and a satin finish. It has a good pigmentation but is doesn't come fully opaque on the lid. You can definitely intensify the color in two or three layers but SUQQU eyeshadows are more about a soft focus. I just love the sheen of this color, it brightens up my inner eye lid area just beautiful. The texture is so soft and creamy, almost buttery like. It adheres well even on bare skin without any fall out during the application. This shade can double as a highlighter too thanks to its gleaming gold particles.  I got a bit over 8 hours wear with this formula.
Suqqu Akatsukizora No.2 is a bright apricot with fine gold shimmer, warm undertones and a satin finish. It's such a fun and bright color that would definitely emphasize any makeup. It's a great color for spring and summer as well. Wearing this shade I notice it instantly warms up my face. I'm not so much into orange shades, but this one with its touch of gold looks just right. The color is pigmented, intense and has a good color payoff. The consistency is just perfect. The texture is so velvety, soft and creamy that is pleasure to work with. It applies well without any fall out and doesn't feel dry at all. Blends easily and lasts on for over 8 hours without creasing.
Suqqu Akatsukizora No.3 is a medium-dark purple with fine pink and gold shimmer. The color payoff is good but not highly pigmented in one layer. You can definitely build up the intensity by adding an extra layer or color but is not going to be opaque right after the second layer. I absolutely love this shade. I use it in my outer corner or blended upwords in the crease a bit. The texture is very soft and smooth while the color blends easily. Adheres well on the lid without fall out during the application. I got a bit over 8 hours wear with this shade.
Suqqu Akatsukizora No.4 is a dark khaki-brown with slightly warm undertones and a slightly metallic sheen. This color is absolutely wonderful even though I wouldn't have paired it with the other shades. I would have personally put it in another palette along with a gold or light brown. The pigmentation is fantastic, rich and intense, totally opaque. I just love how this shade performs. The texture is so smooth and buttery, no dryness at all. It has no fall-out during the application and blends out easily. It has a fantastic quality and wears well for over 8 hours without any fall out or creasing.