Hello beauties!
I wanna talk to you about St. Moriz Self Tanning Lotion, a product that I can definitely call a summer favorite, now after I used it a couple of times. I got this along with St. Moriz Self Tanning Mist (preview, photos) and St. Moriz Self Tanning Applicator Mitt and I've been using them for almost two weeks now so as promised I'm back with more details, before and after photos and a few application tips.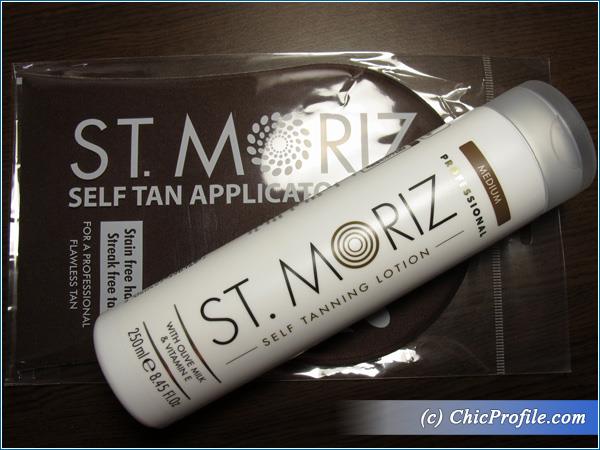 Availability
U.S. Launch Date – Now at ULTA and online @ulta.com
Romania Launch Date – Now online @vok.ro
St Moriz Self Tanning Lotion ($12.99 / 39.95 Lei for 250 ml / 8.45 fl oz) is an instant self tanning lotion which comes available in two shades Medium and Dark. I got mine in Medium as I'm a light skin and I just want to achieve that golden tan, nothing over the top, nothing too dark like I've been in the sun for weeks.
Since I tried sun beds a couple of years ago and that kind of tan didn't really work for me I thought of trying a new self tanning method, which is healthier and doesn't have those side effects. My skin is so light, and it's that type of skin that gets red before it can have at least a bit of tan, and it takes me like 2 weeks on natural tanning before I can show off a decent tan that other people will probably get after 2-3 days at the beach.
I haven't even thought about a summer holiday this year so since I don't know when or if I'll get that gorgeous beachy tan the new St. Moriz Self Tanning Lotion was the right fit for me. It contains a unique blend of active tanning agents that work their magic in order to leave you with a golden, natural looking tan.
I told you a little something about the application in a previous article as it's recommended to exfoliate using a body scrub or a exfoliating shower gel and after moisturize your skin using a body butter, body cream or lotion depending on your type of skin.
At first I used both products, the tanning lotion and mist but lately I've only kept using the lotion and I will tell you why in a bit but also I will post a review for the Self Tanning Mist, later this week.
So the application is quite simple after you done the first two steps with exfoliating and moisturizing your skin. Honestly to tell you the truth I didn't always applied a body lotion prior to self tanning but that's because my skin is quite hydrated and it never feels dry. I do like to moisturize my skin the night before applying St Moriz Self Tanning Lotion.
To achieve the best results but also to not stain your palms you should use St Moriz Self Tanning Applicator Mitt (39.95 Lei) or a bath glove. Apply a small amount of lotion on the Applicator Mitt or directly onto your body and spread the product by gently massage it using circular motions. I start by applying the lotion onto my feet and the work my way up to my legs, abdomen, chest and hands leaving my neck, my complexion and ears the last.
On me the lotion doesn't apply quite evenly and I mean there will be spots where I can see the color is more intense but that worried me only at the first application so do not stress over it as I guarantee that you will get a gorgeous evenly tan in the end. It doesn't leave any streaks, doesn't feel sticky, tacky or oily and it's actually quite moisturizing and leaves the skin feeling smooth and comfortable. I know that when it comes to self tanning products many women have a problem with the artificial smile and I myself hate the sun beds especially because of the smell my skin gets after using them. I didn't felt that smell with St Moriz Self Tanning Lotion, on the contrary it has a nice sweetness to it, is very subtle so you'll barely notice it. I'm just happy that I didn't felt that plastic, fake tanning smell that usually makes me sick, somehow like St Tropez products have.
You will instantly get a nice body color, probably with 2-3 shades darker than your natural skin tone but don't worry it will lighten up a bit after you take that shower.
For my complexion, neck and ears I like to mix a drop of St Moriz Self Tanning Lotion with my moisturizer and apply it gently all over the face, blending it towards the temples and also not forgetting the back of my neck. For the past 2 applications I used a bit more lotion on my complexion just because the tan will not last that long as it does on my body since I'm using makeup removers, creams and cleansers two times a day.
If you have dry skin this will definitely help moisturize it but you should still use a lotion or body cream before the application. It dries out so fast, like under 5 minutes and it doesn't stain. I even took a nap the other day while I was waiting for the tanning lotion to do its magic and my sheets were not stained at all. It takes between 4 or 6 hours to get that tan and I always showered no sooner than 6 hours sometimes even 7 as I really wanted to give it time to get that gradual perfect tan. I'm guessing that if you want just a shade darker than your natural skin tone then 4 hours should work just fine but if you are looking for something with 2-3 shades darker then you should definitely allow 6 hours. There's also the Dark color version of this product for those with a darker olive skin tone. I guess that for light to medium skin tones you can gradually increase the intensity of your tan up to your desired color by using this lotion everyday for the first 2-3 days until you are satisfied with the results or simply every other 2 days. I personally apply the lotion every 4 days as I just don't want to get too dark and I prefer to still match my foundations. Honestly I'm happy to say that since I'm using this lotion my Max Factor Lasting Performance Foundation (review, swatches, photos) looks so much better on me and you can see it right here on my latest Satin Gold & Brown Makeup Look (tutorial, photos).
During the 4-6 hours you are allowing the tan to develop you should avoid any contact with water, perspiring or applying any other products to the skin. This being said avoid to get sweaty, no going to the gym, no housework that will make you sweat or other similar activities. I personally like to stay at home during these hours but I once had to go out so that was totally fine as I was only shopping for groceries and there weren't any hot temperatures outside that will make me sweat.
After this time you should take a warm shower to wash off the guide color but avoid using soaps, shower gel or shampoo when rising. You will get a beautiful even tan instantly with a natural glow that will last you for 3-4 days. I personally like to use a scented body lotion afterwards just now and then so I'll keep my skin moisturized. That's it, you are good to glow! 🙂
Now if you're wondering how much this product is going to last I can only tell you at this point that I've used it 4 times and I do believe I have a bit more than half left inside but I can't really tell for sure as it comes in a white opaque plastic container. I shall update this details when I'll finish the bottle. 🙂
Ingredients
Aqua (Water), Dimethicone, Dihydroxyacetone, Hydroxyethyl Acrylate/Sodium Acryloyldimethyl Tourate Copolymer, Isohexadecane, Phenoxyethanol, Xanthan Gum, Ceteth – 10, Laureth-4, Polysorbate 60, Methylparaben, Parfum, Isobutylparaben, Butylparaben, Isopropylparaben, Ethylparaben, Propylparaben, Citric Acid, Citronellol, Coumarin, Butylphenyl Methylpropional, Alpha-Isomethyl Ionone, CI 16035 (FD&C Red40), CI 19140 (FD&C Yellow 5), CI 42090 (FD & C Blue).
Enjoy more photos…
My natural skin color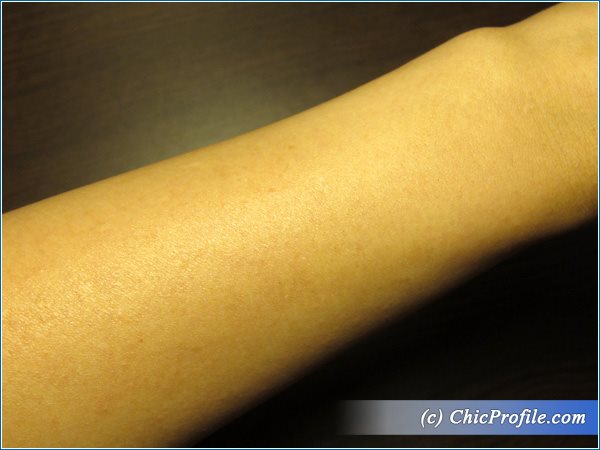 Right after applying St Moriz Self Tanning Lotion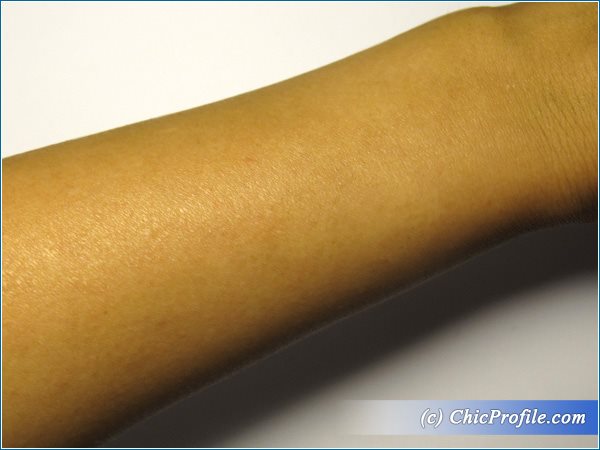 The final result 6 hours and 30 minutes later, after I also showered.