Hello beauties!
I'm a natural blonde who never dyed her hair and like so many other natural blondes out there my hair is thin, breaks up easily and I'm constantly in need for anti hair loss products or any type of product that will stimulate hair growth, regeneration and strengthen the hair. Recently as I got familiarized with ACM Laboratoire Dermatologique products I discovered they also promise a solution for my constant anti hair loss problem. All these being said I now find myself testing ACM Novophane Energizing Shampoo, ACM Novophane Anti Hair Loss Lotion and ACM Novophane Food Supplement for nails and hair. I got the package this Monday along with a complementary gift, the new ACM Sensitelial Micellar Lotion as my combination and sensitive skin really loves light lotions like this one.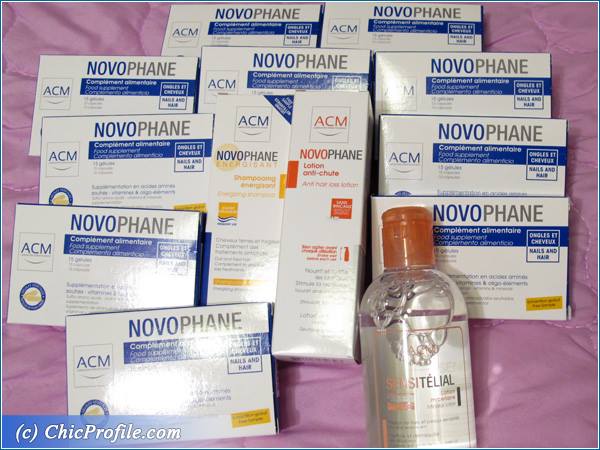 Availability
Romania – Now online @magnifiqueskin.ro and in Pharmacies at Magnifique Skin section
International – Now in Pharmacies and online @labo-acm.com
I've already begin to take the ACM Novophane Food Supplement (75 Lei for 60 capsules) which are vitamins and minerals capsules meant to restore the health of the hair and nails. Trust me I'm not fond of taking pills but since these are only healthy natural supplements that will help strengthen my hairs and nails I'm OK with it. One box contains 15 capsules and you are meant to take 2 capsules per day during a meal for a minimum of two months before you can see the results. This should be repeated regularly throughout the year. I just wanted to give a quick peek of all these products together so you'll know what I'm currently doing for my hair loss problem but as usual I shall post individual reviews of each product in the months to come when I'll be able to tell you something about the results.
Some of you will definitely remember the products I've used in the past to stop this problem but for those who are still new to my blog I just wanna remind that for me the only product that worked and is it still efficient is Intragen Anti-Hair Loss Treatment (review, photos). I've used these vials since 2009 like two times a year but lately they were harder and harder to find as the big box with 42 vials was no longer available here and the 12 box was getting really expensive. I just wanted to do this quick update for those of you who remember that I mention Intragen Anti-Hair Loss Treatment several times over the years and will probably wonder why change something that has done miracles for me.
I decided to try ACM Novophane products to see if there are still other products that can do wonders to my hair and which are especially cheaper and easier to find.
I started using ACM Novophane Anti Hair Loss Lotion (127.00 Lei for 100 ml / 3.38 fl oz) 4 days ago and I've been applying it once a day ever since. In the past I tried a similar product from Kerastase and not only I paid a lot for it but once I was done using the product the problems reappeared so I'm really curios what this ACM anti hair loss lotion can do. I know I'm a little skeptical now in the beginning so I'll be posting a review after a couple of months as I also want to see how efficient the treatment was after I finished using the product. This is actually a two purpose product as it is not only meant to nourish and strengthen the hair but also stimulate the growth so it's more like a revitalizing anti-hair lotion which can be also used by people who want to regenerate, revitalize and hasten their hair growth. It contains Vitamin C, E, B5, B6, PP, H and essential oils and should be applied hairline after hairline on dry or wet hair and then gently massage the scalp. You just need to allow it a couple of minutes to dry and you don't have to rinse it afterwards.
ACM Novophane Energizing Shampoo (33.00 Lei for 200 ml) definitely could not miss from this experiment as it's the perfect partner for an anti-hair loss treatment. This shampoo is also recommended to those with dull, thin and tired hair as it combines 6 vitamins which will stimulate the scalp and gives your hair a natural healthy shine. It contains balsamic agents which make hair easier to untangle so you won't be needing any conditioner. I will probably be able to tell you more about this Energizing Shampoo after several uses as I got the smaller bottle (100 ml/ 3.38 fl oz ) so I'm curios how much it will last me.
I also told you I received a complementary gift, ACM Sensitelial Micellar Lotion (41.00 Lei for 250 ml / 8.33 fl oz) for dry and sensitive skin, a product that I really wanted to try and see how well it performs considering my favorite Micellar lotion is from Bioderma and it will be hard to convince me to use a different one. I've already used the new ACM Sensitelial Micellar Lotion a couple of times this week but I haven't used it to remove my makeup yet, so I'll put it to the test later today as I have in mind a fun and colorful makeup look that I'll be showing you later on the blog. I don't want to reveal too much now as a detailed review will tell you everything you need to know about this product, probably even next week but I just wanna say that it smells divine. Its delicate rose scent really got me shrouded into its fragrance and I find myself opening the bottle just to sniff it a couple of times a day then quickly closing it to preserve the scent but I'm still wondering if it will go away after I consume more of this lotion.
That's it for now but I'll return with more details about each product after a few weeks or I might even post a quick peek with updates once I see the first results.
Enjoy more photos…