Hello pretties!
Paul&Joe Holiday 2017 Makeup Collection is a limited edition release that we previously talked about HERE. This new Paul&Joe Christmas 2017 Collection helps to create dazzling lustrous eyes teamed with sensual red lips. I received the products earlier this month as I showed you on Instagram. You can see one of my makeup looks here. I'm wearing the super cute Cat Lipstick which is adorable.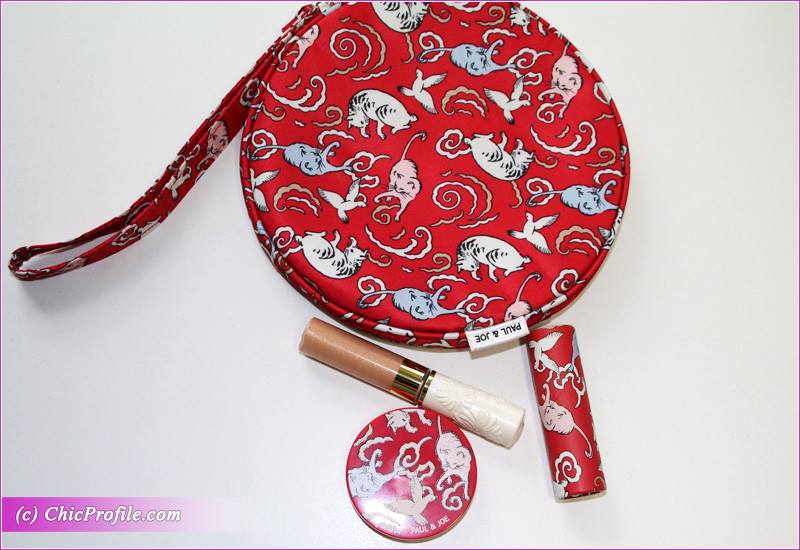 Paul&Joe Holiday 2017 Makeup Collection (£50.00) features a Cat Lipstick, Shimmering Blush, Eye Gloss and a matching printed bag. Along with this collection Paul&Joe releases a new Sparkling Foundation Primer in Champagne Rock. I'll be reviewing this one separately on a future article.
Paul&Joe Holiday 2017 Makeup Collection Review
Paul & Joe Shimmering Blush (3 g / 0.1 oz) in the shade No.001 is a light, champagne-rose pink with warm undertones and a satin finish. It has a golden overspray that translates on the cheeks into fine gold shimmering particles. The color has a semi-opaque coverage and can also double as a highlighter. Illuminates cheek bones with a fresh and soft color. Is not very pigmented but can be easily buildable up to a medium coverage. The texture is smooth and soft and applies and blends easily. I got around seven and half hours wear with this formula.
The Eye Gloss No.001 (7 g / 5.8 ml / 0.24 oz) is a light champagne-gold with a dash of sparkling finish. The pigmentation is medium but the dazzling sparkle looks very festive. You can wear it on its on (but it will crease) or apply it on top of powder eyeshadows for a pop of color. It's the easiest way to transform your makeup into a festive one, just by adding a bit of eye gloss on the center of your lid. The consistency is thin, a bit liquidy but adheres well on the skin. It's easily blendable.
Cat Lipstick No.003 (3 g/ 0.1 oz) is a limited edition shade featuring a cat face that emerges from the tip. It's packed in the limited edition psychatdelique print first appeared in the 2016 Autumn-Winter Collection. I'm sure you will agree that this lipstick is mega cute but I still had the heart to use it. Call me cruel if you want! 🙂
It's a medium, bright raspberry red with slightly cool undertones and natural sheen. The color has a medium coverage, easily buildable up to a medium. While the raspberry red shade given by the cat face is absolutely beautiful the exterior of the lipstick is transparent. The formula is very moisturizing, the lipstick glides well across the lips and gives a beautiful, fresh sheen. The application is a bit tricky. Why I'm saying this? Because the face cat will color your center of the lips while the edges while receive just a bit of sparkle. So you must definitely use a lip liner to contour the edges of your lips. The formula is moisturizing, doesn't emphasizes lip lines and lasts beautifully for about 4 hours.
You can see me wearing the new Paul & Joe Cat Lipstick limited edition shade in this photo. I paired it with Elizabeth Arden Lip Liner (upcoming review) in a similar shade.
SHOP THIS POST