Hello sweeties!
Paul&Joe Holiday 2017 Makeup Collection is actually a repromote from last year but it was revamped and decorated with cute prints. The theme is Champagne Soiree, a night of champagne which you can enjoy with your loved ones. I always liked cute sets like this one, as they can make the perfect Christmas gift. Even though we are not talking about an entire makeup collection here, P&J is one of the brands that feels more comfortable releasing gift sets for Holiday.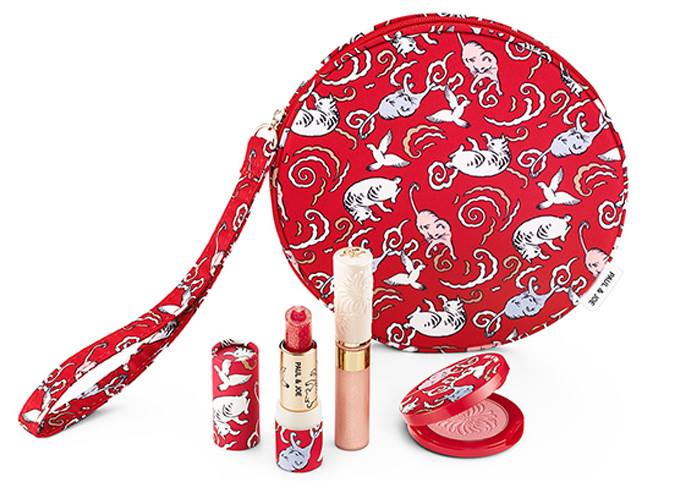 Availability
Japan Launch Date – 1 November 2017
UK Launch Date – November 2017 at ASOS, Beauty Bay
Paul&Joe Holiday 2017 Makeup Collection
The focus is on Paul&Joe most popular item, which is the cat lipstick. This year we get a limited edition version of No.003 Cat Lipstick. The outer side is a lip balm with a sparkling champagne glitter while the inside is a red lipstick color. Mix the lip base and lip color to create a fresh and gorgeous finish.
For the eyes we have the liquid Eye Gloss  S001 with a sparkling champagne effect. The pearl powder melts into the skin to give shine to the eyes. Pink pearl particles are included in the formula for a gold and silver finish. The color is sheer, gentle and shiny.
On the cheeks we can apply the Cheek Blush No.001 with champagne-rose and pearl finish. The round shape pouch with a strap looks so cute and you can wear it on your hand. 🙂 The entire P&J Holiday 2017 Makeup Set will be priced at £45.00.
Released simultaneously with the Christmas coffret it will be released the Sparkling foundation primer (£25.00) which gives skin a champagne-like sparkle and freshness. The gel texture is easily blendable while the formula contains water and Hyaluronic acid to give a fresh and moisturized feel. The sparkling pearls gives the skin a transparent and glowy effect.
The exclusive formula is enriched with highly skin-conditioning ingredients that spread smoothly with a dewy consistency to form a moisture-retaining layer, leaving skin hydrated even in the winter months. Infused with Orange Flower Water, Madonna Lily Extract, Jojoba Oil and Hyaluronic Acid, this dazzling limited edition addition to the Paul & Joe Beauté Christmas Collection is bound to sell out!
Enjoy more photos…