Hello cuties!
How may eye pencils do you have? Would you be surprised to know that I have only five, counting Oud Milano Kohol? Well yes, Oud Milano Kohol and not Kohl is the addition to my small eye pencils collection. Why did I decide to keep it? Keep on reading and you will find out!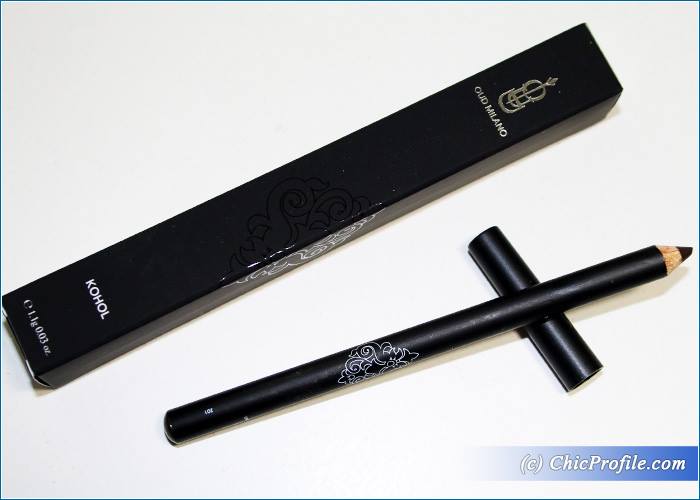 Where to buy:
London – Now at Oud Milano Store (353 Oxford Street, W1C 2JG – across the street from Debenhams)
International – Now @oudmilano.com
Oud Milano Kohol (£9.00 / $12.00 for 1.1 g / 0.03 oz) is black eye pencil with a semi matte finish. The color is pigmented and truly opaque but it doesn't lean to your classic black shade.
Oud Milano Kohol Review
I wish that it would be a deep black color but it leans more towards a brownish black. It glides on easily across the skin, without pulling or dragging. It has such a creamy formula that is so easy to draw a line, smudge it or use it as a base.
I absolutely love how easily you can apply it and how well it adheres on the skin. You can use it as a base for a smoky eye makeup and blend it easily. Or you just can apply a powder eyeshadow on top of it to prevent creasing.
How well it performs on the waterline? It glides beautifully, easily but without looking too intense. If you are a light skin tone you might appreciate the softness of the color as it won't harden your features. On the other hand if you want a deep, rich black color you need to look elsewhere. Unfortunately I can't help you with the staying power on the waterline because none of the eye pencils last for more than one or two hours on me. The only exception is MAC Feline Kohl Power Eye Pencil (review, photos) which is able to preserve some color after 3 hours wear but I do keep it close for a retouch.
Because of the creamy, soft consistency I need to sharpen it pretty often if I want to get a more define or thin line. Other than that I pretty much use it on a daily basis, when I'm not looking for an intense look. I also use it as a base for a smoky eye or whenever I want a dark base.
It stays put, doesn't crease or anything but it doesn't get me further than 5 or 6 hours wear.
Enjoy more photos…