Hello beauties!
Guerlain Black Perfecto by La Petite Robe Noire is a new perfume that was released here in UK at the beginning of July. I was actually in Debenhams to shop for Guerlain Terracotta Chic Tropic (review, swatches) when I was offered to sniff the fragrance. I received a few samples so I can try the perfume better and see how it performs on my skin. While I was in the shop at Guerlain counter I tested the new Black Perfecto Eau de Parfum Florale on my skin and I remember it was such a hot day and the scent lingered for a while.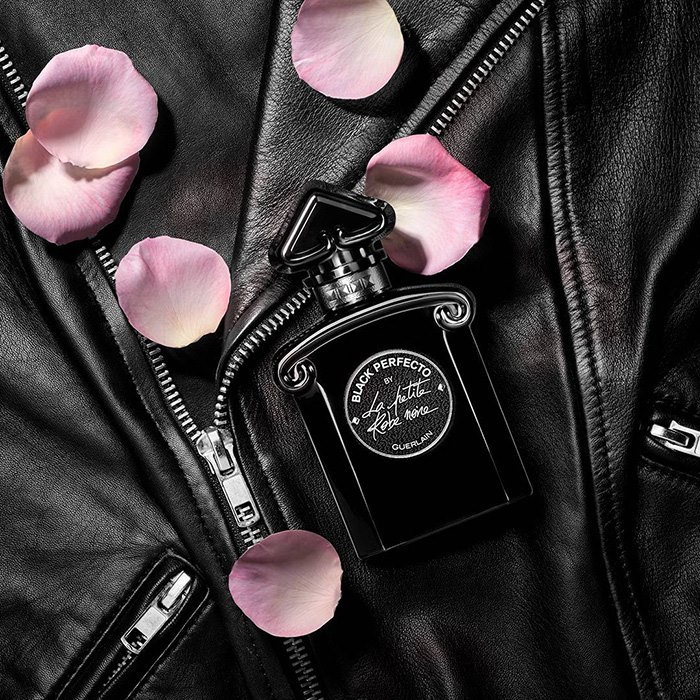 Black Perfecto by La Petite Noire is a celebration of rose in all its forms: opening with a top note of fresh, cheery rose-water, it develops into a powerful, fleshy heart of Grasse rose essential oil and absolute. Almond enhances this rose overdose and forms an unbreakable bond with the arrestingly dark, leathery base note. For the final touch, the leather notes combine with a woody accord of patchouli and tonka bean. A completely new look – terribly rock, totally black.
Availability
UK Launch Date – Now at Debenhams, Selfridges, Feel Unique
Romania Launch Date – beginning September 2017 at Douglas, Sephora
France Launch Date – Now at Sephora
Guerlain Black Perfecto by La Petite Robe Noire

As much as I love the combination of rose notes with leather, I somehow wished for a stronger scent. When I was first presented the black bottle, I was thinking something of a stronger scent, more edgy and intense. Guerlain Black Perfecto is on the floral-sweety side. Leather is one of my favorite base notes, as I was a fan for years of the discontinued Valentino V (white) perfume, and one of the strongest felt in Black Perfecto.
The black rocker jacket is paired with the electrifying floral and intoxicating scent of Guerlain Black Perfecto for a daring and sexy look. Is it really a perfect match? When I'm thinking rock style, leather jacket, intense, bold and daring I'm seeing myself wearing YSL Black Opium (review) rather than the sweet accords of Guerlain Black Perfecto. How about you?
PRICES
Guerlain Black Perfecto by La Petite Robe Noire is available as 15 ml, 30 ml, 50 ml and 100 ml Eau de Parfum. I'm pleasantly surprised to see the travel size format as well, as my vacation is less than a month away. I'm loving this fragrance for hot summer days or romantic gateways.
15 ml EDP for €29.95
30 ml EDP for €58.95 / £46.50
50 ml EDP for €83.00 / £66.00
100 ml EDP for £94.00 / €118.50 / 630 Lei
FRAGRANCE NOTES
Top Notes: Sour Cherry, Almond, Black Tea
Heart Notes: Rose, Licorice
Base Notes: Leather, Black Musk, Patchouli, Tonka Bean
SHOP THIS POST
Enjoy more photos…