Hello pretties!
If Monday is the hardest day of the week for most people, it's all about pampering for me. I start my day with a refreshing shower, body lotion, sheet mask and Oud Milano Crazy Shower Strawberry & Cream Powder as the ultimate way to pamper myself. I told you more about the newly arrived Oud Milano brand in London in previous articles if you want to check it out. How many of you use an after shower cream powder? I admit I wasn't before I met Oud Milano Crazy After Shower Powder right here. 🙂 Why this powder came to be part of my Monday pamper routine you will find out in this review.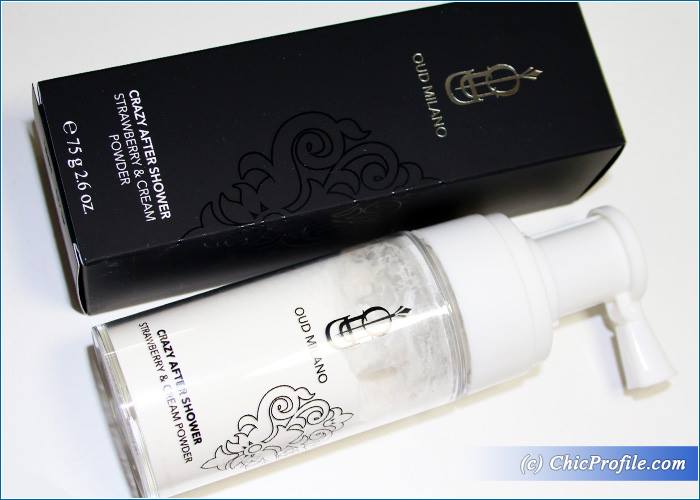 Where to buy:
London – Now at Oud Milano Store (353 Oxford Street, W1C 2JG – across the street from Debenhams)
International – Now @oudmilano.com
Oud Milano Crazy After Shower Strawberry & Cream Powder (£19.50 / $25.23 for 75 g / 2.6 oz) is a loose body powder that can be applied all over your body after bath or shower. If you are not to keen on the Strawberry & Cream scent you can choose between Vanilla and Raspberry, but they all smell delicious.
Oud Milano Crazy Shower Powder Review
Crazy After Shower is a light, white loose powder with silver sparkle. It's delicately scented and the scent will linger on your skin hours after you took that shower. It is so easy to spread on your body thanks to the practical dispenser. I absolutely love pressing it and display the powder, gently onto my body. You can use your regular body cream or lotion and apply the powder afterwards.
I simply like it to wear it on its own as I don't like to mix the scents. It's so easy to use it so you don't have an excuse to say you didn't have time to apply it after shower. Just a couple of pumps on your body are enough and then you can work the powder into your skin. It gives you a nice subtle, matte finish with a lots of sparkle particles.
This powder is perfect to be used as an accessory as well. Yes, you read that right! When you wanna go out in the evening, wear an elegant or fancy dress you can always apply a bit of Oud Milano Crazy After Shower powder on your decolletage or shoulders for a nice touch of sparkle. Your favorite necklace doesn't go with your new dress but you still want to add some sparkle to your outfit. It's very easy to do it with this powder as it will give you a subtle sparkle right where you want it. It will look amazing applied on your back if you are wearing a backless dress or top.
I don't even want to mention how gorgeous it looks on a tanned skin! 🙂 There's enough product in this bottle to last you a couple of months. But wait…there's nothing that I dislike about this powder?
Well there's actually something…to be more specific my boyfriend has a problem with this powder. 🙂 Why? He can always tell when I used the powder because it kicks off a cloud of powder, has a strong scent that lingers in the room for a while and a lot of those sparkling particles fell on the floor. I don't mind because washing the floor is his task but I do get it why he doesn't like to see glitter on the floor almost everyday.
Enjoy more photos…