Hello babes!
I'm loving bright shades on my lips and Melkior Wild Berry Classic Lipstick is all about a bright, strong lip that will definitely get you noticed. You can't be wearing a color light Melkior Wild Berry without attracting attention towards your lips so this is definitely not a lipstick for those who are color shy.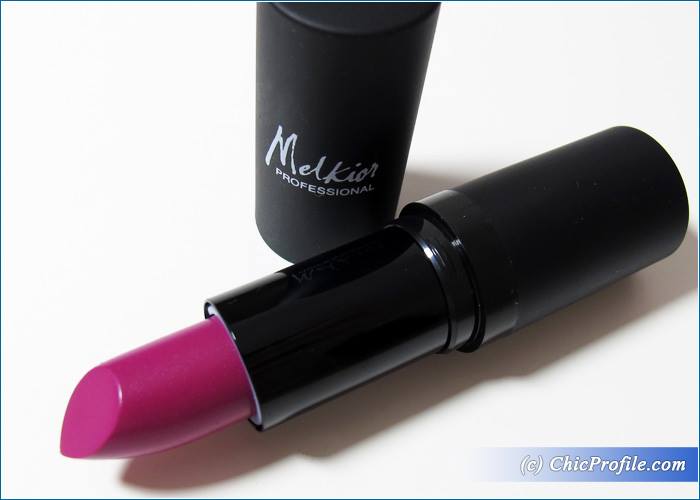 Where to buy:
Romania – Now @melkior.ro and at all Melkior Locations
France – Now @melkiorprofessional.fr and at Melkior boutiques
Poland – Now online @melkiorprofessional.pl
Moldova – Online shop @melkior.md
Melkior Wild Berry Classic Lipstick (39.90 Lei for 4.5 g/ 0.16 oz) is a medium dark plum-berry with cool undertones and a satin-matte finish. It's a rich, intense and highly pigmented color. It looks opaque on the lips in one single swipe so be careful when you apply it as this puppy is very potent.
You will definitely need to use a lip liner in a matching shade to create a crisp line and prevent the color for migrating. It glides easily and smoothly across the lips, it feels lightweight and comfortable. It doesn't dry out the lips as the formula is enriched with Vitamin E, so I really felt my lips smooth from beginning to end.
I wore this color several times with different combination of eyeshadows, and if sometimes I like to keep my eye makeup to a minimum as Melkior Wild Berry is such a "loud" shade, I'm not shy to wear it with a more intense eye makeup for a night out look, clubbing or fun activities when a color makeup is appropriate.
It has a creamy consistency, not very thick and doesn't settle or emphasizes lip lines. I like the fact that I still have a pretty decent amount of color on my lips after I drink or eat and I don't need to retouch my makeup right away.
It wears well on me for about 7 hours without drying out my lips (but I can't say I felt them hydrated). When the color wore away it left a pretty strong and even stain on my lips which lasted for about 2 more hours.
Enjoy more photos…