Hello sweeties!
Deborah Milano has released this month six new Smokey Eye Palettes, each one containing 5 shades. I got to try a few of days back in December so I invite you to take a closer look at the new Deborah Smokey Eye Palette No.4.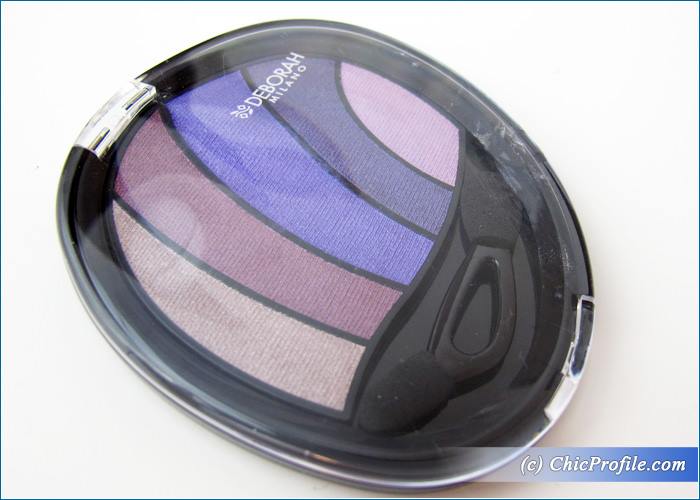 Where to buy:
Romania – Now at Kendra, Debenhams and Carrefour.
Deborah Milano Smokey Eye Palette No.4 (53.00 Lei for 5 g) features 5 shades ranging from nude to violet and dark plum. I love eyeshadow palettes which contain purple eyeshadows as these colors emphasize green eyes, so this was the first one I gave it try from the entire newly released spring 2016 Deborah line.
Deborah states that its new Smokey Eye Palettes feature highly pigmented and blendable textures so I swatched the colors on my bare skin without applying any base of eyeshadow primer, in order to see the true intensity of the colors. As much as I loved the combination of colors, I was really disappointed by the pigmentation of these eye shadows. They applied well but they look sheer, or up to a medium opacity, nothing about those bright, intense and rich colors that I would have expected.
When a brand describes its colors as suitable for a smokey eye makeup, I'm not only thinking of darker eye shadows or colors that range from light to dark in order to create such a look, but more of highly pigmented ones. This was definitely not the case as this palette offers a nice variety of purples and nudes but they are far from pigmented. They to apply well, without any fall-out, they blend easily (tend to sheer out when blended too much) but they don't offer a high color payoff or intense pigmentation.
The formula was very nice, they all had this very soft, smooth and buttery texture that adheres well onto the skin and doesn't crease.
The lightest shade had a bit of shimmer to it, while the rest of the colors had more of a pearly satin finish.
Enjoy more photos…