Hello beauties!
Melkior Volcano Single Eyeshadow is one of the 3 new colors from Melkior Let's Love Life Fall 2015 Collection (info, photos). You can take a peek at Melkior Deep Sea Eyeshadow (review), another new color of this season and part of the same collection. What I've always liked about Melkior eye shadows right from the start was how pigmented they really are even if you don't apply an eyeshadow primer.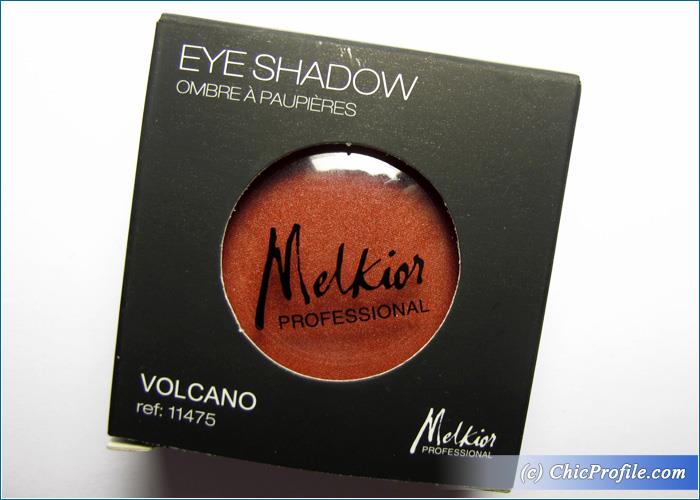 Availability
Romania – Now @melkior.ro and at all Melkior Locations
Melkior Volcano Eyeshadow (27.00 Ron for 3.2 g / 0.11 oz ) resembles more of a volcano coppery red when you look at it right from the pan but once you swatch or apply it on your lid it turns out to be totally different. On  me it looks like a bright pinkish red with cool undertones (even though the photos show a more orange tone) and a matte finish.
It has a intense color payoff, it's super rich and pigmented as you can see from the swatches bellow and it makes no difference in pigmentation if it's applied with or without an eyeshadow base.
It applies well, without any fall out and it blends easily. The formula is not as smooth as the usual Melkior eye shadow, but is not powdery as well. I would say it feels a little bit dry to the touch but still it's very easy to work with.
It delivers this bright rich matte finish and because it's a strong color you can apply it on the lid or blended underneath the crease, anyway it's surely destined for those who are not color shy.
The packaging looks very professional, simple and tasteful as the color comes in a rounded matte black plastic case with a transparent lid that snaps shut. It is very easy to hold and open and it surely hosts enough product to last more than a couple of months even to Makeup Artists.
I had around 8 hours wear with this formula before it started to fade on me easily.
Enjoy more photos…