Hello pretties!
I've been using Melkior Flawless Make-Up Base for almost two months now, along with some other new Melkior makeup items (preview, photos). Melkior offers two variations for its Make-Up Base, one is Flawless which gives a mattifying effect and the other one is Luminous which diminishes fine lines and wrinkles and gives a natural glow. As a combination skin type I went for the Flawless variation as I want a make-up base that will keep my complexion shine-free for as many hours as possible.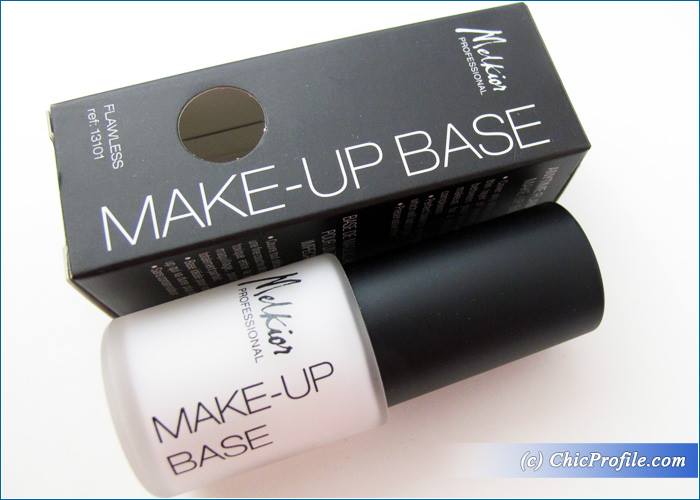 Availability
Romania – Now @melkior.ro and at all Melkior Locations
France – Now @melkiorprofessional.fr and at Melkior boutiques
Poland – Now online @melkiorprofessional.pl
Moldova – Online shop @melkior.md
Melkior Flawless Make-Up Base (89.90 Lei for 15 ml / 0.5 fl oz) gives a mattifying and a natural lifting effect so I would definitely recommend it especially to those with oily and combination skin types or women over 30's. Its formula contains silicone so it manages to cover your complexion with a thin mattifying veil and blurs out fine lines and wrinkles while preparing your complexion for following makeup steps.
It minimizes pores and makes the foundation glides easily and smootly across the skin while making the entire makeup last longer. I test it with Giorgio Armani Luminous Silk Foundation (review, photos), MustaeV Skinny Tint Foundation (review, photos), Max Factor Whipped Cream Foundation and I absolutely love how they paired up but when applied before Guerlain Parure Gold Compact Foundation (review, photos) things didn't go quite smoothly.
I personally have a love and hate relation with the packaging. First of all I like mini bottle which can be travel friendly. It's very easy to hold and use as it comes with a pump which delivers the perfect amount of product for one application, in my case just one pump will do the trick. Second of all if I'm considering the price of 90 Lei (aprox €20) for only 15 ml I would say this product should be placed directly on the expensive side. I mean I love the cute, small bottle and all but for this sum of money I would have expected at least 30 ml, not to mention more.
Before I got Melkior Flawless Make-Up Base, I used RBR Genesis Original Skin Primer (review) which has 33.5 ml, or L'Oreal Infallible Mattifying Base of 35 ml and for a luminous effect the MustaeV Lustruous Cream Base (review, photos) of 40 ml and they all lasted me for over an year.
I wouldn't see this little one lasting me for more than a couple of months though also considering that inside the bottle it has a very short tube that doesn't go all the way down to the end of the bottle (I will update with a photo).
Enjoy more photos…