Hello beauties!
MAC Pretty Shiny Things Face Compact is available now so after wearing it for a while here comes my review. This is a MAC Holiday 2018 release and comes in two variations: for fair/ light skin and medium/ dark skin. I have teased you both palettes a while ago along with other MAC holiday 2018 goodies. Make sure to read my first impressions of the other products and check out swatches.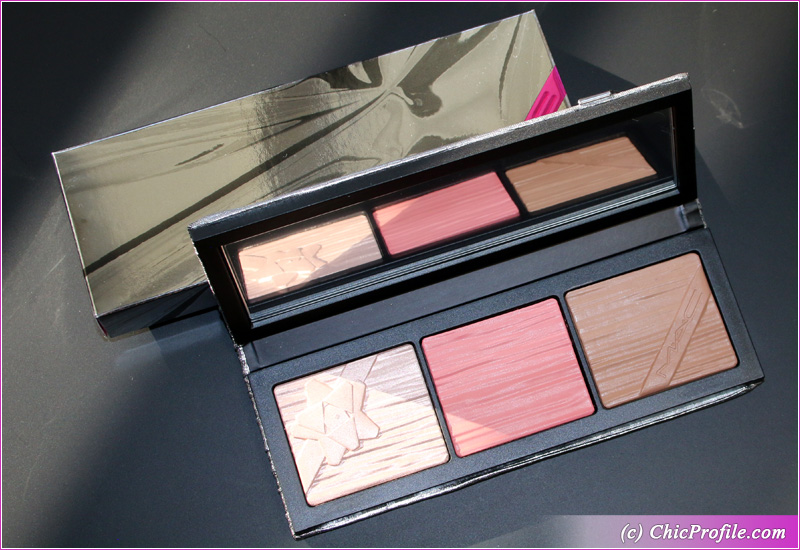 Where to buy:
U.S. & UK – Now at MAC, Nordstrom, Bloomingdale's, Selfridges, Harrods, ULTA
SHOP NOW
MAC Pretty Shiny Things Face Compact Review
MAC Shiny Pretty Things Face Compact (Fair) ($39.50 / £29.00 for 14 g / 0.49 oz) is a face palette featuring Extra Dimension Skinfinish, Blush and Bronzing Powder. There's a version for medium and deep skin tones as well so make sure to check that one out.
I consider this palette to be perfect for those with fair and light skin. If you are one who likes some natural shades with a bit of glow then this is the one for you. The blusher and bronzing powder colors comes on gently and they are not super pigmented.
This way you can layer up the colors without caring to apply them with a light hand. You can start to build up the intensity of the shades if you feel like to, by adding another layer. Although keep in mind that this palette offers more of a natural look.
It's perfect for day to day wear when you don't want something too intense or dramatic. For a gentle, fresh makeup look but with a pretty intense glow.
 Packaging Impressions
The compact comes in a festive packaging for sure. The fair version has a shiny pretty metallic silver material wrapped on the outer case of the compact. It has a magnetic closure while inside you will fine a wide mirror.
The compact for medium / deep skin has a gorgeous intense fuchsia material. I love that one but the colors are not the ones for me. All the three shades in the palette come in a generous size so it's easy to swirl the brush and pick up the product.
Trying to apply the blusher with a fluffy brush comes easily as the pan is pretty wide and doesn't mix product with the other shades.
MAC Pretty Shiny Things Face Compact Shade by Shade Review
String Lights Highlighter is a light white-pink with warm undertones and a shimmer finish. This extra dimension skinfinish has a good color payoff in a single swipe even on bare skin. The texture was smooth, fine milled and easy to work with.
The color can be buildable if you want to have more intensity, but I don't go over two layers. It complements light skin beautifully and doesn't emphasize my skin texture. The application went on smoothly, the color applied evenly and without any fall out.
To me is the best color in the palette and I also like the festive 3D bow print. On me this shade lasted bravely for around 8 hours.
Sweater Weather Blush is a bright peachy pink with warm, golden undertones and a subtle sheen. This extra dimension blush has a medium color coverage. It comes on very natural, semi-sheer up to a medium in a few layers. I don't think is the type of blusher that will reveal too much pigmentation and intensity.
It is perfect for a natural and fresh look on your cheeks if you want to. If you prefer a richer color then you should look elsewhere. This is the perfect blush color for a day time look, nothing too intense, rich of pigmented here.
The texture was soft and smooth, without kicking off any excess powder in the pan. It applied on evenly and doesn't empahsize skin texture. On me it lasted well on me for almost 7 hours.
Five-Alarm Kiss Bronzer is a very light brown with slightly warm undertones and a subtle golden sheen. This extra dimension bronzing powder gives you a warm light shade which is perfect for us light skins.
It can be built up to a medium coverage in two layers. I personally like this one because I can contour my face by adding one or two layers rather than getting a super intense color at once.
If you are beginner in the art of bronzing or contouring a shade like will help you practice. You can't go wrong with applying a full brush of product because this shade comes on very gentle. It gives you a natural look which should be perfect for a day time look.
The texture is smooth, soft and applies on well without any fall out. It doesn't look muddy on the skin but I would have preferred a cool tone bronzer. I had around seven hours wear before the color started to fade.
SHOP NOW
Enjoy more photos…