Hello sweeties!
Laura Mercier Illuminator Palette is a special Holiday 2018 release. I wouldn't say is part of the Laura Mercier Holiday 2018 Collection as it was released a bit earlier.
The palette is exclusive to a few stores so you won't easily find it everywhere. I bought this one because I think is a great value for money to be offered 3 full size highlighters. I don't have any of the permanent single highlighters as I consider them to be a bit pricey so this palette felt just right.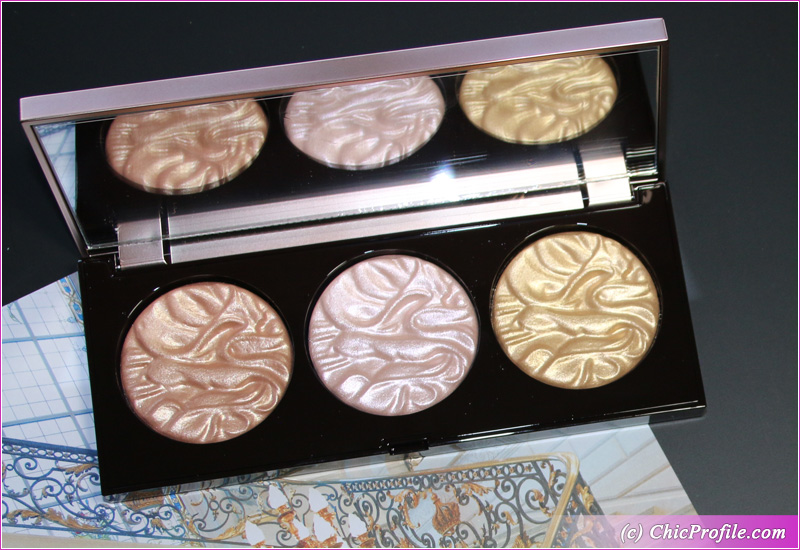 Where to buy:
U.S. – Now exclusive to Nordstrom | Shades sold separately at Neiman Marcus,
UK – Now exclusive to John Lewis | Shades sold separately at Selfridges, Cult Beauty
SHOP NOW
Laura Mercier Illuminator Palette Holiday 2018 Review
Laura Mercier Illuminator Palette ($52.00 / £40.00 for 3 x 6g/ 0.21 oz) includes three full-size shades of the permanent Face Illuminators. These colors provide a natural, radiant glow and you can buy them separately as well.
Someone who likes to have different shades of highlighters packed in one palette will definitely appreciate this one. Not to mention it comes handy when you travel as the palette comes in sturdy compact.
The compact with a mirror-like packaging has a wide mirror inside and a magnetic closure. I would have to say this type of packaging is pretty hard to photograph and keep clean. Everytime I pick up the palette I will leave traces of my fingertips on it so I must clean it every time.
As I said all the shades in this palette can be purchased individually as well but they are quite pricey. This palette is the perfect opportunity to try on several shades at a pretty good deal price.
The colors and their formula are suitable for those of you who like moderate highlights with a touch of sparkle. It's not something that will give you a metallic intense glow or over-the-top intensity and sparkle.
Laura Mercier Illuminator Palette Holiday 2018 Review Shade by Shade
Indiscretion is a medium, rosy copper with warm undertones and a subtle, gold sheen. It has a semi-sheer color payoff that it can be build up to a semi-opaque coverage. The texture is soft, feeling lightly dry to the touch when I swatch and apply it.
It gives a nice sheen to the skin, but it tends to become more subtle when you blend it out. For me it is a nice, subtle highlighter as I don't go to often for something to intense or super sparkly.
I got around seven and a half hours wear before I started to noticed first signs of fading.
Devotion is a white pink with warm undertones and subtle violet and pink shimmer. Even though this shade is my favorite from the palette, the pigmentation wasn't. This shade was the least pigmented compared to the other two.
It has a sheer coverage than can be built up to a medium one in a few layers. If you just like a subtle sheen with a touch of shimmer this could be a perfect choice. Especially if you have light or fair skin this color could become your favorite.
On the other hand if you prefer an intense highlighter, this is never going to fulfill your request. The formula was just a bit dry but blend it out easily. It didn't kick off any excess powder in the pan and it didn't emphasize my skin texture.
In terms of long lasting, this shade wore well for almost eight hours on me.
Addiction is a medium gold with warm, yellow undertones and a sparkle, metallic finish. It has a medium coverage, easily buildable to almost opaque. The texture was just in between dry and soft.
The application went well, blend it out easily without any fall out. In terms of color preference this was my least favorite shade of the palette. I usually don't go for yellow gold highlighters like this one. I just don't think they complement my light skin that well. Personally I would see this shade more suitable for medium or deeper skin tones.
This color lasted for almost seven and a half hours on me. It didn't emphasize my pores or skin texture and I didn't have any fall out.
SHOP NOW
Enjoy more photos…