Hello pretties!
Lancome French Temptation Spring 2018 Collection explodes of cuteness and this is the pink truth. 🙂 I share with you about two weeks ago close-up photos of this Macarons-inspired collection. Today I'm bringing new promo and single photos plus some extra information. I feel the collection is just right for Spring, right shades and not to mention the packaging. This doesn't mean that I'll get in bed with all the products but I do have my favorites. In the end how many of you can resist to macaroons? 🙂 I don't even wanna touch this sweet subject and discuss how I'm craving sweets everytime I look at these photos. Let's keep our mind focused on the products, shall we?!
I have swatches for you so keep on reading after the cut!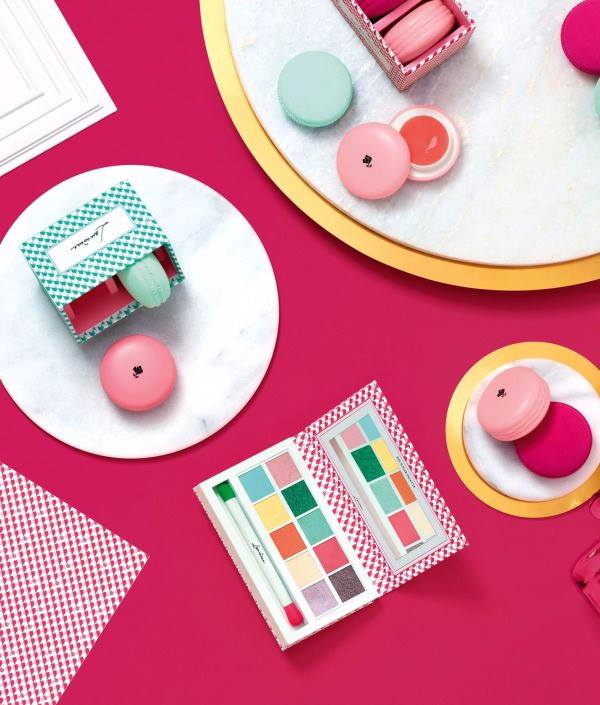 Availability
UK Launch Date – 26 December 2017 at Selfridges
Japan Launch Date – 1 January 2018
Lancome French Temptation Spring 2018 Collection
So, the collection is very cute, sweet and girly-girl I would say that kind of leans towards a younger audience. I already know that teenagers love it and women after the age of 35, not so much. It looks playful and the way it's presented, not to mention the shades of the eyeshadow palette are more suitable for girls in their 20's.
Let's start with the elephant in the room! I want to try and focus on this collection as a makeup release and not as delicious macaroons. So straight to the point now! There will be two Lancome Macarons sets named Sweet Macaroon Brush & Blender I believe. Each set will be featuring two products in the shape of the famous French macaroons. Stay focused Tavia…this is makeup after all! The two variations of Rose and Coral will give your cheeks a subtle color. How about those super cute macarons-shaped blenders/ applicators. Enough of that! I want to keep my cool for the rest of this article and move forward. 🙂
Lancome Eye Sugar Palette features 10 new eyeshadows and pastel and vivid colors with matte and glitter finishes. From milky white to warm colors like orange and pink to vivid green, this palette really screams Spring will be here soon.
Two variations of Light Cream Duo Cushion will be available as limited edition. I showed you close-up photos on Instagram. This is an universal product used for color control or as a cheek or highlighter. It gives a gentle gloss finish. The colors are Juicy Berry & Bright Peach and Refreshing Pistachio & Pinky Peach.
Another newness is the release of four Mini Chubby Sticks with a creamy texture. They are a new type of eye shadow that will transform into a powdery eye shadow upcoming application.
What I didn't post in the photos below are the new Lancome L'Absolue Rouge Lipsticks. I did post them on Instagram and you can SEE them HERE. There will be four new shades with a matte finish. I'm aiming that super intense hot pink…but wait, how about the purple? 🙂
Launching as well are four new Lancome Le Vernis nail colors in No.410, No.420, No.430 and No.440. Last but not least I want to mention Jelly Flower Lip Tint. Is a new lip gloss with a formula that contains flower petals. The color is not very pigmented, more see-through, allowing a bit of your natural lip color to be seen. The finish is juicy so enjoy that extra shine.
SHOP THIS POST