Hello sweeties!
Here comes the first Guerlain Spring 2018 Collection and I got news and photos to share with you. Over a month ago I posted an article about upcoming Guerlain Spring 2018 Collections, so do check it out. Back then I was telling you that I think there will be two or three releases throughout the Spring season. The first one that we'll be discussing today I believe it is called Meteorites Glow with Love Collection or just Glow with Love. Back in October I was revealing info that one of the new Guerlain Spring 2018 makeup collections will be about new Meteorites products and five new Kiss Kiss lipsticks. Well, I was talking about this one, right here!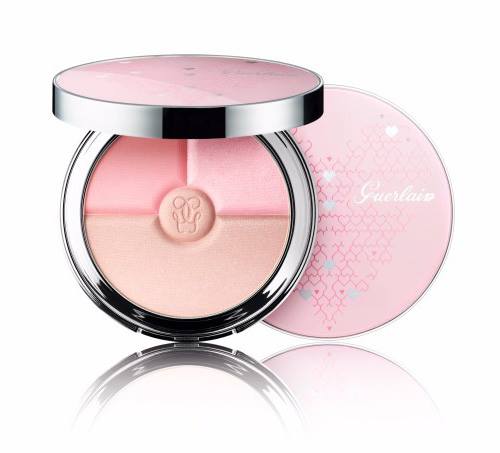 Availability
U.S. Launch Date – end January 2018 at Nordstrom, Neiman Marcus
Japan Launch Date – 12 January 2018
International Launch Date – February 2018
Guerlain Spring 2018 Meteorites Kiss Kiss Collection
Even though I don't have all the photos yet, I promise to update once I receive more. The collection is quite large and I don't know if all the featured products will be released worldwide or will be Asia or exclusive to some countries. Now let me share what I know so far.
The star product is Meteorites Compact powder which features three shades, two of them being highlighters. The product is a new addition to Meteorites family but for a limited time only. The new pink compact looks so cute and gives a feeling of freshness.
I believe there will also be a new edition of Guerlain Meteorites Pearls probably in a limited edition. You can see the packaging I'm talking about in my previous article. I know this collection features a couple of Meteorites products but I can't talk about their availability for U.S., UK or internationally. I don't know just yet what products will be launching in different countries.
Moving on to the new Guerlain CC Glow Correctors presented as a limited edition. There are three colors, orange, green and pink. They will simultaneously fulfill color correcting and contouring. The apricot will cover dullness, green will diminish redness and pink will offer a fresh, lively look. The texture is light and quickly adapts to your skin, feeling gentle and soft.
The popular Guerlain Kiss Kiss Lipsticks will be available in five new shades. Guerlain junkies know that we've seen the white packaging before. What this packaging means? Light, melting textures and vivid colors with buildable pigmentation. The heart-shaped lipsticks are obviously a limited edition. I personally don't expecting a full coverage even after two layers or color. I like wearing sheer or semi-opaque lip colors during Spring and I already know I'll love the shiny finish. The shades are: 570Coral, 571Red, 572Beige, 573Pink and 574 Orange. 
This is everything I had to share for now. Keep your eyes on my Instagram as I'll be sharing more sneak peeks there or on my Instastories.