Hello beauties!
Is that time of year again when Jill Stuart introduces their new line of Base Makeup products. This time the star product is their new Loose In Liquid Foundation which comes in five shades and provides light and smooth sensation. It has a highly moisturizing effect and a crystal bouquet floral fragrance.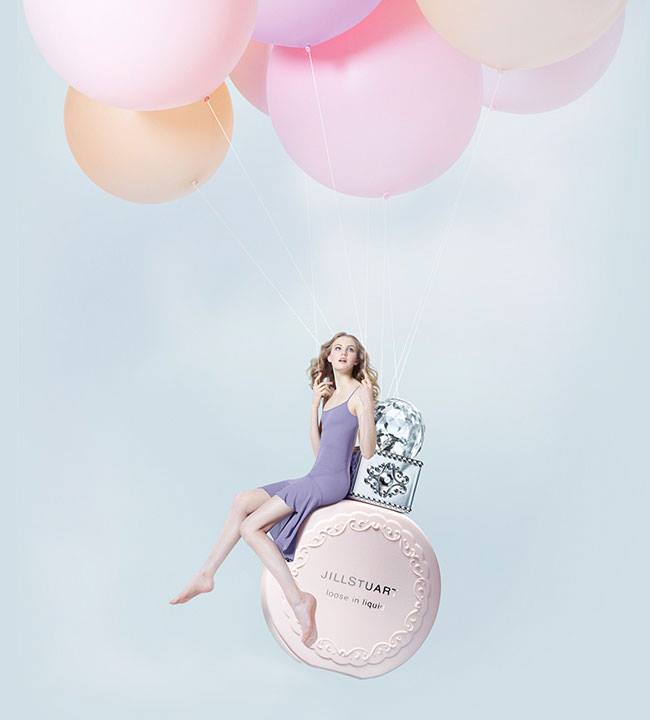 Float, float, so floaty. Like a balloon drifting through the sky, carrying such fragile dreams. New, impossibly light loose in liquid foundation, making your skin as pure and fine as can possibly be. It spreads smooth and refreshingly from the moment it is applied, providing complete coverage yet with a light and soft finish after being worked into the skin, just like a loose powder. The romantic and cute container, like a bottle of fragrance, makes you feel floaty light from the moment you see it. Obtain soft, silky, smooth skin. Just like a balloon, drifting whimsically through the sky.
Availability
International Launch Date – 2 September 2016
Japan Launch Date – September 2016
Jill Stuart New Base Makeup Items Fall 2016
Loose In Liquid Foundation SPF 20 – New – 30 ml
Such a wonderful feeling, as though enveloped in light and soft loose powder. Liquid loose foundation that brings you soft and delicate skin. It has long been held that it is extremely difficult to formulate loose powder style light, resistant powder into a liquid foundation. Enveloping the powder in polymers has now finally allowed for its rich formulation. The reason it is so soft and light from application through to finish is due to the action of this powder. Furthermore, a careful balance of balloon loose powder and softly viscous oils have realized an extremely light and smooth sensation of use. In addition, amino acids that blend well with the skin and a rich formulation of moisturizers provide a feeling of moisture that lasts all day long.
Shades:
101 Line – bright ochre
202 Ivory – bright, pinkish ochre
103 Nude – standard ochre
204 Sand – pinkish ochre
105 Tan -healthy ochre
Secret Control Concealer SPF25 – New
07 Light Pink Beige – a pink beige providing natural, bright coverage. For those who want to make their skin brighter.
08 Medium Pink Beige – a pink beige that blends smoothly into the skin for natural coverage. For those who want healthy skin.
Crystal Lucent Face Powder – New
A soft and gentle veil of translucency. Face powder that brings you pure, flushed skin.
04 Pure –  light pink beige, providing a pure translucency
05 Cream – light beige, providing a natural skin tone
06 Floral – lavender color, providing a bright translucency
07 Bouquet – pastel color, providing a gorgeously cute impression (Limited Edition)
Enjoy more photos…