Hello sweeties!
Isadora brings us one step closer to the summer season presenting its new Paradise Islands Collection which features 3 new exotic fragrances.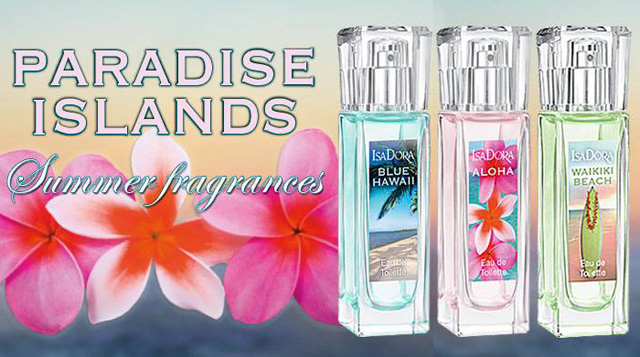 No sun next summer? Don't worry! Dream away to the sunny tropical Hawaiian Islands with the new range of IsaDora Summer Fragrances. Sun drenched beaches, swaying palm trees, a soft sea breeze, blue waves, tropical 
flowers and exotic birds are the key words to embrace this new fragrance line. Choose between three energizing, happy summer scents with a tropical touch.
Availability
International Launch Date – April 2014 at Douglas perfumeries
Isadora Paradise Islands Fragrance Collection for Summer 2014
Isadora Blue Hawaii Eau de Toilette
Imagine yourself under a green swaying palm tree with a Blue Hawaiian drink, surrounded by the tropical scents of sunny fruits and exotic flowers.
Top note:
 Lemon, mint, melon, black currant and strawberry.
Middle note:
 Jasmine, sambac, peach, anise, lily of the valley and rose.
Base note:
 Drywood, sandalwood, musk and marine.
Isadora Waikiki Beach Eau de Toilette
Sporty beach life, surfing the big waves at the Waikiki Beach, or power walking along the sundrenched white sandy beaches.
Top note: 
Raspberry, watermelon and sichuan pepper.
Middle note:
 Rose, lily of the valley and green pear.
Base note:
 Musk, cedarwood and vanilla.
Isadora Aloha Eau de Toilette
Surrounded by lush green gardens with colorful flowers, tropical fruits and exotic birds and with the clear blue sea nearby,
every step is a new exciting experience.
Top note:
 Iced mandarins, sea breeze and fresh flowers.
Middle note:
 Jasmine, crisp marine and freesia.
Base note: 
Sandalwood, white musk, red fruits and rose sorbet.
Will you be picking any of these new scents? Which one? 🙂