Hello beauties!
Illamasqua Nude Lipstick Fall 2014 Collection (info, promo photos) has become available at Illamasqua's stores at the beginning of this month so I already got 2 out of the 7 new shades. A nude lipstick is a must have in every women's makeup bag so this new range of nude Glamore Lipsticks is suitable for all skin tones so anyone can easily find her favorite shade.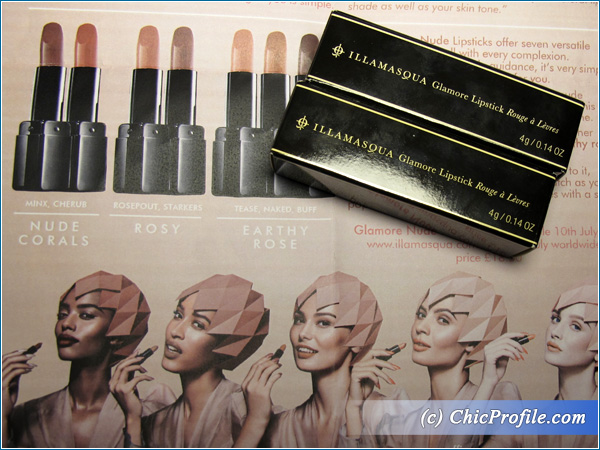 Availability
Now at Illamasqua Stores and online @illamasqua.com, @selfridges.co.uk
Illamasqua Glamore Nude Lipsticks ( £18.50 / $30.00 / €22.00) in Naked and Buff were sent to me for testing and review purposes. I already got to wear them the other day so I will post my individual reviews in the upcoming days.
I have a fair, light skin tone and Illamasqua Buff Glamore Lipstick is a little bit darker for me so I would recommend this shade to those with medium, olive and dark skin tones. Illamasqua Naked Lipstick, a beautiful creamy nude is more forgiving, looking quite nice and natural on me, being able to wear it even without a full face makeup as it is the perfect nude lip shade for me.
Both Naked and Buff apply easily on the lips without pulling  and they deliver and nice satin finish. They are pigmented and the color is opaque on the lips in one swipe but you have to keep in mind that the entire Illamasqua Nude Lipstick range is meant to give you a natural, day to day look, something wearable so these are not intense and bright shades.
I would see these shades paired with a smokey or intense eye makeup or perfect to wear on a daily basis when you go to the office, school, shopping or hanging out with your friends, just the kind of lipstick that adds a touch of color without looking too vibrant.
They do have a creamy texture and they glide smoothly on the lips but I will give you more details about this and how long it really lasts on the lips, especially when you eat or drink, in my upcoming reviews.
Meanwhile please enjoy more photos…