Hello beauties!
It's time to reveal Huda Beauty Nude Palette for holiday 2018 along with promo swatches. With all the glamorous and glittery releases that we saw from Huda so far, it was time for something more natural. Well, as natural as it can be in Huda's style because the metals, glitter and shimmers won't be missing from this palette.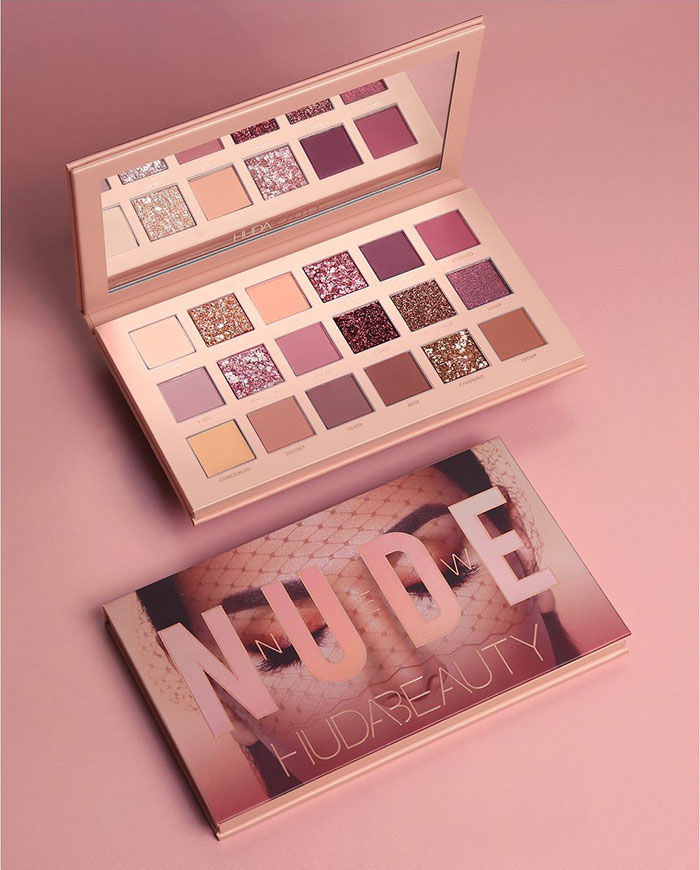 Availability
U.S. Launch Date – 1 November 2018 at Sephora, Cult Beauty
Huda Beauty Nude Palette Holiday 2018
Huda Beauty Nude Palette – New – $65.00 / £56.00
Just when we thought we couldn't be any more obsessed with Huda Beauty, the brand has blessed us with a whole new way 'to nude', reinventing the humble neutral in the most beguiling way possible – and taking our infatuation to whole new heights!
Uniting 11 velvety mattes, three shimmering shades and four show-stopping duo-chromes (get a look at that chunky glitter!) you won't know which of the 18 highly pigmented powders to try out first. Ranging from just-blushed cream to ruby glitter, via iridescent copper-pink, there's something for every eye look out there.
A whole new take on 'nudes', Huda Beauty's The New Nude Eyeshadow Palette is a total heartbreaker. A treasure chest of blush, mauve, taupe and beige neutrals, mingled with show-stopping copper, golden and pink glitter jewels, it features everything you need to master beguiling eye effects in one slimline (clutch bag-compatible) case.
With 18 ultra-versatile powder shadows – 11 matte shades, three shimmering hues and four hypnotic duo-chromes – we're completely besotted with the broad spectrum of hues and textures.
You're guaranteed to fall head-over-heels for just-blushed cream 'Bare', peachy 'Play', mink 'Lace' and burgundy 'Love Bite', not to mention ruby shimmer 'Excite', copper 'Infatuated' and duo-chrome silver-pink 'Daydream'. Each of the stunning shades looks stunning on its own, or blended for a strikingly beguiling make up look. Make sure you don't get waylaid on your way to joining the waitlist! This sought-after edit will not hang around.
Shades:
Bare
Crave
Play
Fantasy
Love Bite
Spanked
Lace
Daydream
Tickle
Excite
Infatuated
Kinky
Concealed
Secret
Tease
Raw
Charmed
Teddy
Are you going to buy this palette? I'm definitely going to and I'll show it to you as soon as I'll have it in my hands. My latest Huda Beauty purchase was the new Amethyst Obsessions Mini Palette. 🙂
Did you lovelies get something from the new Huda Beauty Precious Stones Collection (info, photos)?
SHOP THE PALETTE
Enjoy more photos…