Hello pretties!
Huda Beauty Precious Stones Obsessions Palettes are hitting counters next week. I'm talking about five new mini obsessions eyeshadow palette that are stated as limited edition. Well with Huda Beauty, the term of limited edition can be used just for marketing as you well know as the products may turn permanent in a blink of an eye.
You can check out my reviews on the previous Huda Beauty Obsessions Palettes but this time I think I'm going to buy just one palette. In the past few months Huda Beauty has become a sensitive topic for me and it pains me everytime I'm writing an article about Huda products.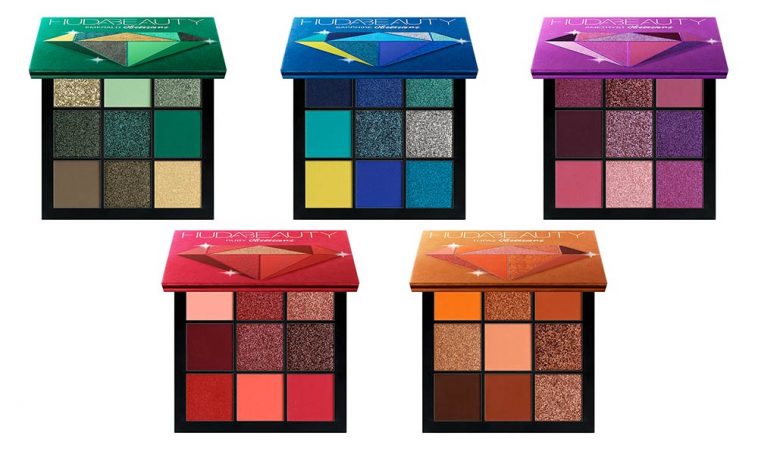 I genuinely supported this brand since I moved to London, by buying all the products and honestly sharing my reviews on the blog and my opinions on my social media channels. What I don't like is the way that you get treated after you invested so much passion, hard work and your own money into a brand that doesn't even try to understand or respect you.
Huda Beauty as a brand has disappointed me over the past few months so it is truly difficult for me to keep showing love even though I'm still buying some of their products. Well I don't want to get into this subject right now because I'm here to share the news for the new mini palettes instead. 🙂
Availability
U.S. Launch Date – 18 September 2018 at SEPHORA
UK Launch Date – 20 September 2018 at Selfridges, Cult Beauty
Huda Beauty Precious Stones Obsessions Palettes SWATCHES
Each Huda Beauty Precious Stones Obsessions Eyeshadow Palette is packed with a selection of nine highly pigmented creamy, metallic and duo chrome shadows inspired by the rich reflection of gemstones.
Packed with stunning shades of amethyst, ruby, emerald, topaz, and sapphire, this palette is perfect for adding a hint of sparkle to the eyelids. The large mirror, conveniently-sized palette, and versatile shade collection allow you to create both classic and playful looks that are easy to apply on-the-go.
Obsessions Eyeshadow Palette – Limited Edition – $27.00 / £25.00
SHOP THIS POST