Hello beauties!
Yes, you're reading this right! Is Dior Kingdom of Colours Palette that was released as part of Dior Spring 2015 Collection that I'm talking about. This palette was a limited edition release back in the days but I just spotted it earlier while I was browsing Escentual website. It has a great price now so if you are beauty collector, a Dior fan or you just missed the palette a few years back, you have a second chance now.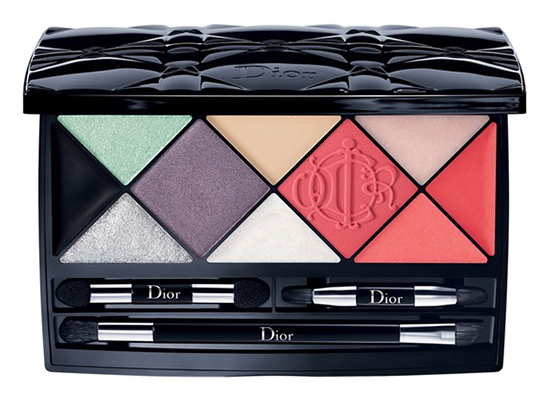 Where to buy:
UK – Now at Escentual (only £44.00)
Dior Kingdom of Colors Eye, Lip & Face Palette – £44.00
The Colors Palette for Face, Eyes and Lips is filled with 10 custom colors and four professional applicators tucked inside a graphic palette embossed with the personal crest of Christian Dior. The palette features a mattifying skin-perfecting powder; a pearly highlighter and coral blush to enhance the complexion; and a deep purple enhanced with a silver shadow; an illuminating touch of aqua green shadow; and a black eyeliner to define the eyes. An iridescent coral gloss and a powdery pink lipstick adorn your lips and four professional brushes make application a breeze.
To tell you the truth I'm browsing Escentual more and more lately as they have the best prices, especially for high end and luxury products. I'll definitely be getting from them more shades of the new Guerlain Rouge G lipsticks and lip cases. I mean have you seen those prices?
On Escentual a Guerlain Lipstick is £22.00 while in store and anywhere else you get it at £25.00. Not to mention the new lipstick cases are priced for £11.25 instead of £12.50. If are planning on buy a few shades the price difference is considerable. Just think about it! 🙂
Please let me know if you are shopping at Escentual.com as well. I did place a few orders with them and everything went fine!