Hello pretties!
I'm happy to share my review for Fenty Beauty Mean Money Hustla Baby Killawatt Freestyle Highlighter Duo. This is the second highlighter duo I've tried from Fenty Beauty after the more intense and darker Ginger Binge / Moscow Mule (review, swatches). I absolutely like the combo and I'm happy that is suitable for a light skin tone like me. During the day I like my highlighter to be shy and just give me a natural, fresh glow. During the night, the story changes completely and I aim for that pop of glow and metallic finish. I'm happy that I found both versions in this duo. Follow me after the jump and see my pros and cons about this product.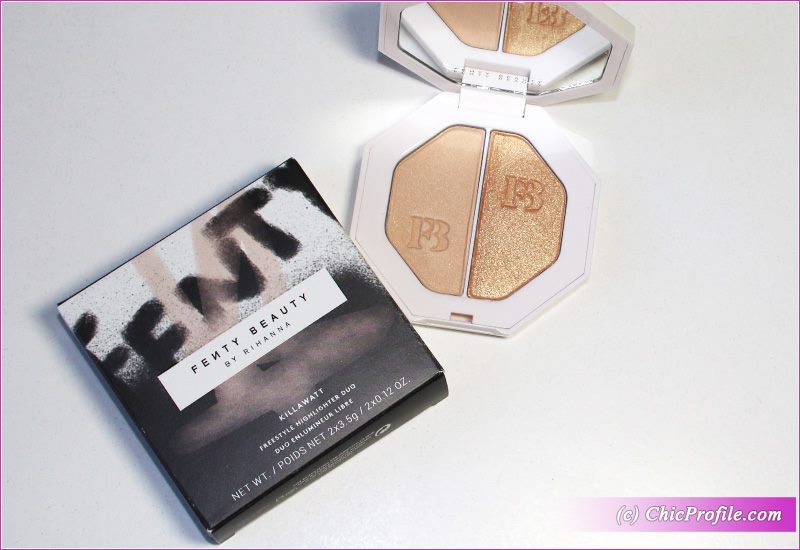 Where to buy:
U.S. – Now at Sephora
UK – Now at Harvey Nichols
France – Now at Sephora.fr
Fenty Beauty Mean Honey /Hu$tla Baby Killawatt Freestyle Highlighter Duo ($34.00 / £26.00 / €33.00 for 0.24 oz./ 3.5 g) contains two metallic finish shades.
If you want my opinion on the packaging, please read Fenty Beauty Ginger Binge / Moscow Mule Review. Is another highlighter duo shade with the same packaging.
From all of Fenty Beauty's highlighter duos, I was interested in trying this one the most. As a light skin tone I felt that this combo can work as a highlighter to me. I do like some of the other versions of duos but they are too dark or too intense and pigmented for my skin tone. In terms of color, Fenty Beauty Mean Honey / Hu$tla Baby Killawatt Freestyle Highlighter Duo is suitable for fair and light skin tones as well.
Fenty Beauty Mean Money Hustla Baby Killawatt Freestyle Highlighter Duo Review
I believe that the left side is a lighter shade which is suitable for a day time look. The right side is definitely more intense and more shimmery which makes it perfect for an evening, night-time makeup look. If you want more shimmer and you love that extra glow then go with the Hu$tla Baby. I would use it mostly in the evening or if I'm going to a club, party or an event where the light is not so bright. Is not that I'm color shy but I do prefer a more natural glow during daytime. I do like a bright, highlighter sometimes but only for special occasions. Again in terms of color, this duo is perfect for me as I can use it day or night time. 🙂
Killawatt ranges from subtle dayglow to insanely supercharged shades as mentioned in the description. I guess the left shade is exactly that, perfect for a dayglow. Not all Fenty Beauty highlighters were designed to be super pigmented and intense. I'm pretty sure there a lots of women out there who like the subtle glow and shine of a highlighter during the day. If you want a more intense, shimmery finish, choose the right side or check out the other Highlighter Duo versions. 🙂
Mean Money Highlighter Review
Mean Money is officially described as a soft champagne sheen. It's a light champagne-gold with warm undertones and a pearly sheen. It had a semi-sheer coverage which I absolutely love. There are different types of highlighter and not all of them are suppose to be uber pigmented. I personally prefer a soft, sheer or semi-sheer coverage for a luminous, glowy makeup that I can wear during the day.

The texture is very smooth and soft to the touch. When I pick up the product with a brush, transfers into a sheer coverage on my cheeks. I can use a dampened brush to intensify the color and I can build up the color to a semi-sheer coverage. Again if you are aiming for an intense, brilliant highlighter this is not the one for you. I like that it adheres well onto the skin, blends easily and doesn't have fall-out during the application. This shade didn't emphasize my pores or my skin texture, even though I have a combination skin type.
I got a bit over eight hours wear with formula. No fall-out during this time and a comfortable sensation throughout the wear.
Hu$tla Baby Highlighter Review
Hu$tla Baby is officially seen as a supercharged peachy champagne shimmer. It's a luminous, light champagne-gold with orange undertones and a super metallic finish. The pigmentation is impressive, being rich and opaque in a single layer. This is perfect if you want a more intense sheen, a bright metallic finish. Even lighter skin tones like me can wear it, but it might be too intense for day time. I like to apply it with a light hand and blend it very well. It's very pigmented so be careful on how intense you want it.
It blends easily but it does emphasize my pores just a little bit. That's why I think is more appropriate for evening or night time use, when there's not so much light. On me it looks too intense if I wear it on natural daylight but I'm totally satisfied with the glow if I go to dinner to a place with dimmed lights.
The consistency is soft, creamy-like but it does kick off some excess powder. Be careful with the application as it causes minor fall-out and is the kind that goes everywhere. On me it lasted for a bit over eight hours.
SHOP THIS POST