Hello beauties!
It's about time I was reviewing Dior Water (551) Addict Lip Tattoo Colour Juice. I've been wearing this shade quite a few times since I bought it. It's a limited edition shade part of Dior Cool Wave Summer 2018 Collection and the formula is fruity scented. Sometimes I'm wearing it on its own but I also like layering other products on top of it. I have lots of photos for you, lip swatches, makeup looks and even a swatch of the stain it leaves behind.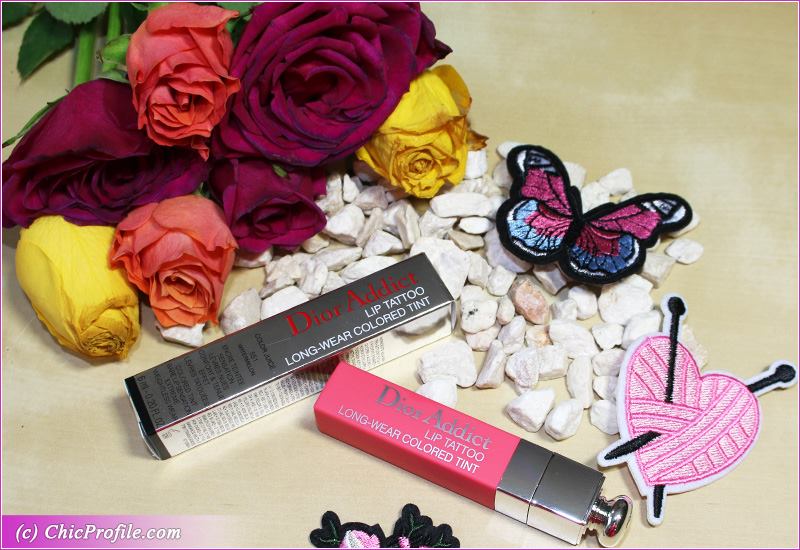 Where to buy:
U.S. – Now at Nordstrom, Neiman Marcus, Bloomingdale's
UK – Now at Selfridges, Debenhams, Harrods, Escentual (best price £23.40)
France & International – Now at Sephora.fr
Dior Addict Lip Tattoo Colour Juice Review
This Summer we have four new and limited edition shades of Dior Addict Colour Juice Lip Tattoo Long-Wear Colored Tint. I choose Watermelon (551) shade which really complements my light skin tone. If you've tried the classic Lip Tattoo and you liked it, I think you will love the Colour Juice edition even more. All the new Lip Tattoo shades have this juicy formula with a fruity scent. I posted swatches of the other shades on Instagram along with the new Lip Maximizer.
Dior Addict Watermelon (551) Lip Tattoo Colour Juice ($31.00 / £26.00 / €32.50 for 6 ml / 0.20 fl oz) is a medium bright watermelon pink with slightly blue undertones and a semi-matte satin finish. It has a good color payoff being semi-opaque in one swipe. You can build up the intensity up to a full coverage in 3 layers if you want.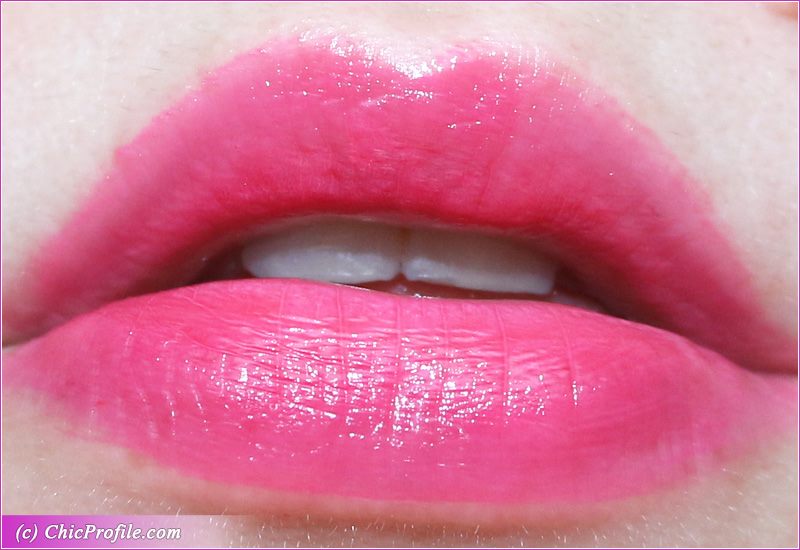 The consistency is thin, liquidy but not watery and glides so well across the lips. It resembles a liquid lipstick with a very thin formula. It doesn't sink into lip lines and gives an instant fresh pout. The formula is fruity scented and lingers for a bit on my lips after the application.
The doe footed applicator gives a precise application, filling my lips with color in just one swipe. It takes about 10-15 minutes for the color to dry down to a semi-matte finish. You've seen me wearing this shade on Instagram so many times. Sometimes I took photos 5 minutes after I applied the color when the finish was a bit juicy and resembled a lip gloss.
I love how extremely weightless it feels on my lips and how smooth and soft I can feel them. I don't feel any dryness sensation and I do appreciate the stain it leaves behind. The color is non-trasferable once it dries down. Now let's talk about the staying power. Being a lip tattoo you'll definitely think of a long-lasting color. Dior says it should hold up for 10 hours, but I can't completely agree.
The intensity of the color fades away after approximately 3 hours (without having a meal during this time). It does leave a stain behind but is not a very intense one, like I've seen on other lipsticks for example. If you'll ask me if this color is long lasting, I'll have to say, depending on the intensity that you want.
The color will start to fade away after 3 hours wear and it will loose its intensity gradually throughout the day. Indeed it is a lip tattoo that will stain your lips up to 8 hours wear but you'll get a less intense shade. Check out the stain lip swatch I took for you in the photo bellow.
I'm happy with a less intense shade after a couple of hours, especially if I'm having a casual day, where I don't need to retouch my makeup. On the other hand, I would love for this color to perform a little bit better in terms of intensity. I get more vibrant stains from lipsticks like Guerlain New Rouge G or Lancome L'Absolu Lacquers than this Lip Tattoo. So I have to say that my expectations were maybe a bit too high.
It offers a color tint, it performs well on the lips but it doesn't have that 10 hours staying power. Unless you are OK with a less intense (I mean a lot less) shade after 2-3 hours wear.
Here's another makeup look where I'm wearing Dior Addict Watermelon Lip Tattoo but I've also applied the new Lip Maximizer on top. 🙂 Make sure to swipe left for more photos! 🙂
SHOP THIS POST