Hello beauties!
I have for you a first look at MAC Mirage Noir 2018 Summer Collection. We've been seeing quite a few sneak peeks from this collection lately on Instagram. We get a bunch of new products but I get a vibe from the 70's or 80's about this promo photo. The only product that got my interest right away is the limited edition powder/ blusher. 🙂 There are also new and bright lip glosses coming out for Summer 2018 and you can easily find swatches on Instagram already.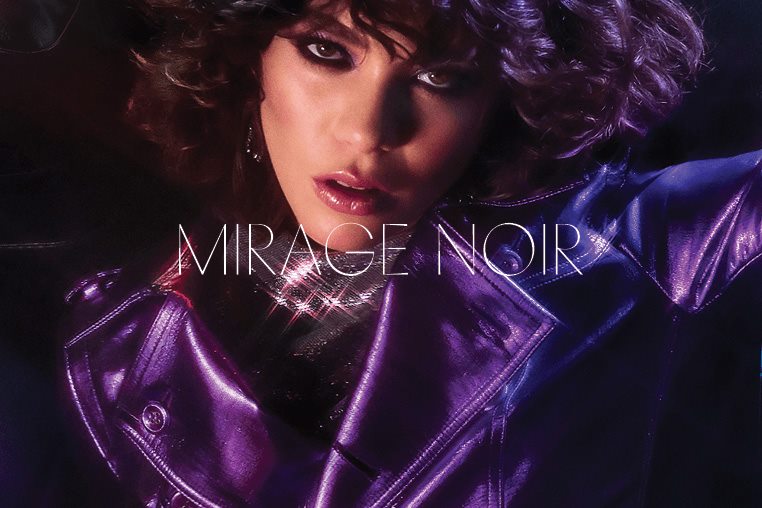 Availability
U.S. & Canada Launch Date – 14 May 2018 at MAC, Nordstrom, Neiman Marcus
UK Launch Date – 31 May 2018 at Selfridges
MAC Mirage Noir Summer 2018 Collection
So many of you got an interest on the new Face & Body Foundation (50 ml / 1.7 fl oz) which will be available in Just a Hint and Million Dollar Bling. These are quite pigmented and have a really nice shimmer which will look great on our bodies this Summer.
We'll be getting five limited edition shades of MAC Lip Glass in Midnight Dip, Oysterized, Soft Shell, Strip'n' Dip, Treasure Peach. As you know these have some gorgeous sparkling particles that will make your lips shine. 🙂
The new five lipstick shades have a vanilla scented formula and they are limited edition as well. Here we have Beach Nut, Goodbye Kiss, Noon Noir, Nothing to Wear, Twig.
Four limited edition eyeshadow colors are coming our way as well. I'm digging only the Sparkle Purple (Slow as You Glow) shade so far. 🙂 The rest are Dust Off, Sun Speck and Sun, Tan and Repeat.
The new MAC Pearl Matte Face Powder Mother O' Pearl is the only product I have on my wish list so far. It's a limited edition release combining a pearly texture with a matte finish. Interesting to see how it swatches.
There will also be two limited edition Bronzing Powders and two Extra Dimension Powders. The bronzing powders are Baiana Bronze and Matte Bronze while Extra Dimensions come in Delphic and Golden Rinse.
Keep an eye on the blog as I'll be revealing the entire color story soon! 🙂
What are you after from this collection? 🙂
UPDATE 3 MAY 2018
Lipstick – Limited Edition – $18.50 U.S. / $23.00 CAD
Nothing to Wear

– cool nude (Cremesheen)

Twig

– soft, muted brownish pink (Satin) (Permanent)

Goodbye Kiss

– cool mid-tone pink (Amplified)

Beach Nut

– deep violet (Matte)

Noon Noir

– frosty brown (Frost)
Lipglass – Limited Edition – $17.50 U.S. /$21.00 CAD
Oysterized

– soft white shimmer

Strip 'n' Dip

– pink bronze with shimmer

Soft Shell

– mid-tone brown

Midnight Dip

– mid-tone violet shimmer

Treasure Beach

– bright fuchsia
Eyeshadow – Limited Edition – $17.00 U.S. / $19.00 CAD
Dust Off

– soft beige shimmer (Frost)

Sun Speck

– light brown shimmer (Veluxe Pearl)

Slow as You Glow

– purple shimmer (Frost)

Sun, Tan and Repeat

– forest green with purple sparkle (Veluxe Pearl)
Pearlmatte Face Powder – Limited Edition – $34.00 U.S. / $38.00 CAD
Mother o' Pearl

– mid-tone golden brown, muted peach beige, red plum, warm chestnut brown
Extra Dimension Bronzing Powder, $34.00 U.S. / $38.00 CAD (Limited Edition)
Delphic

– coppery bronze with gold sparkles (Repromote)

Golden Rinse

– light brick reddish bronze with fine shimmer
Bronzing Powder, $27.00 U.S. / $33.00 CAD (Limited Edition)
Baiana Bronze

– medium deep-tone neutral matte bronze (Repromote)

Matte Bronze

– bare-shouldered bronze (Permanent)
Face & Body Foundation – Limited Edition – $30.00 U.S. / $35.00 CAD
Light Pearl

– C4 with added bronze pearl

Medium Deep Pearl

– N9 with added bronze pearl
Brush – Limited Edition – $42.00 U.S. / $51.00 CAD
Enjoy photos…