Hello beauties!
Discover the new Givenchy Le Rouge Liquide lipstick line, a true couture accessory adorned with genuine leather case. This new lipstick dresses lips with intense colors in a single application while moisturizing them. The texture is creamy and glides easily across the lips ensuring a velvety, semi-matte finish. I have lip swatches of Givenchy Le Rouge Liquide for you after the jump!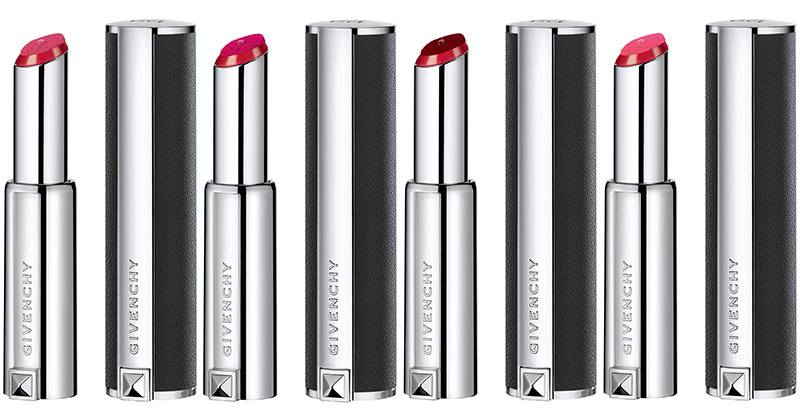 Availability
France Launch Date – Now at Sephora.fr | 9 April 2018 in stores
U.S. Launch Date – beginning April 2018 at Saks, SEPHORA.com
Givenchy Le Rouge Liquide 2018 Collection
Givenchy's newest couture creation invites you to expect the unexpected: a tantalizing texture that's revealed like a twist of fate; a velvet matte that never feels matte; an unveiling that feels like slight of hand. What starts out as a classic Givenchy signature black leather and metal stud lipstick case opens to flaunt a distinctly unlipstick-like, never-before-seen, pen-like foam applicator that's designed to deliver just the right amount of super-vibrant, whipped, creamy liquid color. Open, twist, and release a soft, sensual cashmere caress of extravagant, daring color that's more than meets the eye. Its hyaluronic-acid formula hydrates and smoothes like a nourishing lip balm, keeping delicate skin petal-soft and plump for over six hours, while clay extracts create a brilliant sheath effect that wraps your pout in intense color that lasts all day without a hint of drying. Gatuline oil extracted from exotic flowers of Acmella sculpts and maximizes lips, erasing aging lines andcreating the illusion of a broader, fuller, plusher mouth.
101 Nude Cachemire
107 Nude Velours
202 Rose Flanelle
203 Rose Jersey
204 Fuchsia Angora
205 Corail Popeline
306 Orange Plumetis
308 Rouge Mohair
308 L'Interdit
410 Rouge Suedine
411 Framboise Charmeuse
412 Grenat Alpaga
SHOP THIS POST