Hello pretties!
I just ordered online a couple of bits from Dior Diorshow 2018 Collection. I've been telling you a while back about the upcoming Diorshow On Stage Eyeliners but we have more products joining this collection. I won't tell you yet I've ordered as I don't want to influence your purchases. If you are already reading my blog for a while a hint would be the colors. 🙂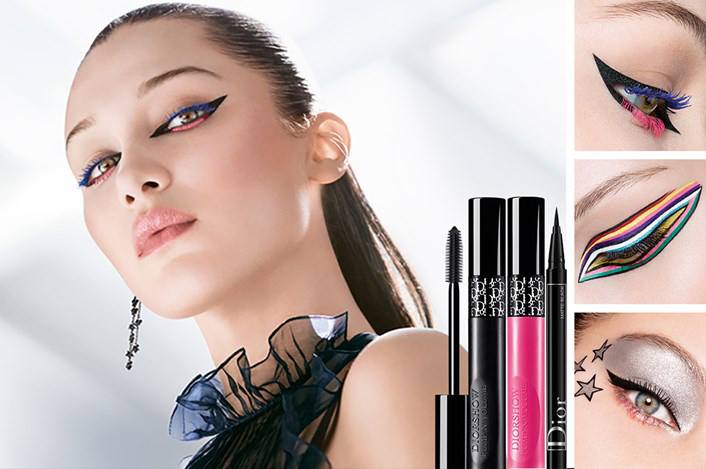 Availability
UK Launch Date – Now at Selfridges, Harrods, Escentual (best prices)
Dior Diorshow Collection 2018
Dior Diorshow Pump'n'Volume Mascara – New – £27.00

Dior revolutionised Mascara in 2017 with extreme volume and a squeezable tube. This year the beauty house takes things one-step further, making the coveted Diorshow Pump'n'Volume Mascara available in a range of bright shades. With a high concentration of waxes and elastic powders, the formula is creamy and volumising right down to the last drop.
160 Purple Pump
090 Black Pump
260 Blue Pump
640 Coral Pump
840 Pink Pump
Waterproof liquid eyeliner 24H wear* intense colours & effects. The 1st Dior eyeliner with an ultra-flexible felt tip to effortlessly recreate the dazzling eye looks straight from the runway. Inspired by the Backstage, Dior presents its first liner with a hybrid tip that combines the ease of a felt-pen with the suppleness of a brush. Its fine tip allows for freer application, guiding the line to flawlessly recreate Dior runway looks in a single stroke.
The ultra-pigmented and waterproof formula is available in 3 intense effects – vinyl, matte and satiny – to dress the eyes in spectacular lines for extreme 24-hour wear. Designed to give all women total freedom of expression, Diorshow On Stage Liner comes in an ultra-shiny vinyl black and 14 shades of intense, pure, saturated, matte or pearly color.
001 Matte White
091 Matte Black
096 Vinyl Black
176 Matte Purple
261 Matte Pop Blue
296 Matte Blue
351 Pearly Turquoise
461 Matte Pop Green
466 Pearly Bronze
541 Matte Yellow
781 Matte Brown
851 Matte Pink
861 Matte Red
876 Matte Rusty
The first "tattoo effect" tinted brow ink by Dior for instantly full and lastingly shaped brows. Brows are no longer just a detail. Perfectly defined, bold but not unnaturally stiff, they are the essential finishing touch to striking eye makeup. For flawlessly shaped brows with a natural, authentic, long-wear finish, Dior created its tattoo effect tinted brow ink.
Its formula enriched with high-intensity pigments tints the skin in a single sweep for a weightless finish. Loaded with waterproof polymers, the formula delivers a flawless 36-hour finish* that won't budge, but is still easy to remove.
011 Light
021 Medium
002 Dark
SHOP THIS POST