Hello beauties!
How about we skip the Holiday 2018 season just for a minute and fast forward in time to meet Chanel Spring Summer 2019 Makeup Collection. I'll just tease you for a bit and share with you the first photos. I'm going to start with the centerpiece of this collection, which is a new edition of Chanel Les 9 Ombres Palette.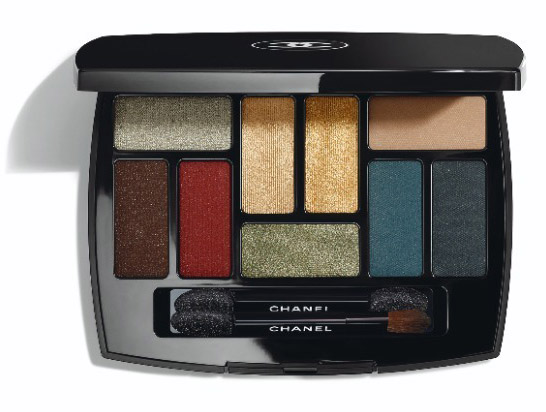 Availability
U.S. Launch Date – January 2019 at Nordstrom
Chanel Spring Summer 2019 Makeup Collection
Chanel Les 9 Ombres Eyeshadow Palette – Limited Edition
For the next season we are presented with a 9 pan eyeshadow palette ideal to create day and night looks. Just from looking at the promo photo, I can definitely say that this palette doesn't have the colors I'd personally choose to wear.
It looks to me more like natural-tone palette where you can spot silver, gold and some rich burgundy shades along with a midnight blue. Is not what I've been used to seeing in a spring eyeshadow palette so this one is bit out of my comfort zone.
I'm really interested in what you guys think about this palette, if you are excited to trying it out when it hits counters.
Chanel Baume Essentiel – New
This new products excites me the most from the entire collection. It's a bright new complexion enhancer that can be used on eyes as well. It come as in a form of a stick and gives a fresh radiance to your skin.
It should be ideal to add luminosity to your complexion or apply it on the eyes to create a fresh, glossy finish.
Rouge Allure Velvet
We are going to have three lipstick shades for this Chanel Spring 2019 Collection. The one that Lucia Pica used to create recreate the blurred matte lip effect was Infra Rose. This is such a vibrant neon coral that is suitable not only for Spring, but mostly for Summer.
Chanel Rouge Allure Liquid Powder Matte
We got two new shades waiting for us in Chanel by the Sea Spring Summer 2019 Collection. Which one do you prefer? The bright, bold neon coral or the mysterious burgundy? 🙂
Le Vernis Nail Color
646 Bleached Mauve
Neon Fuchsia
Enjoy more photos…