Hello sweeties!
Time to reveal the entire Chanel Reflets d'Été de Chanel Collection has finally come as all the promo images have been released. We took at quick peek at this collection two months ago and seeing those new fresh nail lacquers got me even more intrigued to see the entire collection.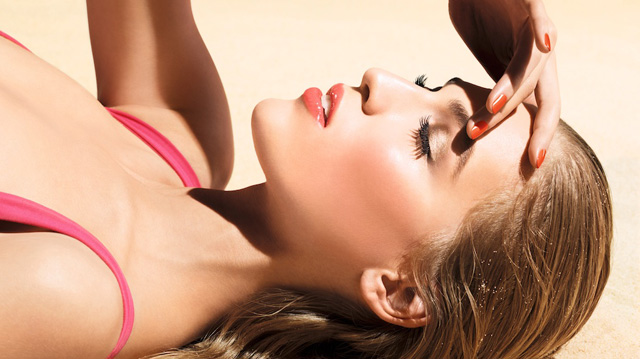 Summer loves colour with a passion. In the radiant light, pink is even more cheerful, orange tones explode with vitality and sunbeams of gold and bronze dazzle like never before.
At the water's edge, the colours in the summer palette shimmer to the max; pure or flamboyant, always magical in the reflection of the waves. An idyllic vision of sunny days that we wish would last forever.
Availability
U.S. Launch Date – late April/ early May 2014 at Nordstrom, Macy's
International Launch Date – June 2014 at Sephora, Douglas, Marionnaud
Chanel Reflets d'Été de Chanel Collection Summer 2014
Le Blush Creme de Chanel / Cream Blush – $38.00
87 Cheeky (Rose with Bronze Tint) (Limited Edition)
Les Beiges / Healthy GLow Sheer Colour Broad Spectrum SPF 15 Sunscreen – $57.50
Illusion D'Ombre / Long-Wear Luminous Eyeshadow – $36.00
95 Mirage (Bronze)
96 Utopia (Luminous Lavender) (Limited Edition)
97 New Moon (Iridescent Copper) (Limited Edition)
Inimitable Waterproof / Mascara Multi-Dimensionnel -$30.00
67 Violet Touch (Purple with Gold Shimmer) (Limited Edition)
77 Orange Touch (Orange with Gold Shimmer) (Limited Edition)
10 Noir
Stylo Yeux Waterproof / Long-Lasting Eyeliner – $32.00
Levres Scintillantes / Glossimer – $29.50
184 Hello (Jelly Light Rose) (Limited Edition)
185 Sexy (Jelly Fuchsia)
186 Happy (Jelly Coral)
188 Sunny (Jelly Orange)
03 Glaze (Light Purple/Pink)
Le Vernis / Nail Colour – $27.00
613 Eastern Light (White Beige) (Limited Edition) (Repromote from 2012)
615 Sweet Lilac (Lilac) (Limited Edition)
619 Pink Tonic (Fuchsia) (Limited Edition)
621 Tutti Frutti (Soft Coral)
623 Mirabella (Orange) (Limited Edition)
Enjoy more photos…