Hello lovelies!
I have to admit I own MUA Pro-Base Fixing Mist for over an year now but for some unknown reason I never got to review it until now. I bought this product along with other MUA makeup products for eyes, cheeks and lips and I've been using it a couple of times ever since. I can't say it's my go to fixing mist but I do use it usually when I do a MUA makeup inspired look.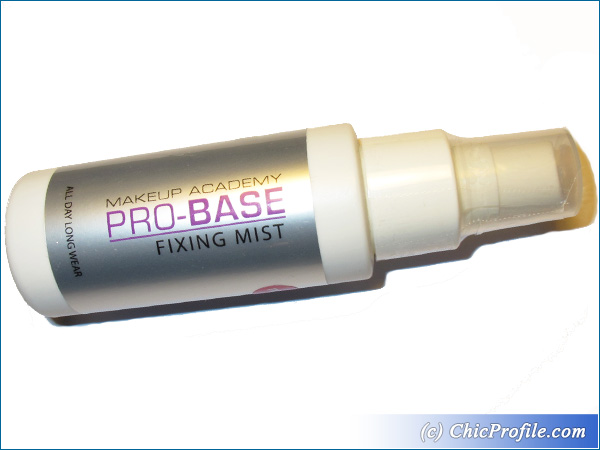 Availability
Now at Superdrug and online @muastore.co.uk , @superdrug.com
Makeup Academy Pro-Base Fixing Mist (£5.00 for 60 ml) represents the final step of any long lasting makeup and is used to fix your makeup in place all day long. It protects against heat, humidity, cold and windy conditions and makes your makeup last longer.
It's very easy to use, you just need to shake the bottle at then hold at your arms length (it's not recommended to keep it too close to your face) and spray it on your face until you have your desired cover. It suppose moisturizes and hydrates the skin and give your makeup up to 8 hours fixing time. As I said I used this a couple of times but I can't say I noticed a big difference as it made my makeup last longer and without fading. Usually the products I use last successfully up to 8 hours so I can't say this mist was a big help.
It does feel light on the skin, smoothing the powdery look, adding a natural radiance and finishing the makeup but I can't say I find it to be hydrated and moisturizing.
It comes in a plastic white opaque bottle with a pump, very practical, easy to use and hold. It does a good job for its money, considering it's a drugstore product but it can't be compared with MAC Fix + Spray (review) which really gives a smooth finish and get rid of that powdery cakey makeup look. If you want a fixing spray that will really make your makeup last under any conditions, humidity, heat, rainy  day I recommend you Model In a Bottle Sensitive Skin (review). This product does wonders and I truly recommended for special occasions like weddings when you need more than a 10 hours hold.
Ingredients
Butylene Glycol, Propylene Glycol, Glycerin, Aloe Barbadensis Leaf Juice, Polyurethane-34, Betaine, Hydroxyethylcellulose, Phenoxyethanol, Ethylhexylglycerin, Benzyl Alcohol, Methylisothiazolinone, Methylchloroisothiazolinone, Parfum, Limonene, Othiazolinone
Enjoy  more photos…