Hello beauties!
Bobbi Brown Highlight & Glow Highlighting Powder Duo is part of Bobbi Brown Holiday 2018 Collection. I have swatches for you and first impressions but also a video with live swatches on my #igtv channel. This new highlighting powder duo is just one of the two versions that are meant for Christmas 2018.
I picked only this one as the other version included as one of the highlighters a color that I already had. You can see both versions here. So if you take a closer look at the other duo highlighter you will see that one of the shades will be featured as a mini highlighter in Ping Glow (swatches).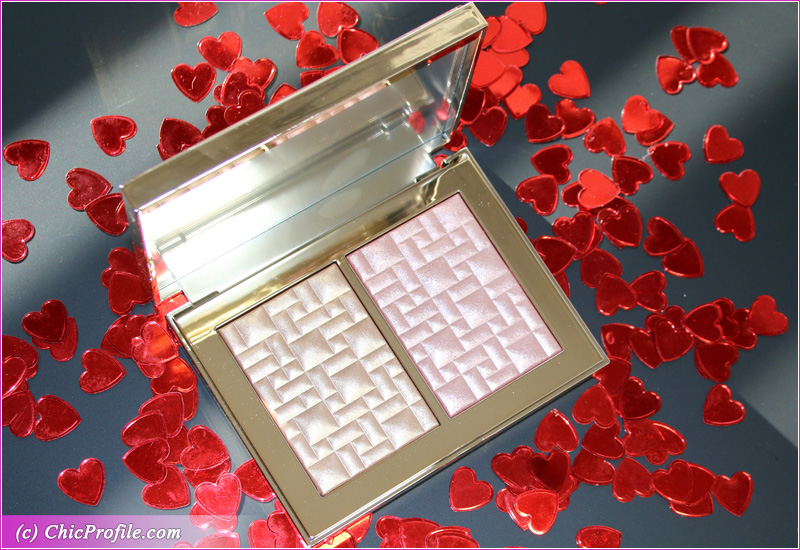 Availability
U.S. Launch Date – Now at Nordstrom
A limited-edition palette featuring two deluxe-sized shades of cult-favorite Highlighting Powders in a festive palette that glitters like a snow globe.
Formulated with a clear base and light-reflective pearl pigments, the luminizing powders give skin a radiant glow with used individually, or a high-impact, multidimensional look when layered.
Before I'll post my review in the upcoming days I'll share with you my first impressions. As I said in my #igtv video, the packaging is totally up for Holiday season. It looks glamorous and glittery and it resembles those cute snowballs that you shake to release the snow inside. Those just remind me of childhood but this packaging is really playful. I found myself a couple of times just shaking the palette for a few minutes. 🙂
The case is heavy, sturdy and looks very elegant. 🙂
It will definitely represent a great gift for the holiday season. The colors of this duo, I'd say they are more meant for fair and medium skin. I swatched both of them on bare skin without any primer or makeup base applied previously. Swatches are shown in just one swipe.
The Opal Glow shade which is the pinkish one, is applies on more sheer and not as pigmented as Bare Glow. On my light skin tone it does show up but I'm definitely not talking about a super pigmented and intense color payoff. You can definitely build it up and add more layers but I'd definitely keep it as a more natural and elegant glow.
Bare Glow shade comes on more intense, even applied on bare skin and in a single layer. This shade could definitely work for medium skin tones, but I wouldn't see myself wearing it due to the slightly coppery tones. If you have a darker skin, I think you make this shade work, that is if you are not looking for a super bright and intense highlighter.
I'll post more thoughts in my upcoming review. If you have any questions or impressions just drop me a comment or a msg. 🙂
SHOP THIS POST